PetSafe Sportsmen Barnacle Treat Dispenser Dog Toy
Frequently Bought Together
---
About This Item
This toy includes three treat chambers with the patented Treat Meter prong-design.
Bone-shaped grooves can be filled with your pup's favorite spreadable treat for extra enjoyment.
Made from vanilla-scented rubber for a delicious and appealing toy.
Unpredictable bounce keeps this toy fun and exciting for prolonged enjoyment.
This toy is dishwasher-safe to keep it clean and ready for playtime.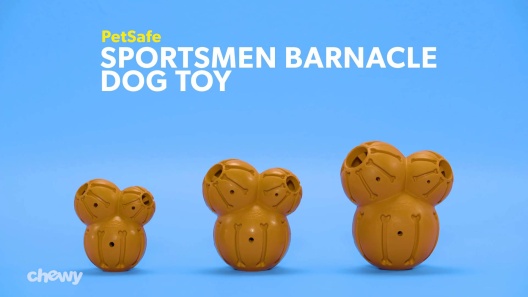 Learn More About PetSafe From Our Team of Experts
---
Compare Similar Items
| | | | | | |
| --- | --- | --- | --- | --- | --- |
| | | | | | |
| Customer Rating | | | | | |
| Price | | | | | |
| Toy Feature | Exercise | Tough Chewer, Squeaky, Exercise | Tough Chewer, Training, Exercise | Exercise | Tough Chewer, Squeaky, Exercise |
| Material | Rubber | Rubber | Plastic, Rubber, Rope | Rubber | Rubber |
| Breed Size | Small Breeds | Large Breeds | Medium Breeds | Medium Breeds | Medium Breeds |
| Toy Type | Treat Dispensers | Treat Dispensers, Chew Toys | Treat Dispensers, Chew Toys | Treat Dispensers | Treat Dispensers, Chew Toys |
| Lifestage | Adult | Adult | Adult | Adult | Adult |
| Chew Style | Moderate | Moderate | N/A | Moderate | Moderate |
---
Questions & Answers
3 Customer Questions
---
Is the sportsmen version stronger than the purple barnacle by petsafe?
Answer by • Jan 10, 2019
Both the Sportsmen Barnacle and Busy Buddy (Purple) Barnacle have the same chew strength. The only different is in the color. Dogs can see purple very well, but they can't see orange very well. The reason for the orange toys is because hunters like to train using scents alone. That's where the orange comes in handy.
---
Would this be safe to leave with my dog unsupervised?
Answer by • Jan 04, 2020
Every dog plays differently and, since not all toys are created equal, it's always best to keep a close watch on your pup in case things get ruff. Supervised play will help toys last longer and most importantly keep your pal safe.
---
Where is this made?
Answer by • Oct 17, 2018
This toy is manufactured in China using BPA free latex material with a natural vanilla scent.
---
---
By Quincy on Mar 15, 2022
Works great for our restless pup... but what's that smell?
Our dog, who gets stir crazy quite a bit, enjoys playing with this and extracting the treats (kibble) that we put in it. The food comes out pretty easily, even without trimming the little spines that keep it in. Unfortunately, though, the toy has a strong 'resiny' smell that will not go away, even after running through the dishwasher top shelf (as advised). It doesn't bother our dog, but we sure do know when she's been chewing. It's not really a chemical smell, but it's definitely pungent, especially when she's been chewing on it. So, be aware if you don't like unusual odors, though it might work well outside (and the smell dies down when its not chewed).
---
By JoMac on Dec 8, 2021
GSD loves this
Our toy arrived and smelled almost like vanilla. It doesn't bother us nor our GSD, Lady. I put Charlee Bear treats inside, and it keeps her busy for hours! She can get them out without needing to trim any of the inside treat meter prongs. Best toy of the season thus far.
---
By TadS on Sep 7, 2021
That's not Vanilla
This toy has a rubber/urethane/scuba suit stink that is off putting to our dog. I put it outside to "air it out" but had do effect. Smell permeated the whole garage. Other than the fact my dog won't touch it, it seems like a good toy.
---
By BonesandChews on Feb 20, 2021
A Bad Choice
I was very excited about this toy because of the different treat areas and it would provide some play and interaction for her. I tried to put treats in it but they just fell out. I thought I had ordered the medium size for my puppy who weighs 20 pounds, but it just seemed too big and held no interest for her at all.
---
By forgetful on Feb 27, 2021
fantastic food dispenser
We've been through a lot of different dispensers trying to slow eating. For years, I used maze bowls and perhaps I'm slow, but it took me years to connect those with why so all the dogs that lived here got chipped/broken teeth. (I was super strict about not allowing bones, sticks, hooves, etc etc and I used to adopt senior/hospice dogs, so at the time, I wrote it off to old dog and that my resident dog just had bad teeth). Finally figured out that while they did indeed slow eating time, the zest for eating was expressed by chomping on the hard plastic + repeated tooth banging on the hard plastic. My doing things like smearing peanut butter in the bowls probably didn't help either. So, 3 lovely maze bowls went in the trash to prevent another dog from breaking their teeth on them. My latest girl is middle aged and has tooth resorption so I've been trying to find something that slows her eating without breaking teeth. She's not much of a puzzle solver. If she's given a figure it out puzzle, her method is to try and break it open with her mouth. As such, the hard plastic Kong wobbler which should be pretty simple was a big no for her since her method wasn't to wobble, but to try to crack it open. The same goes for a maze ball I used to use for some pups. It is great - if the dog is a brains over force kind of dog and takes the time to push it around. My girl..is not. We also tried a squishier feed ball. That one didn't risk breaking her teeth, but when you flip it over, 90% of the food falls out, so it was kind of pointless. Enter the Barnacle. This thing is amazing. First, it's somewhat squishy rubber (not that gross stuff that fur and dirt sticks to, but kind of a slightly more giving version of Kong rubber; and it's still very sturdy). That means that no matter how she tries to get her food out, I don't have to worry about it. I first put food in each of the 3 chambers and thought that the harder ones would be too hard for her, but she figured it. There are little rubber fingers that help hold the food in and you can cut them shorter so food falls out faster, but we left it as-is and it was perfect. The 3 sections are also all separated so if you have to empty each individually. A bowl of food that lasted less than 2 minutes now takes half an hour to get through - and during the whole half hour, she is enthralled. Even better, we do 4 smaller meals a day, which means she gets 2 hours a day working on eating. A win win for both of us. She's a bit lazy and usually just picks it up, brings it to her bed, lays down, and gets to work. But for a more active dog, pushing and pawing it around would work to dispense too. Overall, this was the dispenser we've been looking for and I couldn't be happier with it.
---
By Kelly on Mar 8, 2021
My dog chased it around for hours
I'm a "bad mommy" and didn't trim any of the prongs so my dog had to chase these around hours. It kept him busy while I worked so I loved it!
---
By MrsMcQ on Jan 13, 2021
Great toy!
Our dog loves to chew! I wasn't sure how long this toy would last but so far it's holding up and it keeps her entertained/busy for HOURS this is by far the best "puzzle toy" or treat dispenser we've bought so far.
---
By Furmomma on Nov 13, 2020
Fun toy; great entertainment
I gave each of my pups their new toy with kibble hidden inside. One pup went right after it while the other took a little while to care about it. I expected this since that's their typical personalities. My terrier mix is very determined so as I expected, she chewed her toy up a little but it took some serious chewing. It's a good product. I taught my chi to play with it by tossing it down the hallway so he could see the kibble pop out when it bounced. After that, he smacked it around the house till it was empty lol I didn't have to show my terrier mix. She figured it out right away. So glad I bought this toy. It's perfect for days when the weather is crummy and we're stuck inside.
---
By cmg9 on Feb 17, 2021
Ok for larger dog
If you have a large breed puppy, this would probably work okay. However, it is to big for a small breed puppy. Otherwise, it is ok.
---
By Daisy on Oct 23, 2020
Not as effective as hoped
I was seeking a toy that would keep my 60 lb. mixed terrier occupied and stimulated while I am gone from the house. I read the reviews and chose this item based upon them. I put my dog's favorite treat into the sections. She sniffed at it a few times. She didn't like that it doesn't really bounce ... it is heavy (and sturdy) rubbery material. This toy doesn't really interact / play back. It just sits there. She has a "toy box" from which she can grab any toy at random. She never pulls this one out. Not a successful choice by my experience.
---