PetSafe Spray Shield Animal Deterrent Spray
Autoship
(Save an extra 5%)
Choose Autoship at checkout for regular deliveries.
Why Autoship?
FREE access to chat with licensed vets 7 days a week.
Save 5% on all future Autoship orders.
No fees, no commitments - cancel Autoship anytime.
---
About This Item
Powerful citronella spray deters low to moderately agitated dogs without increasing aggression
Safer alternative to pepper spray for preventing dog attacks without harmful blow-back that can incapacitate the user
Spray solution has been found to be extremely safe and poses no danger to animals or humans, spray interrupts a dog's behavior and distracts the animal because of its strong spray stream and unique odor
Compact can with handy belt/pocket clip
Full can will spray up to a 10-foot stream continuously for up to 12 seconds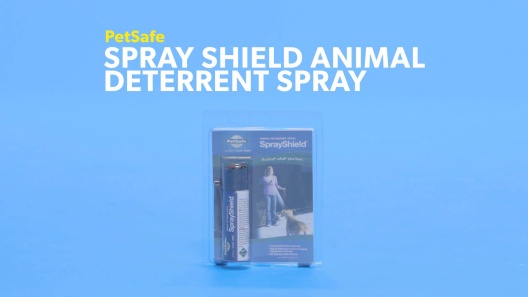 Learn More About PetSafe From Our Team of Experts
---
---
Keeping Pets Happy & Safe Since 1998
PetSafe has helped millions of pet parents care for their pets through every stage and season of life.
US-Based Customer Care
The PetSafe team of customer care experts is available 5 days a week via live chat, email or phone.
Healthy Pets, Happy People
PetSafe is dedicated to helping pet parents keep their furry family members healthy, safe and happy. From irresistible toys to life-protecting pet fences, their innovative products are designed to help bring pet families closer, for a lifetime of love.
Pick of the Litter
What sets PetSafe apart is a team of pet experts who come to work every day with one goal: making the world a happier place for pets and their people. They work with professional trainers, veterinarians and pet behaviorists to keep up on the latest research and insights and use that in developing their products. They rigorously test every product for safety, quality and efficacy, too – because your pet deserves the best!
About PetSafe
PetSafe has been a global leader in pet care since 1998. They pride themselves on empowering pet parents through innovation, education and experiences. Their goal is to strengthen the bond between people and their pets, providing them with thoughtful products, expert advice and compassionate support. PetSafe's US-based customer support team is always ready to help you get the most out of your life together with your pets!
Shop PetSafe
Compare Similar Items
| | | | | | |
| --- | --- | --- | --- | --- | --- |
| | | | | | |
| Customer Rating | | | | | |
| Price | | | | | |
| Autoship | | | — | — | |
| Lifestage | Puppy, Adult, Senior | Puppy, Kitten, Adult, Senior | Adult | Adult | Adult |
| Material | Stainless Steel, Metal | Stainless Steel, Metal | — | — | — |
| Breed Size | — | — | — | Small Breeds, Medium Breeds, Large Breeds | — |
| Top Ingredients | — | — | — | — | Water, Polysorbate, Nonionic Surfactant... |
---
Questions & Answers
11 Customer Questions
---
How many uses in this product
Answer by • Jun 14, 2018
The amount of uses would differ depending on how often you use it and the amount of spray needed to correct your pet. This contains 3 ounces of product.
---
Can it be used on humans if attacked?
Answer by • Jul 30, 2020
This spray does not cause pain or injury and would not affect human behavior.
---
Does this product work outside ? There is a cat that poops in my mulch bed every night and my dog digs it up and snacks on it ! I want this to stop ! Thanks for any advice.
Answer by • May 21, 2020
This product can be used outside however this product is not intended to reduce negative behavior. Consider the PetSafe SSSCAT Deterrent Spray instead (Item # 140655).
---
Would spray deter wild animals? Mosquitoes?
Answer by • May 21, 2020
The PetSafe Spray Shield Animal Deterrent Spray will not stop all animals. It has only been tested on trained attack dogs.
---
---
---
By Journey15 on Sep 15, 2022
I like it alot
I like it a lot but unfortunately it slipped off my treat pouch and fell into the road and a car ran it over but that's not the products fault it is really amazing product and it makes me feel 100 times safer
---
By Adrian on May 20, 2022
Love this stuff
I work at a doggy daycare where we have to have these on us at all times and I really appreciate them. To be honest whenever a fight happens my first instinct is to just grab them and pull them apart so personally, I don't use the citronella much. I do know a dog trainer we work with who uses it ALL THE TIME though and he loves it. It does deter fights in most cases unless they're really in a severe fight where they cannot be broken up. I would recommend using the spray first bc it's an easy and quick way to get them to stop, and reaching in can get you very hurt. I always just end up sticking my hands in and grabbing dogs but I will tell everyone else to use the spray!!! Our trainer also uses it on the more reactive dogs bc he says it has a calming effect on them. It's completely pet and human safe, i've seen this man spray himself in the face with citronella before to show people it doesn't harm the dogs. He also likes to rub it on himself sometimes if the dogs tend to jump or nip. I would say to definitely have one of these no matter if you're a dog owner or you go to the park or not. It can be extremely helpful.
---
By ShelterTrainer on Jun 11, 2022
Stay outta trouble
I don't leave the house without SprayShield. It's about 50/50 on breaking up a really aggressive dog fight (I've had to use about 6 times over last 8 years) but always keeps that loose dog from approaching when I'm walking a "selective" or "reactive" shelter dog. Usually, just a short shot or line across the ground is enough. I wish we could send a can home with every adopter.
---
By Blondie on Mar 9, 2022
Must Have!
Neighbors let their BIG dogs run loose, they charge at my little Jack Russells and scare them to bits. Just a little tap towards them with this repellent and no more problem. I don't want to hurt the big guys but don't want them to get a chance to get my Babies. I gave one of these to my elderly neighbor so she wouldn't be afraid to check her mailbox because these same BIG dogs tried attacking her. And yes we have all called animal control, but that's another story. We are safe because of these little canisters of citronella! Thank you.
---
By IvaGar on Jan 26, 2022
Feeling secure to carry it with me in our neighborhood
It sprays on a longer distance than a regular pepper spray and is under higher pressure which is good. I had to use a regular pepper spray once so I can compare. The regular pepper spray was not a good experience at all. I had to come really close to reach the dogs with the stream and then My dog was all sticky and brown where she was sprayed and was miserable until I washed her with shampoo at home. Fortunately I didn't have to use this spray in a real situation yet.But I know that it would be working much more efficiently and be safer for the dogs than a pepper spray. Definitely worth having it on me all the time for being prepared, for peace in mind. In our neighborhood there are lots of free roaming dogs.
---
By Dissatisfied on May 18, 2022
Pet Spray Shield
I found this to be a complete waste of money. The spray lasted maybe 3 seconds and did not deter dogs.
---
By HappyCamper on Mar 29, 2022
Not Happy with product
Had to use for a moment and it lasted for about 10 seconds before it stopped.
---
By Jatay on Jan 2, 2022
Did not work for me
Might work in some cases, pit bill grapped my dog through opening in fence, sprayed whole can in his eyes, was hoping he would flench and release my dog, not the case took owner some time to get him to let go.
---
By Zydney on Oct 22, 2021
Get this for your dogs!!!!!!
I just came back from a walk and my puppy and my mom were about to be attacked from a bully pit! We were walking and out of nowhere, that dog came running FAST. His chest was puffed up and he just had the look of wanting to attack something. He came running to us and my mom picked up my 6-month lab puppy and hid behind a car. I took care of the bully pit! I was about 6 feet away from the dog and rapidly switched the lock and sprayed him until he moved. Straight in the eyes! The dog went around the car to look at my mom and puppy and I was ready to spray him again until he ran to another street. As he left, he shook his head. I never heard of this deterrent until my dog trainer told me to get it. I don't believe what I just did! It for sure was a fight or flight moment and the dog mom definitely came out. I am stocking up on bottles since the bottle I have is now half empty.
---
By Dogmom on Dec 21, 2021
Did not work to stop pit mix
Obviously it depends on the dog, but this had no effect on my pit mix who was fighting with my other dog.
---