PetSafe Water Resistant Rechargeable Spray Dog Bark Collar with Disposable Spray Cartridges
---
About This Item
Collar is designed for small-to-large dogs 8 pounds and up.
Adjusts to necks up to 27 inches in circumference.
Comes with one unscented and one citronella refill cartridge that provide 35 sprays each.
The water-resistant collar is perfect for outdoor activities.
Recharges with the included USB cable. Average charge lasts 40 hours.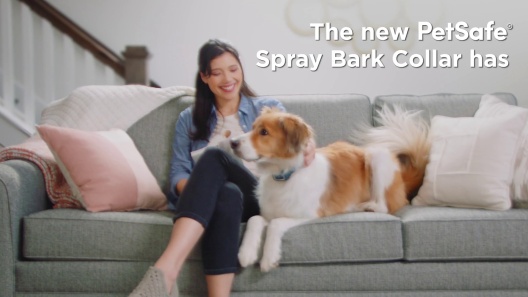 Learn More About PetSafe From Our Team of Experts
---
---
About PetSafe Bark Control Products
Bark Control
Let PetSafe help you turn down the volume with a variety of bark solutions, including Spray, Static and Ultrasonic correctives. Each one can help you limit unnecessary barking and bring peace and quiet to your home.
Helpful Training Features
Automatic: Hands-free system sends a signal whenever your pup barks.
Progressive Correction: Helps dogs learn, safely.
Bark-Sensing Technology: Learns your dog's bark and only corrects it (not other noises)
Choose the Bark Control Option That's Right for Your Dog
Every dog is unique and responds to situations differently. That is why PetSafe makes a variety of bark product training solutions, so you can find the best fit and keep your best friend healthy, safe and happy.
Static
Uses mild electrical stimulation that feels like a tickling sensation.
Spray
Sprays a light citronella or unscented mist to distract your dog.
Ultrasonic
Sounds a tone that is inaudible to most humans, similar to a dog whistle.
About PetSafe
The team at PetSafe is dedicated to helping pet parents keep their pets healthy, safe and happy. Their innovative product line includes pet fencing, self-cleaning litter boxes, pet doors, harnesses and leashes, feeders, fountains, toys, remote trainers, bark solutions and pet travel accessories, all designed to bring pet families closer together for a lifetime of love.
Shop PetSafe
Compare Similar Items
| | | | | |
| --- | --- | --- | --- | --- |
| | | | | |
| Customer Rating | | | | |
| Price | | | | |
| Collar Type | Bark Control - Spray | Bark Control - Spray | Bark Control - Spray | Bark Control - Spray |
| Breed Size | All Breeds | All Breeds | All Breeds | Small Breeds, Medium Breeds, Extra Small & Toy Breeds |
| Material | Plastic, Nylon, Synthetic Fabric | Plastic, Nylon, Synthetic Fabric | Plastic, Nylon, Synthetic Fabric | Plastic, Nylon, Synthetic Fabric |
| Lifestage | Puppy, Adult, Senior | Puppy, Adult, Senior | Puppy, Adult, Senior | Puppy, Adult, Senior |
| Compatibility | Rechargeable | Battery Powered | Battery Powered | Battery Powered |
| Closure Type | Quick Release | Buckle | Buckle | Quick Release |
| Leash & Collar Feature | — | — | — | Waterproof |
---
Questions & Answers
13 Customer Questions
---
Are the cartridges refillable or one use only/disposable? The listing is confusing as it says both - disposable in the heading and refillable in the description?
Answer by • Nov 15, 2020
The cartridges are not refillable and will need to be replaced with a new cartridge once empty. The cartridges hold approximately 30-40 sprays each.
---
What is the ingredients list for what is inside of the cartridges?
Answer by • May 31, 2019
This bark collar comes with one unscented and one citronella refill cartridge, which are made up with a harmless proprietary blend.
---
This says "remote," but I don't see one in the pictures, can you turn off the auto function and use it for manual stay training?
Answer by • Aug 03, 2019
This collar does not come with a remote and can only function on an automatic mode.
---
Wanted to ask how long should the collar stay on my pup? And should I take it off durning the night when we are in bed?
Answer by • Jan 25, 2022
It is recommended to avoid leaving the collar on the dog for more than 12 hours per day. When possible, reposition the collar on the pet's neck every 1 to 2 hours.
---
---
---
By Serenity on May 2, 2022
Not for us
Difficult to use, cannot get the charging cable to insert fully. It says the cartridge is good for 35 barks, this was not the case for us. Dog barks two different timers, cartridge needs replacing. Kinda sad. The spray worked beautifully to deter him, just cannot justify that many cartridges.
---
By stacie on Feb 8, 2022
SPRAY BARK COLLAR
Don't waste your money bc this collar is not worth buying it did not work on any of our dog's. I did buy it for one particular dog but tried it on a fee others to see if it would work on one of them. No it did not! This collar is not worth the buy!
---
By DoggyMom on Oct 19, 2021
Great for the dog not for the environment.
Pet safe is a great product, IF they advertised correctly for the amount of sprays. You get about 15 (give or take) not 30 or 40 and it's a HORRENDOUS product for the environment with so many of the disposable spray cartridges that are discarded after each use. Their older spray product at least had a refillable cartridge. Other than that I would have given 5 stars. It works.
---
By Patty on Feb 11, 2022
absolutely worthless
I tried this on my shepherd mix with a relatively short coat. It didn't work for s###
---
By Collar on Oct 1, 2021
Spray bark collar
This worked for one day. It does not hold a charge and the door for the spray refill does not stay closed. I do not recommend this collar. Very disappointed.
---
By Marlew on Jun 13, 2021
works really well.
This product works almost too well. If the dogs are out in the sun and want to come in they no longer bark. We live in hot hot California and without shelter they could overheat outside. My dogs, 3, may give one bark but that is all they will do. I remove them when they come inside. It took a bit of working out for the on off switch but I worked it out. The cartridges have very little sprray in them but as the dogs have learned not to bark when the collar is fitted they are lasting longer now.
---
By Carrie on Aug 12, 2021
Works Wonders on my barking dog
This spray collar has been a great find. He may bark once, but a quick spray correction and barking stops. Works great for my dog. He is a Weimaraner. Prefer the unscented.
---
By BrowniesMom on May 26, 2021
Not a good design
I previously had the non-rechargeable PetSafe citronella bark collar which worked great. This one doesn't, for several reasons. First it is really heavy and bulky and difficult to fit snugly against the dogs neck. Second, the cartridges don't last long at all, and instead of being able to just fill it from a bottle, you have to buy new cartridges. Third, the charge doesn't last long at all, and the on-off button is super fussy. I'm going to go back to the less fancy one the PetSafe makes that has a thinner collar and is overall smaller and can be easily refilled.
---
By Keith on May 11, 2021
Very low volume cartridge capacity
Collar comes with two "starter" cartridges each of which lasted less than a day. Thinking it was like an HP printer which comes with the same low volume "teaser" cartridges, I bought refills thinking they must have more spray. Turns out they are the same. At this rate I'll spend more on refills within a couple of weeks than the collar itself (again, the HP method). Unless your dog catches on instantly and no longer needs the collar this is an expensive and, frankly, useless product.
---
By WyWy on Apr 21, 2021
Best Comfortable bark stopper
I only had to use this twice on my 5 month old Corgi. It doesn't have prongs, just a sensor, so you have to be sure the sensor get through the fur. But it works like a charm! Corgis are known barkers, but she only now barks appropriately. I highly highly recommend this.
---