PetSpy M686 3300-ft Premium Remote Dog Training Collar
By PetSpy
---
About This Item
Quickly and effectively train your dog from up to 1100 yards away; bright orange collar is highly visible for added safety.
Helps correct barking, wandering off, aggressive leash pulling, approaching strangers and more; safe for use on all dogs 10 pounds and larger.
Four training modes including continuous and convulsive shock, vibration and sound, with eight adjustable levels of vibration and shock.
Device is rechargeable, waterproof and includes a power-saving movement sensor; innovative contact points are made of conductive rubber to prevent skin irritation.
Intuitive button layout design allows for "blind" operation without needing to look at the remote.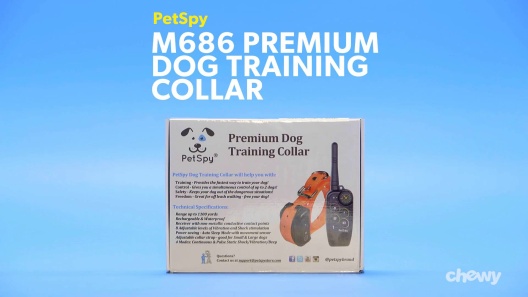 Learn More About PetSpy From Our Team of Experts
Click here for the PetSpy M86N Advanced Dog Training Collar.
Click here for the PetSpy M919 Premium Dog Training Collar.
Click here for the PetSpy M86 Advanced Dog Training Collar.
Click here for the PetSpy P620 Easy & Effective Adjustable Dog Training Collar.
---
Compare Similar Items
| | | | | | |
| --- | --- | --- | --- | --- | --- |
| | | | | | |
| Customer Rating | | | | | |
| Price | | | | | |
| Collar Type | Remote Training - Vibration, Remote Training - Static, Remote Training - Noise... | Remote Training - Vibration, Remote Training - Static, Remote Training - Noise... | Remote Training - Vibration, Remote Training - Static, Remote Training - Noise... | Remote Training - Static, Remote Training - Vibration, Remote Training - Noise... | Remote Training - Static, Remote Training - Vibration, Remote Training - Noise... |
| Breed Size | Small Breeds, Medium Breeds, Large Breeds | Small Breeds, Medium Breeds, Large Breeds | Small Breeds, Medium Breeds, Large Breeds | Medium Breeds, Large Breeds | All Breeds |
| Material | Plastic | Plastic | Plastic | Plastic, Nylon | Plastic |
| Compatibility | Battery Powered, Rechargeable | Battery Powered, Rechargeable | Battery Powered, Rechargeable | N/A | Battery Powered, Rechargeable |
| Leash & Collar Feature | Long Prongs | Long Prongs | Long Prongs | Multi-Dog System | Long Prongs |
| Closure Type | Buckle | Buckle | Buckle | Buckle | Buckle |
| Technology Feature | N/A | N/A | N/A | N/A | N/A |
---
Questions & Answers
44 Customer Questions
---
Is this collar completely waterproof? Can it be used for swimming?
Answer by • Nov 07, 2018
This collar is waterproof.
---
Looking at M686 and M919 on their chart what does blind operation, tracking light, and remote collar activation mean
Answer by • Jan 14, 2018
The blind operation lets you send out commands without looking at the Transmitter. Touch distinguishing design is achieved by different surface designs on the buttons. The collar has a light on it that flashes so your pet is easy to find and the collar has be activated to the remote.
---
is there a belt clip on back of controller?
Answer by • Dec 28, 2019
There is a belt clip on the back of the remote.
---
Does this collar wake up from sleeping when you send a signal from the remote? I've had these auto sleep collars before and they sleep, but don't turn back on making them useless. When this collar goes to sleep, what things can reactivate it?
Answer by • Apr 22, 2018
This Collar does feature a power-saving movement sensor which is similar to a sleep mode in that it will be dormant when your pet is still and wake up when it detects motion again from your pet.
---
---
---
By Arrowsmom on May 14, 2022
Not very strong
This just didn't work for us. I second guessed it when I opened the box and it appeared that it had already been returned once by someone else but we gave it a try anyway. The vibrate was not strong enough and the shock function was really inconsistent and didn't work at all until level 5 or so. If your dog is not one to get too distracted and is pretty sensitive then this might work on vibrate but I don't think the shock functions was working properly at all on mine and didn't want to zap him with that with it being so inconsistent.
---
By Rachel on Apr 5, 2022
Game Changer
We got 2 pandemic puppies in June of 2020, and wanted to find a way to manage them off-leash on our farm. We also wanted a way to warn them they were doing something they weren't supposed to. We found these collars, and have been so happy with them. Their range is awesome, so we can call the dogs back to us even if they run way ahead on the trail through our woods. They're totally waterproof, so we don't have to worry when the dogs splash through the creek. And the different settings work so well. We almost never use the shock setting unless they are really doing something we don't want them to do. Mostly, we use the vibrate setting. It causes no pain, but when they feel it around their necks along with us calling their names, they come running right back to us. The hand-held remote is intuitive and easy to use, and the toggle between the 2 collars works great. We have even used these to walk our dogs "off-leash" on public trails. Using the vibration, they stay right with us. Follow the directions and videos that the company sends, and keep reinforcing the behavior, and the collars really do work so well. It's really changed our relationship with our dogs, and we're so happy with them. We have found the vibrate button to be key--it gets their attention and reminds them to listen to you without causing any pain. Additionally, when our collars started acting up a month or so before the 1-year warranty ended, the company replaced them promptly and with no hassle. We'll see how this set performs, but as long as they hold up well, we'll be loyal customers!
---
By Hershey on Feb 27, 2022
This thing is AMAZING!!!
We have a dog that would get outside through the front door sometimes and with some training and tough love this thing brought my dog back now. He got out today and first thing my girlfriend did was give me the controller and I started yelling COME! so when he did not I turned the knob up and hit the correction button a couple times then hit the beep button and he came right back to me. This is a life saver for my pet, It did what it was made for today :)
---
By Terrible on Mar 24, 2022
Really bad
Battery drains ridiculously fast, sometimes the remotes wont do the action you're clicking. It's a terrible product
---
By Ethel on Dec 27, 2021
Worked great till it stopped working
In general we liked this product, but after 1 1/2 years of light usage the unit no longer beeps or has shock capability. It only vibrates. Of course the warranty was only for 1 year. Very disappointing. This is the year 2021, one would expect that products like this can last longer than just months after the warranty period. Avoid this product and company.
---
By Jenny on Feb 1, 2022
Great product
I bought this for a French Bulldog he won't stop biting he hates the vibration and usually stops with having to use the shock button. I like the options this collar has.
---
By Mam1099 on Feb 22, 2022
Loved it when it worked
Love the dial remote, but only worked for about 2-3 weeks and now it works for about 1 minute and stops responding.
---
By Michelle on Oct 23, 2021
BEST BANG FOR YOUR BUCK!!
Looking for an affordable, quality collar to help train and keep your best friend happy and safe??? This collar is quite literally the best tool you will ever buy!! It's amazing-it works up to 1,100 (not a typo!!) yards away!! It's like having your own portable invisible fence! The collar is waterproof, the remote is water resistant. You can't just slap the collar on and expect miracles. You need to read about how to train with an E Collar, and watch some YouTube videos so you understand that this tool isn't meant to punish a misbehaving dog, it's meant to more effectively communicate with your dog what's expected of her. Do your homework and this collar will be used in your home, yard, on hikes, picnics, visits to family, friends, on vacation-literally anywhere!! And, the greatest part about this collar-Chewy has a one year guarantee!!! Should anything malfunction or break, Chewy is AMAZING!! I called them 7 months after my purchase, just curious bc my son's puppy played too rough with my GSD (who had the collar on so they wouldn't take off on my 22 acres!)- punctured a hole in the on/off switch, and then the collar was submerged in their play pool. The water shorted the whole fantastic collar out. Chewy told me no problem-it's guaranteed for a yr after purchase so just use the label they email, send it back through Fed Ex (FREE) and within a week, I had a brand new collar set!! YOU CANNOT GET BETTER THAN THIS!! (Every expensive system is just bells and whistles. You don't get a DVD or any training book but there's SO much free on the internet so reading/videos are A MUST. Do your homework prior to putting the collar on!!!) But $70 or less (if you have a coupon!) is unbelievable for this quality product!!! My GSD Aiko loves her collar and the freedom she has with it, and she responds SO quickly!! You can see how proud she is when she makes a good choice to listen!! She plays in my yard with my chickens running around, and she's a Western line dog bred for WORK. Her prey drive is incredible!! She chooses to listen thanks to this collar!! And it's SAFE. I have accidentally shocked myself a few times-it's uncomfortable but it's not PAINFUL. The vibrate button is really all it takes to communicate with your best friend!!! Your dog's world will change for the better with this purchase!!! Gets yours today!!!
---
By Lucy on Feb 23, 2022
Great Product
I am so glad I purchased this. It works great & I like that it is light weight & simple.
---
By Rachel on Sep 5, 2021
Great dog training collar!
This dog training collar is very good quality. It works just as expected. It has some great features. I can honestly say it has been a big help and has made a huge difference in my dogs behavior. I really like that it is waterproof. My dog likes to jump in the ponds and get into the branch and the water exposure hasn't damaged the device at all. The long distance range has been very helpful when my dog travels outside of the boundaries we have set for her. It has 4 training modes and 8 stimulation levels. If your dog has thick fur you will likely have to use a higher voltage. I like that you can add a second collar to use with the same remote. Overall I am very pleased with my purchase and I would definitely purchase again.
---