Petstages ORKAkat Wiggle Worm Cat Toy with Catnip
---
About This Item
Infused with real catnip to attract and keep kitty's interest.
Textured surface helps promote dental health as bumps massage gums while kitty chews.
Floppy shape adds movement and is fun to carry.
Made of durable, non-toxic material for long-lasting fun.
Thoughtfully designed for cats of all ages.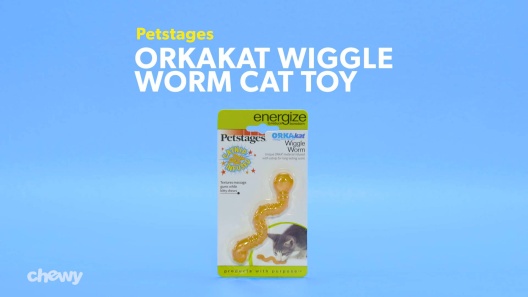 Learn More About Petstages From Our Team of Experts
If your furry friend loves this Petstages toy, check out more of these fun [Petstages cat toys] (https://www.chewy.com/b/toys-326?rh=c%3A325&query=Petstages).
Shop Prescription Medications from Chewy Pharmacy
---
---
About Petstages Toys for Cats
Play Helps Cats Thrive
Cats love to play, and playtime is essential to your cat's health at all life stages. Felines also need to exercise their brains to prevent boredom. You should provide your cat with a healthy amount of attention and stimulation to help avoid bad behavior and unhappiness. Petstages can help keep your cat happily playing. Choose from active toys, calming toys, scratchers, catnip and dental toys!
A World of Fun for Your Cat
Let your cat chew, bat, chase and scratch her way to happiness with Petstages cat toys and products. They can help keep your kitty active and feeling her best.
Catnip And Dental Toys
Great to bat and carry, these toys have catnip and unique netting that helps floss teeth and remove soft tartar as your kitty chews.
Tracks And Chaser Toys
Designed to satisfy your cat's hunting instincts, Petstages ball and track cat toys a fun and interactive way to get indoor cats moving.
Scratchers And Hunting Toys
Scratching is natural for cats, and Petstages offers a variety of scratching and hunting toys to keep cats entertained and nails healthy.
Tower of Tracks
Toys like Petstages' Tower of Tracks are the perfect way to give your curious kitty the mental and physical exercise she needs. Watch your cat paw at the balls and try to dislodge them—but don't worry, the balls won't come loose! Your cat will love the Tower of Tracks no matter how she chooses to use it. It's perfect for solo play or interactive play with you or other cats!
Easy Life Hammock
The Easy Life Hammock doubles as a lounger and a scratcher. Cats stretch their paws to leave their scent and when they stretch, their claws come out and leave their mark. Scratching can also help remove the dead outer layer on your kitty's claws. This lounge scratcher will not only help keep your cat's nails tidy, but it can also help keep her feeling nice and relaxed.
Purr Pillow
If your cat likes to cuddle soft and cozy things, the Purr Pillow may be just what she needs. It has a touch-activated, integrated module that makes a gentle purring noise every time your cat cuddles it. The purring sound lasts for two minutes and can soothe and calm cats of all ages. It is ideal for separation anxiety or any time your feline needs extra comfort.
About Petstages
Petstages is made up of passionate pet lovers. Their mission is to create innovative products that solve everyday problems—whether your dog eats too fast, your cat is scratching something she shouldn't, or you need a little help getting your pup in the water. Whatever you need to make life with your pet a little fuller, Petstages has something for you!
Shop Petstages
Compare Similar Items
| | | | | | |
| --- | --- | --- | --- | --- | --- |
| | | | | | |
| Customer Rating | | | | | |
| Price | | | | | |
| Toy Feature | Outdoor, Dental, Catnip | Catnip | Catnip | N/A | N/A |
| Material | Plastic | Plastic | Polyester, Synthetic Fabric | Plastic | Plastic |
| Toy Type | Chasers | Chasers | Chasers | Chasers | Chasers |
| Lifestage | Adult | Adult | Adult | Adult | Adult |
| Small Pet Type | N/A | N/A | N/A | N/A | N/A |
---
Questions & Answers
3 Customer Questions
---
Is this made in USA?
Answer by • Oct 07, 2017
This toy is made in China.
---
My kitty is obsessed with plastic bracelets. Any time she finds one, she chews until I see her and have to take it away because she has gotten pieces off. Would the texture of these compare to plastic nubby bracelets?
Answer by • Feb 18, 2020
This toy has a textured surface which helps promote dental health as bumps massage gums while kitty chews. It's also infused with real catnip to attract and keep kitty's interest.
---
Is this toy mainly for kittens? Or do older cats like it too?
Answer by • Jun 27, 2019
This toy is suitable for cats of all ages.
---
---
By RissNicole22 on Mar 23, 2022
Great for heavy chewers!!
While this worm isn't exactly wiggly, it has been amazing for my heavy chewer. He destroys most cat "chew toys" within a day or so, but they holds up beautifully. He can get all his chewing in without me worrying that he's going to accidentally swallow something.
---
By Kitten on Mar 8, 2022
will play with it later
Kitten didn't really care for this wiggly worm. He smelled it, tried to pick it up.Tried to figure out what to do with it... maybe when he gets bored of other toys he'll come back to this cute wiggly worn that is somewhat hard and doesn't really wiggle.
---
By ReadingCat on Feb 1, 2022
Should Have Gotten Sooner
Don't know why I didn't purchase this sooner! My three-year-old fur wild child is a big biter and chewer. Vivian tries to chew on everything, including metal on spiral notebooks. Could not even keep certain well known wand toy because she chewed on the fishing wire line instead of the toy. This rubbery wiggle worm is great! She smacks it with her front paws, then holds it between her paws and chews on it. Definitely a good chew toy!
---
By catmom on Apr 27, 2022
Cat doesn't like it
I thought it would be flexible, but it's hard as a rock. Cat does nothing with it.
---
By Chelsy on Aug 25, 2021
My heavy chewer loves it!
I have a boy tuxedo who is a heavy chewer, I've tired kong toys meant for dogs in various strengths and he's broke all of them. I bought this toy and he absolutely loves it! It's his favorite so much that I had to buy more just in case he manages to chew threw it or he looses it. I had bought it for him for Christmas and it's still going strong! I do have to rinse it under water every so often to get the fuzz and hair off it for him but he loves it just as much as the day I bought it!
---
By NutmegnSterling on Nov 16, 2021
They dont like it
Smells slightly minty, which my cats hated. They looked at it, smelled it and walked away. Goes without saying, they wouldnt chew it either.
---
By Vmac on Sep 1, 2021
Not their favorite
Bought this because my kitties are looking for things to chew on and I was hoping it would deter them from destroying my glasses and other items. Unfortunately it is not one of their favorites although they will occasionally pick it up and move it from one location to another. Worth a try but my kitties didn't bite!
---
By Jasper on Sep 28, 2021
Nothing wiggly about it
My cat loves to chew on thick rubber bands and I thought this would have a more rubbery texture but it's very stiff and not pliable. My cat wasn't interested in it even with the "catnip infusion".
---
By none on Aug 19, 2021
SEEMS to be OK
My Kitties doNOT like catnip. So, once the catnip wears off, I will know better how they like/dislike the toy. I am going off the quality of Chewy products, so I am anti- cipating that the toy will be in hgih demand. Which is why I got two.
---
By AngB on Jul 27, 2021
No Interest from my Kitten/Cats
I have a new kitten that loves to chew on fingers, so I thought this would be a good diversion. She won't have anything to do with it. I don't know if it's the texture or the smell. She won't even swat it. My adult cats didn't care for it either.
---