Petstages Purr Pillow Snoozin' Sloth Calming Plush Cat Toy
Frequently Bought Together
---
About This Item
The soft purring sound will help your furry friend with separation anxiety or stress.
Squeeze on or off to begin the sweet sounding purr.
The plush sloth is cozy and soft with a pillow body that's paw-fect for cuddling.
Easily wash the snuggle buddy by removing the purr mechanism.
Pillow is made of durable polyester.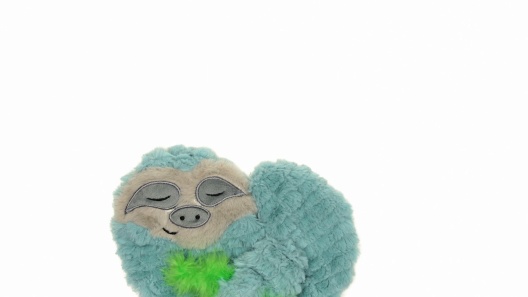 Learn More About Petstages From Our Team of Experts
---
---
About Petstages Toys for Cats
Play Helps Cats Thrive
Cats love to play, and playtime is essential to your cat's health at all life stages. Felines also need to exercise their brains to prevent boredom. You should provide your cat with a healthy amount of attention and stimulation to help avoid bad behavior and unhappiness. Petstages can help keep your cat happily playing. Choose from active toys, calming toys, scratchers, catnip and dental toys!
A World of Fun for Your Cat
Let your cat chew, bat, chase and scratch her way to happiness with Petstages cat toys and products. They can help keep your kitty active and feeling her best.
Catnip And Dental Toys
Great to bat and carry, these toys have catnip and unique netting that helps floss teeth and remove soft tartar as your kitty chews.
Tracks And Chaser Toys
Designed to satisfy your cat's hunting instincts, Petstages ball and track cat toys a fun and interactive way to get indoor cats moving.
Scratchers And Hunting Toys
Scratching is natural for cats, and Petstages offers a variety of scratching and hunting toys to keep cats entertained and nails healthy.
Tower of Tracks
Toys like Petstages' Tower of Tracks are the perfect way to give your curious kitty the mental and physical exercise she needs. Watch your cat paw at the balls and try to dislodge them—but don't worry, the balls won't come loose! Your cat will love the Tower of Tracks no matter how she chooses to use it. It's perfect for solo play or interactive play with you or other cats!
Easy Life Hammock
The Easy Life Hammock doubles as a lounger and a scratcher. Cats stretch their paws to leave their scent and when they stretch, their claws come out and leave their mark. Scratching can also help remove the dead outer layer on your kitty's claws. This lounge scratcher will not only help keep your cat's nails tidy, but it can also help keep her feeling nice and relaxed.
Purr Pillow
If your cat likes to cuddle soft and cozy things, the Purr Pillow may be just what she needs. It has a touch-activated, integrated module that makes a gentle purring noise every time your cat cuddles it. The purring sound lasts for two minutes and can soothe and calm cats of all ages. It is ideal for separation anxiety or any time your feline needs extra comfort.
About Petstages
Petstages is made up of passionate pet lovers. Their mission is to create innovative products that solve everyday problems—whether your dog eats too fast, your cat is scratching something she shouldn't, or you need a little help getting your pup in the water. Whatever you need to make life with your pet a little fuller, Petstages has something for you!
Shop Petstages
Compare Similar Items
| | | | | | |
| --- | --- | --- | --- | --- | --- |
| | | | | | |
| Customer Rating | | | | | — |
| Price | | | | | |
| Material | Polyester, Synthetic Fabric | Polyester, Synthetic Fabric | Polyester, Synthetic Fabric | Polyester, Synthetic Fabric | Polyester, Synthetic Fabric |
| Toy Type | Plush Toys | Plush Toys | Plush Toys | Plush Toys | Plush Toys |
| Lifestage | Adult | Adult | Adult | Adult | Adult |
| Toy Feature | — | Catnip | Catnip | — | Catnip, Exercise |
---
Questions & Answers
7 Customer Questions
---
Is this purr mechanism replaceable? Meaning can these be bought separately? And what size batteries are in this?
Answer by • Feb 17, 2020
The Purr mechanism is removable but there is no replacement available. The batteries in this toy are not replaceable.
---
How long does this last?
Answer by • May 04, 2021
The sloth Purr Pillow is designed to provide a familiar, soothing cat purr that lasts 2 minutes each time the toy is squeezed or cuddled.
---
I have a kitten that is 7 months old and is still trying to nurse will this help her? she tries to nurse on my fluffy blankets
Answer by • Nov 17, 2020
This soft plush purring cat toy is a great way to calm down kitties that get separation anxiety or exhibit signs of stress. It is suitable for cats of all ages.
---
What size is the purr pillow snoozing sloth?
Answer by • Nov 25, 2019
This toy measures approximately 10.25 inches long x 7.5 inches wide x 2 inches tall.
---
---
---
By Oreo8417 on Jul 15, 2022
Good Idea But...
While the idea behind this is a great conception, I think it could be tweaked to better fulfill its claims. It did not work as a pillow as the purring mechanism is a hard plastic-like box. It did not provide the soothing, stress-relief sound as promised. The purring sounded accurate but the volume(too loud!) chased my cat away. She does enjoy pulling at the velcro closure.
---
By Dilemmanem on Jun 3, 2022
Disappointing
So both the one I ordered and the one Chewy's sent as a replacement did not work. The first one came with the wire poking out of the "purr" box. The second one doesn't work. So I can't say if this thing is worth it or if my cat even likes it doesn't do what it says its supposed to do. I'm confused about if the batteries are replaceable. The package says yes, but doesn't tell. you what size batteries you would need. According to one of the submitted questions answered on here, you cant replace the "purr" box or batteries. However, another comment says that you can replace the batteries and which size to get. So here's hoping that the batteries will fix the issue. I'm just not pleased to have to go through all of this to try and get this thing to work. It's not worth this hassle.
---
By TheOsmonds on Jun 30, 2022
Cute but LOUD
My cat's were less than a year old and was afraid of the sloth! The purring noise is pretty loud and startled them. Really has nothing to do with it. Not a happy purchase for our home.
---
By nosnooze on Jul 30, 2022
kitty didn't like
My cat sniffed it and turned away. would not even play with it... He didn't even care for the purring. I was really surprised.
---
By toys on Jul 27, 2022
not much fun
MY cats paid no attention to this toy. It was not as big as I thought it would be as well.
---
By CATSCARE on May 27, 2022
Adorable but scary
The quality is quite good but the purr feature scared the dickens out of my kitten. He will not go near it. The older cat uses it as a play toy.
---
By MarandaMaybe on Feb 20, 2022
Best product I've ever purchased
Singlehandedly the best product I have ever purchased for any cat. I got this for my kitten almost a year ago and still use it almost daily. It doesn't sound like a cat purring to me, more of a motor, but my kitten loves it so much that she will immediately stop what she's doing, come lay down and purr/knead up a storm and suckle. It's so soothing that it's part of our bedtime ritual, she will sleep with me for the rest of the night once she hears it. I take it on car rides to help keep her calm. I plan on buying another as soon as the battery dies. Worth every penny.
---
By Annie on Mar 18, 2022
"pillow" is a disappointment!
Our cat doesn't sleep in any of the "beds" we tried. Thought that this might encourage her to use one of them. The "purr" is nice. But it's very difficult to turn on and off. In fact, that part my be broken. There's no way our cat can turn it on or off for comfort. Even when on, she walks away. Very disappointed.
---
By Belmont on Jan 13, 2022
Cuddles and Carries it, Calms Him ♡
He was shocked that it spoke his language, lol. I pushed it, he walked around it, laid with it, it stopped, snuggled with it relishing the purred comfort, I pushed it with his paw, he laid with it, gave me cuddles and purrs, started chewing on it, and then jumped up and grabbed it and took off, lol. He carried it around, spot to spot, to spot and I just had to immediately post feedback on this toy because he LOVES this sloth ♡ What a brilliant idea! He is my rescue and only cat/animal. He loves/needs Feliway products and this toy brought him a feeling of warmth/companionship that he's needed from his own kind ♡ What a wonderful gift for my sweet cat ♡
---
By CatBoxingCompanion on Jan 31, 2022
built in growl effect adds to ambiance of soon-to-come cat fight
My cat thinks of this toy like a rival. You turn it on, he turns it off. You put it in his bed, he drags it back out. If he can hear it anywhere in the house he will hunt it down and start using his back claws to beat it into silence. So in some ways the toy is more of a boxing companion than a soothing bed buddy. It doesn't do it for my cat but some reviews says it does? I don't recommend the price personally.
---