Planet Dog Orbee-Tuff Snoop Treat Dispensing Tough Dog Chew Toy
By Planet Dog
---
About This Item
Sourced and Made in the USA. This award-winning toy challenges the brain in fun and stimulating ways
Recyclable, non-toxic, tough material that's also buoyant and bouncy
Translucent and squishy with a deep crevice that conceals the treasure
Offers hours of long-lasting, brain-stimulating entertainment for dogs of any size
Filled with treats, dogs will pounce, nudge, nose, and nibble to release the hidden reward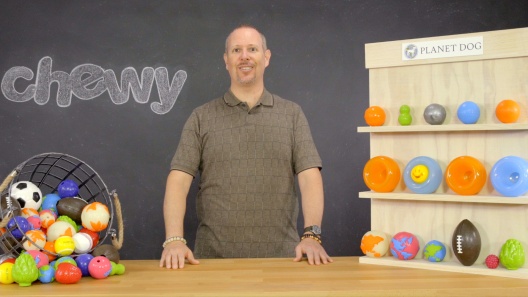 Learn More About Planet Dog From Our Team of Experts
---
Compare Similar Items
| | | | | | |
| --- | --- | --- | --- | --- | --- |
| | | | | | |
| Customer Rating | | | — | — | |
| Price | | | | | |
| Top Ingredients | N/A | N/A | N/A | N/A | N/A |
| Toy Feature | Tough Chewer, Outdoor, Training, Exercise | Tough Chewer, Outdoor, Training, Exercise | N/A | N/A | Tough Chewer, Outdoor, Water Toy, Bouncy, Exercise |
| Breed Size | Small Breeds | Small Breeds | Small Breeds, Medium Breeds, Large Breeds | Small Breeds, Medium Breeds, Large Breeds | Large Breeds |
| Material | Plastic | Plastic | Thermoplastic Elastomer | Thermoplastic Elastomer | Recycled Materials, Plastic |
| Toy Type | Treat Dispensers, Chew Toys | Treat Dispensers, Chew Toys | Treat Dispensers | Treat Dispensers | Treat Dispensers, Chew Toys |
| Chew Style | N/A | N/A | Tough | Tough | Tough |
---
Questions & Answers
20 Customer Questions
---
Would this toy be appropriate for an 8 week old Australian Shepherd puppy?
Answer by • Nov 19, 2017
The toy is made for puppies and dogs of all ages and size.
---
Are these toys made in China?
Answer by • Mar 12, 2020
This product is manufactured in the USA.
---
How much food fits in here? Could I fit my dog's whole (1 cup) meal?
Answer by • Feb 12, 2018
This toy can hold up to approximately 1 to 1 1/2 cups of kibble.
---
Which size ball fits in this? 2.5 or 3"? Thanks looking to order soon as my dog figured this out to quickly
Answer by • Nov 02, 2017
A 2.5 inch size ball fits inside of the Snoop.
---
---
---
By BassetHoundslave on Apr 12, 2022
Orbee-Tuff Snoop Treat Dispensing Toy
I have had a couple of these for a couple years and my dogs love them. I needed to reorder because one was starting to fall apart after heavy use. I could not find the sizes on the product info page, so I ordered large. I was surprised when it came and was so much bigger than the ones I already had. It turns out my dogs cannot get everything out of the large size. At first I was disappointed, but now I realize they get even more challenging time attempting to empty this size. I do wish the web page stated the size options more clearly than large and small. Great product.
---
By BoscosMom on Apr 2, 2022
Puppy Loves it, Disappointed in Durability
My 5 mo lab puppy loves playing with this, especially with kibble in it. But The Snoop arrived with a small hole in the neck, and since there is a hole on the bottom I thought it was not a defect. But I soon discovered the neck hole has grown bigger and created a split that is working its way to the top of the neck. In another use it will likely split open and not be usable. He's played with it now only three times. It's a shame, because my trainer suggested it as a way to help my puppy eat slower, work his brain and self-entertain, and it was doing all those things beautifully.
---
By Bostiemom on May 3, 2022
Keeps them busy
I had to buy bigger biscuit- like treats for this toy because any small training sized treats will fall right out. The texture of the toy is a little sticky and picks up any dirt or dust that it rolls around on. I could also do without the mint scent, but my dog enjoys it and if he's happily occupied then I'm happy too
---
By Emily on Apr 4, 2022
We love this!
This toy looks so simple I thought there was no way it would keep my large dog entertained. Thankfully I was wrong! He will knock this around the room for 30mins at a time and the design actually keeps the treats in for a long period of time unlike some other toys. He typically figures out how to work (or break) puzzle toys in 5-10mins so I'm so happy to have found one that actually keeps him entertained every time. It's also super easy to clean and can fit lots of different types of treats and different sizes of kibble.
---
By BainesMom on Mar 25, 2022
Innovative Treat Toy
This toy was recommended by our trainer as part of a program to keep our rescue dog busy when we slipped out of the house (he experiences separation anxiety). So far we have put kibble in it and smeared yogurt inside. Both have been a success. You can also smear peanut butter in the inside. We have only used it a few times with one of the times being on a rainy day when I could not walk him. Works well for providing extra stimulation and problem solving. I think he enjoys playing with it as much as we enjoy his antics to get the treats out of the ball. I highly recommend this toy. It is relatively easy to clean with soap and water. And seems to be tough enough for an 85 pound dog who has a tendency to chew.
---
By dollcrazy on Mar 25, 2022
He loves this toy!
I have a Boston Terrier, Rocket, who is almost three years old, and he is a power chewer. He has chewed up a lot of toys. It's a challenge to find a toy that he doesn't destroy. This toy is a very good one. It is soft, but tough. I pull the inner part out and drop a few treats in, fold it back inside, and turn Rocket loose with it. He loves this toy! He chews on it, but hasn't chewed through it. I was hesitant to buy it when I saw how soft it is in the video, but decided to take a chance. I am glad I did. I got Rocket the orange toy. I am so impressed with it, I am considering getting him the blue one, also. I recommend this unique and unusual toy. It is a good one!
---
By wink4ku on Mar 11, 2022
NOT FOR LARGE BREEDS
I'm sure this is a great toy for small breeds, and it clearly states that in the fine-print description. Shame on me for buying two of these for my large dogs. My GSD can easily stick his tongue into this toy and lap out each treat within a minute. I bought the smaller version for our golden because she has a smaller mouth. She eventually gives up because she doesn't understand how to play with it nor is her tongue large enough to get the treats out. The pictures advertised DO show at least one larger breed dog (a lab) - so do not be fooled. Some larger dogs with big tongues will have an easier time getting the treats out - not very mentally stimulating for them and doesn't keep them occupied for very long.
---
By chewylover12345 on Mar 7, 2022
love! Highly Recommend!
definitely get this toy! My dog and i just moved to the city and he's so bored lately since we live in a studio apartment and there's not a lot of park space. I got this toy for him that ive been wanting to try for the longest and it's wonderful! when you first get it and put treats in it, it'll seem like it's going to be easy for your dog to get the treats out, but i promise it's not. My dog is a basset hound mix and it took him an hour to get all the treats out. Now he's sleeping like a baby and he's exhausted! The only thing i would recommend is not giving this to your dog when you leave the house. I say that because my dog was starting to try to chew threw the toy to get to the treats and i had to step in and tell him to stop. So just make sure you give this to them when you're home and can step in if needed & find a different toy to give them when you leave the house.
---
By 7monthOldGreatDane on Mar 13, 2022
Had high hopes
Unfortunately after 3-4 uses this toy didn't hold up. There are cracks that go all the way though & if used a couple more times would most likely come apart & possibly be eaten. Our almost 7 month old Great Dane has only destroyed a couple of toys, the others taking months, vs just a few uses like this one. The first few uses it was a good toy/concept & worked as it should. I liked the relative ease of adding food. We put some of his meal in it & it helped slow his eating & kept him occupied for a while. The durability just isn't there.
---
By Emily on Apr 3, 2022
Great toy!
Finding toys tough enough for our 8 month old Irish Doodle has been hard, but this one has stood up to his chewing, bouncing, pulling, etc. very well! He's also very food motivated so the slow dispensing nature of this one is fiendishly clever and manages to keep him busy for longer than most we've tried -- great find for an active, large, hungry guy!
---