Platinum Pets Pawsitively Safe Pet Finder Tag for Dogs
By Platinum Pets
---
About This Item
Reunites you and your pet in two easy steps with a simple online setup
Instantly sends you a text message and email with a map of the area where your pet was found
Automatically generates a Lost Pet Poster to share with friends and neighbors via social media sites
Anyone who finds your cat or dog can input the tag's code into the Pawsitively Safe site and then they can see your pet's profile with direct links to contact you
Compatible on mobile, PC, and tablet so you can reconnect with your pet wherever you are and with no monthly fees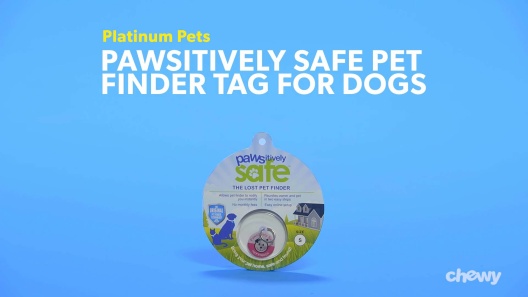 Learn More About Platinum Pets From Our Team of Experts
---
---
Questions & Answers
18 Customer Questions
---
What is the diameter of each size so that I can judge which is best for the size of my dog?
Answer by • Sep 09, 2018
The small is 1 inch in diameter and .1 inch thick.
---
Is there a few or charge to subscribe to the website? If so, How much annually?
Answer by • Aug 10, 2018
There are no monthly fees when using the Platinum Pets Pawsitively Safe Pet Finder Tag for Dogs.
---
I have 3 chihuahuas, a puggle mix and a lab mix. Would this fit them?
Answer by • Nov 02, 2018
This will fit all size dogs, but the collar will need to be thin enough or have a ring attachment for the paw-finder to attach to.
---
So if my dog runs off how do I track him
Answer by • Aug 02, 2018
This isn't a live-tracking tag, but it can send you a location. When your dog is found, the tag will have instructions for the person who finds the dog to report your dog as found to the Pawsitively Safe website. His coordinates will then be sent to you immediately.
---
---
---
By Bobby on May 10, 2021
Just get a regular tag
Just buy a regular tag and put your phone number and email address. Marketing is banking on you not realizing that another person has to enter the code on the tag to notify where you dog is. Or you know they could text/call/email you if you put that info on their tag.
---
By LadyD on Mar 26, 2021
Really Really Dumb Coding
Why on earth would they use a combo of letters and numbers and NOT exclude numbers that looks like letters? If my dog is lost, I don't want someone keying in a 0 where an O belongs. Even in the font here you can see a SLIGHT variation between the zero and letter O. On the tag the letter O looks like a zero. Their labeling is idiotic
---
By Poppysmomma on May 21, 2021
I hope that I never get to know how wonderful they are.
I didn't have these when I needed them, I hope I never find out how well they work.
---
By Francess on Dec 23, 2020
Good Product
Good quality and fast shipping. Came within three days of ordering. I feel a lot safer now knowing my cat is just a little bit safer from being lost forever.
---
By Daxmod on Dec 18, 2019
Pointless Dog Tag
This product states that it's better than a microchip. I disagree, a microchip is something that cannot be damaged or fall off of the dog at most this tag does the same thing. However unlike a microchip the tag can fall off the collar or break while the pet is missing. This product wants to make it seem like it will "track" your lost pet real-time vie the app. But this is false. You only get to see a display of the distance from lost point to found point. Your lost pet must be found FIRST ( with the collar and tag still intact) then you must rely on whoever finds your pet to know what to do with this strange tag and know what to do next. Most people will immediately go to a vets office ,who will then prompt for a microchip scan. A microchip is the first thing pet people talk about when it comes to lost pets . My dogs are chipped and I encourage all pet owners to chip their pets as well . This tag is pointless in the end.
---
By Sunflower123 on Sep 6, 2019
A COMMENT MUST BE SAID
I like this website but this product is awful, I got it for my cat and when I mark her as missing on the website it claims she is NO WHERE near where she would be AKA ANOTHER COUNTRY OR STATE which is completely a lie, it is very unorganized when my pet goes missing I would want to know the exact location or the general area where she would be, this tag tracker does not work what so ever, it was a waste of my money.
---
By blah on Jan 14, 2020
did not work
loop at the top is not durable and tag keeping falling off....
---
By Allytbg on Jul 21, 2019
So far so good
Easy to set up an account. Haven't had to use it yet as far as someone else having to report my cat found. But I visited the site and I can see locations of where someone typed in his info.
---
By Maria on Jan 23, 2019
Redundant dog tag
I don't know what I expected for 10$, but this is pretty much a dog tag, that requires finder to go to website (that works terrible, loggs all the time) enter the code and then, if finder will allow you will be able to see where the finder is. So instead of just texting a number on tag finder has to jump through loops in order to return your dog. It's not chip replacement, it's more like dog tag replacement, but more difficult to use. It doesn't sent you a map unless finder will go online, enter a code and allow to track his phone/ comp.
---
By Kalea on Apr 4, 2019
Peace of mind
People sometimes don't think about how to locate their furbabies if they get lost, until it's too late! Better to be safe than sorry. However, the format of the website for the animal profile is a little strange and could be improved.
---