Polly's Pet Products Banana Split Cuttlebone & Calcium Bird Perch, Flavor Varies
---
About This Item
Helps keep your bird healthy by providing essential calcium in a totally natural, edible perch.
Made of all natural cuttlebone for a 100% digestible source of calcium, phosphates and trace minerals for overall health.
Supports strong bones, healthy muscles and normal egg development and comes in a flavor your pal will love.
Easy to set up just as you would any perch, either on top or on the side of your bird's cage.
Doubles as a comfy perching surface for your pal and is proudly made in the USA with no artificial ingredients or additives.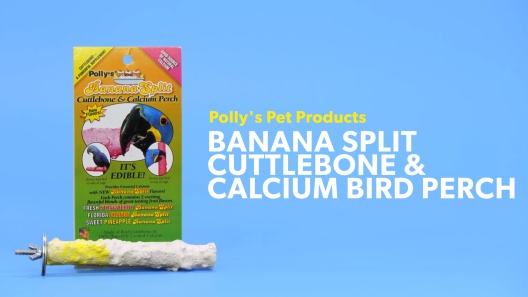 Learn More About Polly's Pet Products From Our Team of Experts
---
Compare Similar Items
| | | | | | |
| --- | --- | --- | --- | --- | --- |
| | | | | | |
| Customer Rating | | | | | |
| Price | | | | | |
| Top Ingredients | STRAWBERRY - Calcium Sulfate, Cuttlebone, Natural and Artificial Flavoring and Food Coloring FD&C Red #40.... | Grape - Calcium Sulfate, Bee Pollen, Natural and Artificial Flavoring (Propylene Glycol) and Food Coloring FD&C Red #40 and Blue #2.... | Grape - Calcium Sulfate, Bee Pollen, Natural and Artificial Flavoring (Propylene Glycol) and Food Coloring FD&C Red #40 and Blue #2.... | N/A | N/A |
| Bird Type | Parrot, Parakeet | Parakeet | Macaw, Parrot, Cockatoo | Parakeet, Canary, Finch | Cockatiel, Parakeet, Parrot |
| Material | N/A | N/A | N/A | Cotton, Natural Fabric | N/A |
| Food Form | Cuttlebone | N/A | N/A | N/A | N/A |
---
Questions & Answers
6 Customer Questions
---
Is a medium size perch for this product suitable for an African grey?
Answer by • May 16, 2018
The Small is suitable for birds the size of Conures, Lovebirds, Finches, or Canaries. The Medium is suitable for birds the size of Conures or Cockatiels. The Large is suitable for birds the size of Cockatoos, Macaws, or African Greys.
---
You mention practically every possible bird can use this, but you don't mention parakeets. I can't imagine why this wouldn't work for parakeets, but I'm hesitant to get one until I know for sure.
Answer by • Mar 20, 2018
The Polly's Pet Products Banana Split Cuttlebone & Calcium Bird Perch is suitable for all pet birds including parakeets.
---
What is the diameter of each perch size?
Answer by • Dec 17, 2019
The diameter of the size Small is 0.5-inch, the diameter of the size Medium is 1-inch, and the diameter of the size Large is 1 3/4-inches. The sizing chart may be located by clicking the "Size" tab, next to the "Description" and "Instructions" tab, just under the product photos.
---
how about cockatoos?
Answer by • Jul 07, 2019
The Large size of this product is suitable for birds the size of Cockatoos, Macaws, or African Greys.
---
---
---
By KeetMom on Jan 7, 2022
oh my goodness
I have three parakeets and they usually take a few days to get used to a new toy or perch. This! No, in less than ten minutes one parakeet took to this perch and completely tore it apart. It took her a day. We were sent the orange/banana perch- orange went first and I had to keep adjusting the wing nut to keep the perch upright. Will order again. Thanks!
---
By LoisG on Feb 13, 2022
Cuttlebone Perch
This is great for my parakeets, they loved it, but.... It's so small they had it gone within 4 hours!! For the price, it's not worth it, I'd buy it again if it were bigger or if the price were lowered
---
By Cindiloouu on Mar 4, 2022
Great Product!
This is a great innovative product to get calcium to your birds. Just be careful when trying to attach it to the cage- it is fragile! My birds LOVE this!
---
By Desiree on Jan 1, 2022
Parakeets loved it
This cuttlebone perch is almost too good... My two parakeets went through the entire thing in less than 24 hours! It's a pretty big size but they just loved it that much.
---
By Jorg on Dec 18, 2021
Stop fighting
This perch is great. My cockatoo is getting grumpy as he ages. He's not happy getting nails and beak worked on and this perch means less time fighting with him. It does a great job.
---
By birdluver on Oct 4, 2021
My bird still has not warmed up to it
I got this about a month ago and my cockatiel does not want to use or go near it at all. It is so sad. I do not know what the problem is so I will go back to a cuttlebone. Those are hard to come by and when they do, the stores and online stores are charging a lot! Shortage of cuttlebones I guess.
---
By nysik on Oct 25, 2021
A functional perch, engaging task and is beneficial to nails/ beak
Our cockatoo loved this item, used it as his main perch until it he gradually reduced it to a nub "working" on it, which did a great job filing his beak and maybe a bit off his nails. I am purchasing another one.
---
By Denise on Jan 3, 2022
May taste good but Sweetpea is not interested
I have used cuttlebone perches in the past but I can't get my parrot interested in using this one.
---
By Birdchic on Oct 26, 2021
My birds love this!
My three cockatiels enjoy this perch they can chew on. It has an appealing flavor, and it's good for them. I have several of them.
---
By Aminah on Jul 14, 2021
A big hit with the budgies!
I received this perch about a week ago, and my budgies have done a great job of smoothing it out! I'm so happy they like it. I have one male whose beak gets overgrown because he refuses to gnaw on anything. After trimming his beak and putting this perch in the cage, he's been chewing away! I hope it solved the problem of beak grooming. The other three budgies enjoy it too!
---