Polly's Pet Products Cozy Corner Bird Perch, Color Varies
---
About This Item
Textured surface naturally trims nails as your pal walks on it to keep them healthy with no effort.
Curved design is perfect for cage corners and allows more room in the cage for your pal to be comfortable.
Feet should wrap 1/2- 3/4 of the way around the perch to ensure better gripping and trimming.
Non-slip perch material helps maintain a comfortable temperature for your pal so he's always cozy.
Extremely lightweight and indestructible for birds, and is easy to set up in most rectangular cages.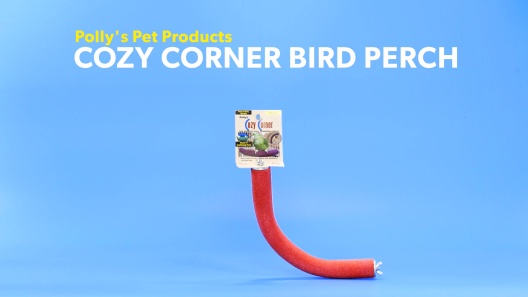 Learn More About Polly's Pet Products From Our Team of Experts
---
Compare Similar Items
| | | | | | |
| --- | --- | --- | --- | --- | --- |
| | | | | | |
| Customer Rating | | | | — | |
| Price | | | | | |
| Bird Type | Parrot | Parrot | Parrot | Cockatoo, Amazon, Macaw, Parrot | Cockatoo, Amazon, Macaw, Parrot |
| Material | — | — | — | Cotton, Rope, Natural Fabric | Cotton, Rope, Natural Fabric |
| Breed Size | — | — | — | Small Breeds, Medium Breeds | Extra Small Breeds, Small Breeds |
---
Questions & Answers
9 Customer Questions
---
Would you recommend L or XL for a Blue & Gold macaw?
Answer by • Feb 09, 2018
The Small measures 12 inches long x 1 inches wide x 1 inches high recommended for parakeets, concures and cockatiels. The Medium measures 14.5 inches long x 1.375 inches wide x 1.375 inches high recommended for conures and cockatoos. The Large measures 19 inches long x 2 inches wide x 2 inches high recommended for large parrots. The X-Large measures 22 inches long x 2.5 inches wide x 2.5 inches high recommended for large parrots and macaws.
---
I have an African Grey - which size would you recommend?
Answer by • Feb 26, 2019
The large and extra large perch is recommended for parrots and other large birds.
---
Do you get to pick color?
Answer by • Jan 22, 2018
At the moment, this toy ships in a variety of random and fun colors. The option to choose a color isn't available just yet.
---
What does the long dimension mean? Is it linear length of perch? Distance between attachment points? Or...?
Answer by • Jun 22, 2021
Measurement would be taken at the straight distance between connection points. The Small measures 5 inches long, the Medium measures 15 inches long, the Large measures 18 inches long, and the X-Large measures 24 inches long.
---
---
---
By KLB71 on Jul 1, 2022
great selection
I bought 7 perches for our birds. Hope they will help with their nails. Not afraid of them so started using them immediately.
---
By Valerie on Aug 12, 2021
Bird perch
Great Merlyn loves it and I will order another for other bird
---
By Bebop on May 5, 2021
Corner Perch
I've always loved these purchase but the screws aren't long enough now and they come out of end...
---
By Fran on Jul 24, 2020
Pollys Pet Corner Perch
The first few hours, little Buddy the parakeet hid in his bed because of the new object in his cage. By that afternoon, he was all over it! And since that time, it's his favorite place to sit. He is loving the shiny sparkles on this perch, too.
---
By Kenzi on May 8, 2020
Cockatiel likes it - feels a bit too gritty though
I thought Mercury would like this 'cause she enjoys nibbling on rough-textured perches and sitting in the corner of her cage to look out the window. It's a good size and shape, but I thought the texture felt a little too sandpapery and it might irritate her feet. However, she does like sitting on/next to it and nibbling on it. I just make sure she has other smooth or soft perches to sit on too so her feet don't get sore. It would be better if the texture was less gritty, but I think it's fine as long as the bird has other options for where to sit.
---
By LydiaGSMD on Mar 24, 2020
Great Perch!
A bit bigger than I expected, but varied sizes of perches are really important. I set the perch near my amazon's house (we don't call it a cage :-) for about an hour, for her to see it. Then placed it on top, so she could touch it, but it wasn't in her space, then moved it inside. She took to it right away & seems to love it!
---
By KJHKann on Jan 27, 2020
expensive mistake
This is absolutely not sized for an Amazon parrot. I ordered the large size per the answers given in the Questions section of information. This is sized more for a macaw or large cockatoo. My Amazon's foot will not go around this perch to give a secure grip. Very disappointed in this purchase as it was quite an expensive perch.
---
By Mamazon on Nov 13, 2019
Color varies by size
The description of this product makes it sound like you could get a variety of colors, but it all depends on size. The large is green, which is what I ordered for one of my large amazons. I'm not good at visualizing size when I'm ordering things, even when given the dimensions, so I thought and hoped that the diameter was going to be a little smaller. It doesn't really matter, though, because it's good to have a variety of sizes for your bird's feet. I like the fine grit on this perch; I think it will do a better job than many at keeping her beak and her nail tips filed. I've had larger grit perches where I was more concerned that the fleshy part of her feet would get sore. This bird's cage is quite large, but it's not a giant macaw-sized cage. I placed the perch in one of the corners; it didn't fit perfectly but it fit good enough that I didn't have to return it. My amazon is a little shy of it still after a week or so, but she's not scared of it. It'll take a little more time before she's really comfortable with it in her cage.
---
By Medley on Apr 4, 2020
Excellent perch
My African Grey Parrot loves it! It's sturdy and it's his favorite perch.
---
By Jaybird on Jan 14, 2020
Parrot perch
I wasn't sure he would like it as he doesn't like new things in his cage and he only had a wooden perch. He loves it and it was easy to install.
---