PoochieBells Proudly The Original & 100% American Made Dog Potty Doorbell, Animal Fashion Collection
---
About This Item
Quickly train your dog to let you know when they have to go!
Each PoochieBells comes to your family with pet profession endorsed training instructions
Crafted by hand, one at a time using only the highest sourced USA-sourced components available
No more scratching, barking, or other stressful behaviors caused by the need to go
Bells ring loud enough so you'll always know when your pup is trying to tell you something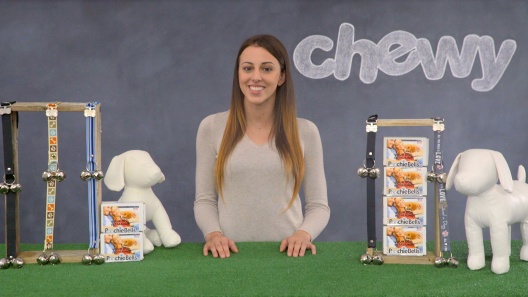 Learn More About PoochieBells From Our Team of Experts
---
---
Questions & Answers
2 Customer Questions
---
Is the top loop that goes around the handle fixed? The door I'd like to hook it on is a slider and has a bar shaped handle instead of a knob. Wondering if I'd be able to attach it.
Answer by • Jun 30, 2018
This product has a fixed handle. If doorbell is unable to be hooked to door knob, it's recommended to place a hook near the door.
---
Has this been used on the outside of the door for our four legged friend to let us know she wants to come back inside?
Answer by • May 07, 2020
These bells can be placed outside as a doorbell.
---
---
By MacT on Dec 1, 2021
I can see the positive
I have 4 Shih Tzu. Three of them aren't bothered by the bells. However one is sensitive. The bells scare her. She was trained to scratch on the frame. Bells ring, she runs from the door.
---
By LK43015 on Oct 24, 2021
Great Product
I'm still trying to train my dogs to use this, but the strip of material is quite sturdy & the loop wraps around the doorknob securely. The bells are like sleigh bells & sound more musical than annoying. I'm so pleased with this product.
---
By jrand25 on Aug 24, 2021
Training Bells
My friend recommended these bells for training my 13 week old Cavalier King Charles Spaniel, Winnie. We've been using then for about 2 weeks now and she seems to get the concept. For the first time this weekend she rang the bell to go out and I almost cried! We are probably a long way from consistency but it's a great aid in getting her through potty training and I'm grateful.
---
By potty on Oct 18, 2021
potty bells
Start your dog on this early. Our dog is getting the hang of it though he does not always differentiate between wanting to go outside for play or just when he needs to potty.
---
By BuddytheBichon on Oct 19, 2021
Great bells
I did what the instructions say and my dog is getting it, he runs towards me when he hears the bells and I know soon he will be "ringing them" himself!
---
By Otis on Jul 20, 2021
These Bells Work
These bells worked so well for us when potty training our puppy. In just a few days he knew to ring his bells and we would take him out. If you have a puppy, you need these.
---
By Bell on Mar 17, 2021
Works great
I have a 8 week old puppy and he started ringing the bell and looking me to go out. It is a great way to potty train.
---
By Shellkp on Oct 6, 2020
PoochieBells
Love my PoochieBells, LookS very nice hanging on my Kitchen Door! They were delivered so Quick!
---
By Victoria on Jul 13, 2020
Highly Effective
I adopted a puppy from a rescue and he came to us without prior potty training. My puppy caught on within a few days! Now he nudges it every time he needs to go outside.
---
By squirt on May 22, 2020
The training bell
I gave this item a 5, only, because I do know it does work! But, I have a Shih Tzu/ Maltese mix puppy who right now is afraid of it. So, I have it on the floor so she can investigate it for awhile. Hopefully, I can get her to use it. These small puppies are stubborn and take longer to train:(
---