Prevue Pet Products Wrought Iron Small & Medium Birds Flight Cage, Black Hammertone
Frequently Bought Together
---
About This Item
This large, durable, wrought iron flight cage is a wonderful showcase for multiple small birds.
Features two large hinged front access doors and six small side access/nest doors.
Offers a pull-out grille and debris tray for easy cleaning. Includes 4 plastic double cups and 3 wood perches.
The base of the stand features an integrated storage shelf and easy-rolling casters.
Ideal for canaries, parakeets and other small to medium sized birds.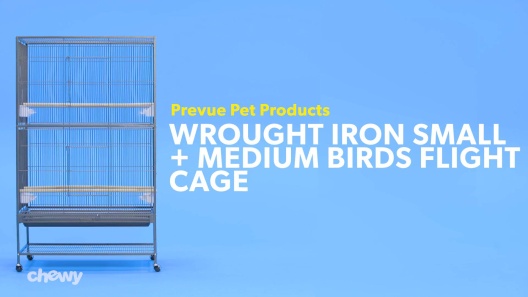 Learn More About Prevue Pet Products From Our Team of Experts
---
Compare Similar Items
| | | | | | |
| --- | --- | --- | --- | --- | --- |
| | | | | | |
| Customer Rating | | | | | |
| Price | | | | | |
| Bird Type | Canary, Cockatoo, Finch... | Canary, Budgie | Finch, Parakeet | Finch, Canary, Parakeet, Cockatiel, Conure | Lovebird, Cockatiel, Parakeet, Conure |
| Material | Coated Metal, Metal | Coated Metal, Metal | Coated Metal, Metal | Coated Metal, Metal | Coated Metal, Metal |
---
Questions & Answers
51 Customer Questions
---
What is the diameter of the cage wires? ( I know the bar spacing it .5")
---
Is the catch tray plastic or metal?
Answer by • Apr 24, 2018
This product includes a metal debris tray.
---
How sturdy is the cage? Is it easy to knock over?
Answer by • Jan 15, 2018
This product is quite sturdy so it would require plenty of force to knock it over.
---
Can two or three of these cages be fitted together on the ends (20.5) sides to make one extra large cage? I really need a much larger cage.
Answer by • Mar 17, 2018
Each of Cage is specifically designed with a general purpose, and making alterations in the design could affect the structure of the cage, and affect the way it functions. Therefore, we do not recommend making any alterations to any cages.
---
---
---
By FirewoodFlannel on Jun 4, 2022
Flight Cage
Absolutely love the cage, it's perfect for my finches. Arrived in perfect condition, nothing bent, broken, or missing. Super easy to assemble by yourself.
---
By Sandy on Apr 4, 2022
Flight cage
We are so happy with this cage. In the reviews some said it was flimsy. I am amazed at the strength. My husband and I put it together In no time. It really does take two people. One needs to hold while one puts the screws in. My finches live it!! I also love the fact that it is on wheels. Makes it so easy to move around.
---
By Kenn on Feb 7, 2022
Lovin this cage
I love the shape of a rectangular/flat top cage since there's more room to hang toys and huts. It may seem short but the length of the cage goes almost to the floor with enough room for small storage items. Several doors to access any corners top or bottom of the cage. Not too difficult to assemble, definitely have to pay attention to which pieces go where. I also zip tied a clear mat that goes from top to bottom to reduce any mess to the floor/wall
---
By sure on Mar 18, 2022
budgie got his head stuck between the bars
It was fine for months but I just woke up to my budgie panicking and his little head was sticking out through the bars. I had to pry them apart to release him. I feel so bad. Maybe I can use the cage for a larger bird in the future :c
---
By JazburdzMomy on Jan 29, 2022
Not meant for larger birds
I actually love this cage, and was completely satisfied until my Goffins Cockatoo started looking for a way to escape. She has managed to pop some of the bars off to the point of being able to escape. Not safe for a perpetual 2 year old.
---
By Cara on Jan 3, 2022
Great Cage
We love it. So easy to put together. Prob took about 30 minutes. So many access points for cleaning and rearranging things. My two finches love it. A lot of space for flying and toys. Super easy to cleaning the grates below. Def recommend.
---
By NONONO on Feb 7, 2022
"trick cage"
After having to have 4 people put it together, it was missing screws and is now falling apart. I'm getting ready to buy another. Haven't even had it a year…
---
By Ashley on Dec 6, 2021
Flimsy and had broken parts
Cage arrived with bent pieces, one of the cage bars was broken. Very flimsy. I also don't like the spring doors, they have no latch and I had to zip tie them because my birds would be smart enough to get out of it. It is a decent sized cage but there are much better ones of the same size or bigger for not much of a price difference.
---
By Budgielover on Oct 26, 2021
Flight cage
It was easy to put together, did it by myself. Would be even easier with two people though. I like the fact that it is on wheels and is easy to clean. I use a extra large seed catcher around the bottom. The door hinges have not been a problem for my parakeets. They aren't strong enough to open. I do hang a ladder over them on the outside just in case. They like to climb the outside and on top as well:
---
By GigiLibby on Jan 2, 2022
Bird Mansion
Perfect for my 2 new parakeets. Well made. Excellent value for price. This would also work well for larger birds.
---