PURRfect Leather Bouncer Wand Cat Toy, Color Varies, 18-in
Temporarily Out of Stock
Get notified when this item is back in stock.
Compare Similar Items
| | | | | | |
| --- | --- | --- | --- | --- | --- |
| | | | | | |
| Customer Rating | | — | — | | |
| Price | | | | | |
| Material | Plastic, Leather, Faux Fur, Natural Fabric, Synthetic Fabric | Polyester, Wood, Synthetic Fabric | Polyester, Wood, Synthetic Fabric | Polyester, Wood, Synthetic Fabric | Polyester, Wood, Synthetic Fabric |
| Toy Feature | Exercise | Catnip | Catnip | Catnip | Catnip |
| Toy Type | Teasers & Wands | Teasers & Wands | Teasers & Wands | Teasers & Wands | Teasers & Wands |
| Lifestage | Adult | Adult | Adult | Adult | Adult |
| Chew Style | — | Moderate | Moderate | Moderate | Moderate |
| Breed Size | — | Small Breeds, Medium Breeds, Large Breeds | Small Breeds, Medium Breeds, Large Breeds | Small Breeds, Medium Breeds, Large Breeds | Small Breeds, Medium Breeds, Large Breeds |
---
About This Item
Cats love the smell, taste and texture of leather; protect your belts, purses, shoes and other valuable leather goods with this toy.
Innovative, award-winning toy combines irresistible leather with fun and engaging movement.
Vegetable-tanned leather cord and tassels contain no chemicals so they're perfectly safe for your cat.
Features an 18-inch plastic wand and a 6-inch flex cable for extra bounce; the fuzzy faux-fur pom-pom adds more enticing fun.
High-quality toy is proudly made in the USA with no chemicals or dangerous metal parts.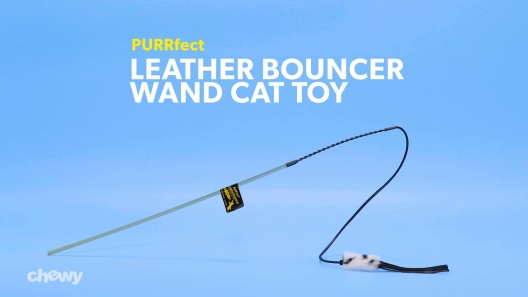 Learn More About PURRfect From Our Team of Experts
---
---
Questions & Answers
7 Customer Questions
---
Where is this cat wand toy made?
Answer by • Sep 16, 2020
This toy is made in the USA.
---
Is it okay for my cat to chew on the fuzzy fur pom pom? He likes to do that and drag it around the house.
Answer by • Nov 23, 2017
This product is safe for your cat. It's always recommended to supervise your pet during playtime.
---
What type of fabric is under the faux fur?
Answer by • Nov 04, 2021
This is made with a high density cotton fabric.
---
Is the string part of this wand elastic so it stretches when the cat pulls on it and then springs back?
Answer by • Oct 11, 2020
This toy features a 6-inch flex cable for extra bounce.
---
---
---
By Zora on May 11, 2022
A Must Buy!
This toy is hands down THE BEST TOY EVER! Everything about it is perfect. The leather line is the perfect length; it's longer than most toys which gives you a better distance to play with your cat. It being leather is ingenious. A lot of cats, including my Col. Mustard Mojo, are attracted to leather. Sometimes my cat just likes to catch it so he can give a nice chew and drool on the leather strap. There is a flexible twisted thingamajig that is attached to the pole between the pole and the leather strap that is sturdy and bouncy so that you have more flexibility with the toy. My cat personally enjoys when I make flying full circles like a ferris wheel gone rogue. The little furry end with leather tails is just the right size for a serious cat attack. I know this is way too detailed, but if you're like me and you have been disappointed over and over again with buying this type of toy, then you'll understand my excitement. FINALLY a cat pole toy that is made perfectly! You know the person who designed this had to be a cat owner!
---
By JT03 on Jul 16, 2022
My cat loves it
He goes crazy for this thing. He's a pretty hard player, so I have to take it away and hide it for special occasions, but he goes absolutely nuts for it when I take it out!
---
By Mom2AshernOllie on Feb 23, 2022
Absolute Favorite Toy
I originally bought this for my 2 year old Asher who loves it over any other teasing wand. Since it's furry and mouse like, there are times when he will drag the whole want over to his bowl like it's his kill. We recently got a 6 mo old kitten and Ollie's more obsessed than his brother. Ollie drags it everywhere even when we're not playing. Up and down stairs, and will even jump into our bed with it. The whole wand in the bed. I even put it away at night and he fished it out of the toy basket. It's a fan favorite around here, we now have 2 of them. Highly recommend it. The mouse style does vary slightly which I don't mind. One is a solid brown mouse with an orange wand and another is a striped mouse with a green wand. Doesn't matter to the boys, they love them regardless of color & pattern.
---
By Fran on Feb 25, 2022
The best wand cat toy ever
I was in search of a sturdy wand cat toy for our cats after our newest cat destroyed a wand that I had thought was well made. I found the string of the previous wand toy ripped apart, and I didn't want to have to worry about that happening again, posing a possible choking hazard. I always read the reviews for products extensively before buying them because I like to buy for longevity. The positive reviews are on point for this item. It's really made to last, and it's priced very well. I actually went on to buy two more as gifts for loved ones' cats as well.
---
By Carrie on Feb 12, 2022
Flimsy or Sturdy?
Many reviews indicate this toy is too flimsy, and many say it is just fine. This matters because I was hoping to find a toy for my cats that fit their play style while keeping my expectations in check. Pros: - The leather is extremely attractive to both cats (a senior and almost-kitten) - Build quality is fine - The features of this toy: springy wand end, furry part to bite/grab, dangling leather tails; all very effective and fun to chase Cons: - The fact that the leather is so delicious (apparently) Overall: Set your expectations. My cats are insane for this toy, but without proper supervision would eat the main leather string right off the stick. As it is, they've had it for a week, and the leather tails have shortened dramatically already. My senior cat has not played with toys like this in years, and for that I would buy a new one every few months if needed. 10/10, A+, will be buying another
---
By Linda on Feb 10, 2022
It was a hit then a miss
I have two kittens. One loves this wand and the other won't touch it. I had read a review about how the wand is pretty cheaply made in comparison to other toy wands. I totally agree with that. The label is not easy to remove and the residue is sticky so I had to put tape around the sticky part. This toy lasted two days and the bend part of the wand was broken and the part where it broke is somewhat sharp so I had to reconfigure this toy wand because my kitten likes the furry/rawhide dangle part of the wand. I used an old wand from another toy and attached the furry/rawhide dangle to it and she plays with it. Also, the furry part was torn open by my kitten so I had to hand sew it back together so, No, I would not recommend buying this wand. I have bought many others and they have outlasted this one. I guess I thought this would be a good one, and I hesitated at the price, but it looked pretty solid. Save your money and buy something else.
---
By Bouncer on Feb 7, 2022
This is the best, except...
My cats love this toy so much that one goes to sit in front of the cabinet where I keep it and comes meowing to me to ask me to play. Both cats love it! However, after only about one month, the tip pulled out of the wand. I repaired it with electrical tape, and now I handle it more gingerly when I play with the cats. Whoever designed this toy knows a lot about cat interests, for sure. I just wish it hadn't broken.
---
By Oliver on Feb 2, 2022
Just not strong enough
I really wanted to like this teaser. It's so cute and Oliver loved it! It just wasn't strong enough for my cat. He is aggressive with teaser/chaser toys. He loves to catch and chew hard. I got the toy out for a limited time and played with him and put it away once a day. Three of the leather strips came off after 4 days of play. The fuzzy critter part looks like a little mat of wet hair because of Oliver's alligator jaws! Another toy bites the dust.
---
By Luna on May 17, 2022
Favorite Mousy
My cat does backflips for this toy and will snatch it out of my hand to drag it to her lair ... who needs catnip??
---
By EAB3201 on Apr 28, 2022
My cat is obsessed
My cat cannot get enough of this wand toy. She hunts it, chases it, and "kills" it. It also durable and well-made. Highly recommend.
---