Rinse Ace 3-Way Shower Sprayer Dog Grooming Tool, 8-ft hose, White
By Rinse Ace
---
About This Item
Makes washing your dog easier with a grooming salon-quality showerhead that lets you adjust stream type with three settings, including massage, pulsating, and concentrated spray.
Lever-activated water flow lets you pause and adjust stream force, saving water and giving you more control.
Install once and use anytime with the patented shower head connector that twists on, with no tools needed.
Hose simply snaps on and off when not in use for a tidy bathroom, and it's extra-long to wash dogs of all breeds and sizes.
Great for anytime baths, muddy paws, flea and tick shampoo application, and getting dirt off legs and belly.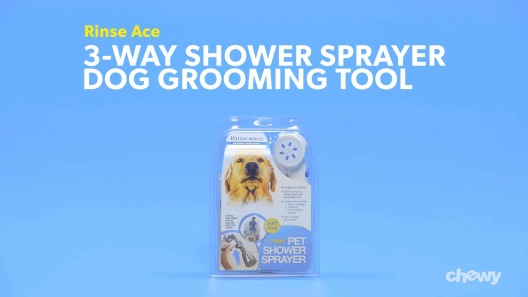 Learn More About Rinse Ace From Our Team of Experts
---
---
Questions & Answers
15 Customer Questions
---
Can you detach the hose from the shower connector and cap it off so you don't have to leave the hose in the shower and not reattach the shower connector every time?
Answer by • Aug 07, 2017
Once the shower connector is installed, the showerhead will operate normally when the hose is detached.
---
Can you turn the water off on the sprayer (example while your putting shampoo on your dog) or does the water constantly run ??
Answer by • Jan 15, 2019
This sprayer features a pause mode that's designed to save water when the tool is not being utilized, by ceasing water flow.
---
Does this come with the attachment for the shower arm to put the adapter into?
Answer by • May 25, 2020
This grooming tool is designed to attach to a shower head by use of the Rinse Ace® connector, which is included with purchase.
---
What size pipe does the adaptor connect to: 1/2" or 3/4"?
Answer by • May 29, 2020
There are not exact measurements for the shower connector or thread size, however, it is patent designed to fit standard plumbing shower pipes.
---
---
---
By Nick on Apr 11, 2022
Buy a better quality one at a home improvement store.
It's all plastic, handle came broken at the threads and never sealed. Packaging was fine, the manufacturer is to blame and have zero quality control apparently.
---
By krodrigues on Mar 9, 2022
Broken straight out of package
When I went to use this water started shooting out of the side where the water should come out so I took off the spray head and noticed the adapter was cracked. Didn't even get to use it on my new puppy and have no way of contacting Chewy for a new one….
---
By Brad on Jan 10, 2022
Great for using with existing shower head
If you have an existing shower head that you want to keep - but you want to add on a handheld sprayer for the dog - this is perfect!! It took minutes to add the t-connector and put the original shower head back on. The connector looks great with the existing shower head - i.e. you don't even notice it. Then it is simple to quick connect the sprayer. Has all the features I was looking for - the ability to stop the flow of water with the sprayer and the ability to choose different sprays. Price seems very fair for what you get.
---
By Laura on Mar 22, 2022
Easy to install and makes washing and rinsing much easier
This sprayer attachment was easy to install in our shower, and helped us get our dog more thoroughly wet when washing and more thoroughly rinsed afterwards. Highly recommend!
---
By Leah on Dec 3, 2021
Bath upgrade!
I have 2 40 lb dogs and washing them in the tub is always a pain, it's so hard to get their bellies rinsed off! I wasn't expecting much from this shower attachment but figured it couldn't hurt to try and I've been really pleased! I'm easily able to rinse the pups completely and it cuts down on time in the tub which is great for them and my back. If you've been considering a shower attachment but have been on the fence, try this one! It's super easy to use and has improved bath time!
---
By doglover on Dec 28, 2021
Perfect shower sprayer-Rinse Ace 3-way shower sprayer
This item clicks on in place-no worry about it coming off while using it. Just remove hose when finished is all that's needed to change back to regular shower head. Cord is nice and long at 8 ft, has 3 shower spray settings and can also be turned off while soaping up dog/and to save water. Perfect design!!
---
By JustAdog on Feb 7, 2022
Shower head
Unfortunately I have not gotten to use this....the apartment that I am at has glued on the shower head.....so I am unable to unscrew it. I hope to be able to use it someday soon!
---
By GoldieMamma on Nov 20, 2021
Great Purchase!
I used this for the first time today and am so happy with my purchase. It's easy to setup and you can connect/remove the hose as needed. I love that you can control the type of spray and how hard it sprays. My golden retriever puppy did so much better with this than when I used a cup of water. I would definitely recommend to others! The price point is great too!
---
By Groomer on Dec 27, 2021
Worth it for pet owner
Great for home owner to bath their dogs would rinse better than use a cup.. am a house call groomer I suggest them to get it .. I buy few of them they like them , buy it from me, when I have extra in hand
---
By Consuming on Oct 10, 2021
Amazing Product!
This is seriously the best. Easy assembly and comes with plumbers tape which is great. The modes are great- one is really strong if they have mud or dirt on them. I am obsessed with the nozzle that turns it on and off- you don't have to turn your shower completely off then when shampooing, just pull the nozzle and water quits coming out. Seriously an amazing product, made bath time soooo easy and I felt my dog liked it a lot more than using a cup! My dog is quite the shedder as well, so I used the sprayer to clean the shower afterwards which was again, so much easier than slashing a cup. Best product!!!!!
---