Ruff Dawg Dawg-Cube Dog Toy
---
About This Item
Proudly made in the USA.
Floats on water for grr-eat fun on land, at the beach or in the pool.
Made with durable materials for long-lasting use.
Erratic bouncing action makes unpredictable movements that capture your dog's attention.
When it's seen its better days, this earth-friendly toy can be recycled.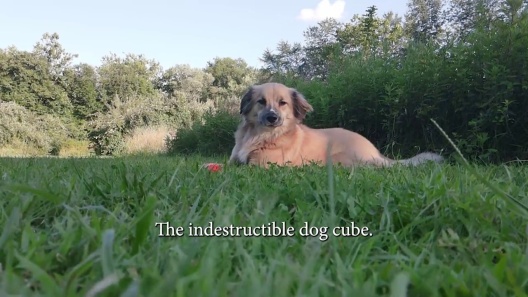 Learn More About Ruff Dawg From Our Team of Experts
---
---
Questions & Answers
Be the first to ask a question.
---
---
---
By kbeckpta on Sep 3, 2022
Good toy for big dogs
its heavier than expected but still has give for chewing. I have a large pitbull. he enjoys it and we can toss it around and it bounces awkwardly giving him some fun agility to fetch it or just lay down and chew it. I believe the texture intrigues him.
---
By Alex on Aug 12, 2022
My Newfie is obsessed
Our Newfie loves playing with his cube. It is easily one of his favorite toys. When you throw it, it launches in different directions depending on how it lands. He could probably chase after it for hours. He even started getting it out of he toy box himself,dropping it then chasing after it. It's even a great water toy. 10/10 would recommend.
---
By dawgcube on Aug 27, 2022
Amazing dog toy
I have a pitbull and a boxer/pit mix that chew every toy within hours. This toy has lasted weeks! They love to chase it when it bounces in every direction. Great exercise time for them. This is a 10 out of 10 toy quality in my book!
---
By Chris on Aug 4, 2022
Best toy ever
Chesapeake and German Shepherd love this thing. Bounces all over and keeps their attention. So far, doesn't have one tooth mark in it. Built better than the Titanic. Best toy purchase yet.
---
By james on Jul 5, 2022
Great toy for fetch
My dogs love this toy, it takes erratic bounces and is very durable! They stay much more engaged compared to a regular tennis ball because of how unpredictable it can be during a hop.
---
By Packmama on May 19, 2022
Tough Toy!
My cattle dog loves his cube. He grabs it out of the toy basket and carries it around with him. It has just enough give to allow for some "bite" but strong enough not to shred! This is one of maybe 3 toys in 11 years that has stood up to his play! Wish I knew about this toy sooner! My lab would have loved this at the beach!
---
By CG8211 on Apr 24, 2022
Great toy for my super chewer
I purchased this toy as I have purchased previously several of the ruff dawg balls. My little dog is only 23lbs but has super powerful jaws and teeth and destroys within minutes just about any toy I get for her. Ruff dawg products are the only ones I've found that can withstand her chewing.
---
By Durable on Jun 5, 2022
Perfect Toy!
This is the best & most efficient toy for my mini blue heeler. Perfect size, perfect weight & it's very bouncy to keep him entertained rather than just fetching it.
---
By Lisa on Mar 21, 2022
10 out of 10
I usually don't write reviews, but I felt like I needed to. Recently, One of my dogs passed following an obstruction due to a toy. I went through my other two dogs toys and threw out all the ones with rope/strings/etc. and bought new toys that wouldn't cause the same thing to happen. My dogs LOVE this toy. From the first thing in the morning, until I take it away at night, they are constantly playing with it. And for dogs who I thought could destroy anything…it's still standing!
---
By Cube on May 16, 2022
Amazing toy!
I have a 5 year old German shepherd and a 1.5 year old pit bull and this is their favorite toy! I've bought the dawg nuts and these cubes and they are amazing!
---