Safari Double Row Flea Comb for Dogs
By Safari
---
About This Item
Safari Dog Flea Comb is used to control fleas, ticks and to help identify skin and coat problems
Ideal to use after flea powders or shampoos
Removes pests from your pup's coat without irritating flea-bitten skin
Contoured to fit in your palm for better control
Easy to use, just start at the head of the dog and brush throughout down to the tail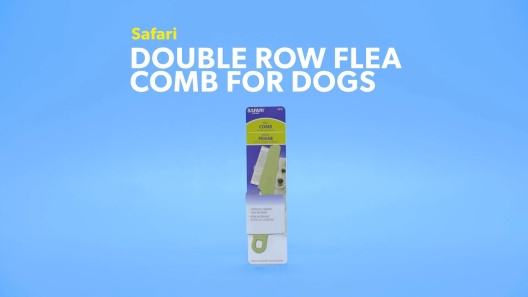 Learn More About Safari From Our Team of Experts
Important Information
Fleas rise to the top of your pet's coat as they die, so consider it a triumph if you start seeing more fleas at first, after treating your pet. If you're still seeing fleas after application, it may be because your pet has picked up new fleas from the environment, which may include other pets, surfaces and outdoor areas. It may take up to 30 days to break the entire flea life cycle. Additionally, you should also treat sources of new fleas (i.e., carpet, yard, etc.) to ensure complete flea control.
Shop Prescription Medications from Chewy Pharmacy
---
---
Questions & Answers
5 Customer Questions
---
Does this work on dogs with thick hair?
Answer by • Oct 14, 2017
This comb is designed for all coat types.
---
Does this work on cats too?
Answer by • Mar 22, 2018
Although this product was designed for use on dogs, cats can use this item as well.
---
Dimensions?
Answer by • Nov 21, 2018
This comb measures 3.15 x 1.90 inches, listed as length x width.
---
Will this work for ticks?
Answer by • May 17, 2018
This comb is used to control fleas, ticks and to help identify skin and coat problems.
---
---
---
By DeeDee on Apr 1, 2022
Small Flee Comb
Lily is a Chihuahua Yorkie mix her fur is course on top I wasn't sure how well it would go through her coat. It works wonderfully and thankfully so far no fleas.
---
By CPGirlee on Oct 26, 2021
BEST Comb For A Variety Of Uses!
I have bought at least ten of these double row flea combs over the past year and a half. The reason I have bought so many is that I use them for EVERYTHING!! Here's what I mean.... First, I wet the comb with water and then - > These are great as flea combs but they are also especially good at combing my cats to remove hair. The teeth fit tightly together so they grab the loose hair and hold firmly until I remove it. > These combs are exceptional at removing cat hair from any thing with carpet. Cat trees, carpeted wall steps, even wall to wall carpeting! I am always amazed! > Clothing - just run the comb under the fawcett, and use it to remove hairs on clothing. > Fabric couches.....works exceptionally well! I cannot be without these combs on hand! > Fabric car seats. Same thing...wet, comb! I go thru so many because the way I use them, understandably, causes teeth to bend and requires their removal. But, this is one tool I rely on and must have at all times!
---
By Chase on Dec 8, 2021
Great for my Belgian Shepherd mix!
This works great with my 11-yr Belgian Shepherd mix! Single-row combs don't seem to work, but this one does. It is a bit too weak for the thick layers on his main body, but this comb is perfect for his legs, face, and ears! Highly recommend along with slightly soapy warm water!
---
By Labpuppy on Jul 4, 2021
what I was looking for
Has very small teeth and spaced very tightly. It was what I was looking for.
---
By Sugar on Jan 17, 2021
Fleas are gone
With multiple combing sessions a day, my 2 cats and 1 dog were completely rid of their fleas in no time. Lots of purring but no chemicals. So I bought a second one for a friend with 2 cats and a new pup. Cleared her house too.
---
By Groovyjen on Dec 8, 2020
preforms good just came in used.
My flea comb I received came in used. I received it with unknown things inside the comb. I would expect to receive it new and unused
---
By SakaeRM on Aug 22, 2020
Excellent on my long-haired terrier
This comb has proven useful in hot weather with all the fleas, but it also takes out loose, dried skin and debris caught up in my short haired Ridgeback mix. They both like being combed. I suspect it feels good on their skin. It doesn't leave any red marks and pulls everything including fleas to the surface. We use it after walking. I'm starting to think they like it more than the furminator. The handle makes it much easier to use, and the comb washes easily in hot water with a little dish soap.
---
By Maria on Aug 1, 2020
Perfect comb for small pets!
As a bunny parent, it's always been a mission finding the perfect comb that will get the job done well while still being soft on the fur. I was surprised to find that this comb is exactly what I was looking for. My bunny now lets me groom him! I would highly recommend this comb for all bunny parents and other small pets. For best results, I would advise using a thick and flat rubber band and wedging it through the comb so as to create a mini version of the hair buster. Learned this through Lennon the Bunny YouTube Channel.
---
By Sarah on Sep 14, 2020
Great little comb
Perfect for getting seeds and other things out of dogs coats after camping. Also great for brushing out fine knots and making fur soft and shiny. Got it a year ago and still perfect condition.
---
By Jenn on Sep 5, 2020
Nice comb but not as good for fleas
The comb works well as a comb but I found the single row combs to be more effective for catching fleas. Maybe the spacing between the teeth on this comb is too far apart?
---