Safari Self-Cleaning Slicker Brush for Cats
By Safari
---
About This Item
Grooming your cat has never been easier! With its retractable pins, cleaning this brush is as simple as pushing a button.
Gentle, stainless steel pins will ensure that your cats get properly groomed without irritating their skin.
Comfort grip handle is made for your comfort and ensures a sturdy grip.
Pin design ensures thorough grooming with minimal effort.
Keep your home cleaner just by regularly grooming your cat. Keep the hair off your cloths and furniture, and into the trash!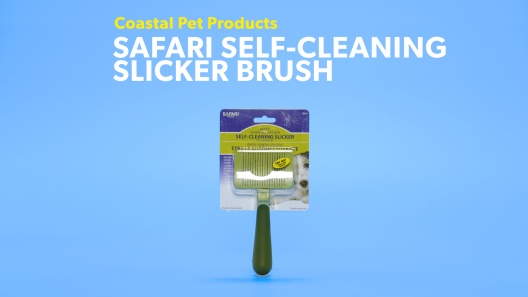 Learn More About Safari From Our Team of Experts
---
---
Questions & Answers
22 Customer Questions
---
My cat has extremely fine hair and my Slicker brush doesn't hold the hair is this a very fine brush that might hold the fine hair of my cat
Answer by • Jun 17, 2018
This brush is great for trapping fine hair as well.
---
I am new to long haired cats. Is this the first and only brush needed, if used on a daily basis?
Answer by • Jun 07, 2018
This brush will make a great daily grooming tool.
---
does this work for short haired?
Answer by • Oct 06, 2018
This brush works for long haired and short haired cats.
---
Does this brush remove matted fur?
Answer by • May 30, 2018
The gentle, stainless steel pins will protect against mats and ensure that your cats get properly groomed without irritating their skin.
---
---
---
By BriFerg on Apr 23, 2022
Bond Enhancer of Already Strong Bond!
Nice tool! My kitter friend loves it! Although she loves being brushed and combed in general, I have been using a regular comb and hair brush... at times a fork of all things to gently "scratch" her. The ones I was using did not fully grab that fine undercoat of her short fur; however, this does the trick and really does a good job. This brush is a good design that is very easy to clean by push of a button... I never thought I would get that much fur from her short coat. It appears to satisfy the gentle scratching she likes with more coverage. I noticed this slicker helped release little bits of dander as I brushed it all down to the nap of her tail end to collect it/wipe it off with a warm wet wash cloth. Her response is elevated from the usual love to a total gush, purrs and all... almost to the point of overstimulation - she rubs all over it and gets engaged in the action and will even play and love bite it.
---
By Homebody on May 15, 2022
Great Brush, Delicate Bristles
Our cat loves this brush, even rolls over and stretches to have her tummy brushed. However, these bristles become delicate after several uses. The bristles on the ends tend to bend, and whatever you do, DO NOT try to vacuum any remaining fur off the brush, because the vacuum will take some bristles with it! Otherwise, this brush is easy to use, and the little push release works for getting rid of most of the hair/lint.
---
By julsc256 on Apr 23, 2022
Self-Cleaning Slicker Brush
I had read really good reviews about this brush and after alot of debate, I bought it. What I like is that this brush is self cleaning, but it's very difficult to clean hair out of brushes (be it animals or human to be honest). But my cat does not like being brushed by this brush. I don't know if it hurts him or what, but it is a STRUGGLE to get him, and since I'm allergic, I like to brush him daily to help with the accumulation of hair. Unfortunately with this brush, it's just not possible. I have found a brush where the ends have little dots on them, and that's better for him and I can actually brush him.
---
By partyghosst on Apr 13, 2022
It works but...
look theres a ton of cat brushes out there and it doesnt help with how much prices range. I will say however for this brush at this price? this brush is out standing. HOWEVER my one critique would be of the placement of the button. since you'll be holding it by the handle while brushing your furry friend its somewhat annoying having to basically re-pick up the brush in order to press the button to get the cat hair off. takes away from the convenience the whole mechanism is supposed to have. I will recognize however that honestly if the button was placed at the part where u grip the handle the price mightve been higher cus we unfortunately pay for convinence. "if the button was placed on the handle then youd just keep releasing the tension while brushing your cat getting hair everywhere but the brush" this can be solved with a simple lock mechism like retractable leashes have.
---
By Layla on May 14, 2022
Not good for fine fur!
From the reviews and off site recommendations, I gave this brush a shot. It's no good for my little girl, who has very fine and silky fur. Was looking for something a little more gentle than our existing brush but this isn't it! I'm going to clean it and see if a local shelter will accept it. I'm sure it's a good brush for not so fine fur!!
---
By Jorge on Apr 17, 2022
It does not get much hair off my cats
I used a purple brush that Chewy sells that works great but my cats hate it. It figured I'd try this since it received good reviews. Lots of brushing for little hair. The purple hair brush works much better. I'd say I get 4-6x the amount of hair in one brush on the purple one compared to this. This one does self clean and the bristles are softer (although my cats hate it just as much) but so little hair comes off my cats. A waste of a purchase and I do not recommend it.
---
By Pagemaster216 on May 7, 2022
Junk brush gimmick
I bought this for my medium haired cat she sheds more than the average cat and brushing helps however this brush doesn't seem to pick up hair very well I cat sit and try brushing the cat for a while and not get much of any hair but then I'll pet the cat and be covered in hair! Don't be fooled by the self cleaning gimmick!
---
By Kemo on Apr 15, 2022
Kemo Loves Combing Time
This is the BEST cat brush ever. I park the brush next to where he loves to hang. I brush him at least once or twice a day. It is super simple to clean the fur off of it--push the button and voila, it just lifts off. He loves to bite the brush and nuzzle his teeth up against the wire bristles. It's total quality and worth the price, whatever it was. Way less cat fur hanging around the house.
---
By bobbindoll on May 19, 2022
Great product!
Very impressive yet simple technology for removing the hair from the bristles. Still working on getting our kitty used to it, but it effectively removes hair and is easy to clean. They should make human hair brushes with same concept!
---
By Bernie on May 18, 2022
Will buy in bulk
Bernie loves her new "scratches" brush. I love being able to send great rafts of cat hair off into the wind. Hope the birds about are using for nests! I'll be buying multiples to send to cat-loving friends.
---