ScoopFree Original Automatic Self-Cleaning Cat Litter Box, Gray
Frequently Bought Together
---
About This Item
Self-cleaning automatic rake system cleans entire box 20 minutes after your cat goes to the bathroom. The rakes moves waste into a separated closed waste compartment for superior odor control.
Crystal litter is formulated to eliminate odors 5 times more efficiently than clay or clumping litter. It is also designed to absorb urine on contact and dries solid waste to reduce odor.
Plastic litter tray liners prevents leaking that can stink up your home. Disposable litter trays are ideal for easy clean-up (1 tray included).
This product has been rigorously tested at manufacture's labs for more than 100,000 cycles without failure or jamming.
Extremely efficient as this system uses 5 to 10 times less litter than clay and clumping litter.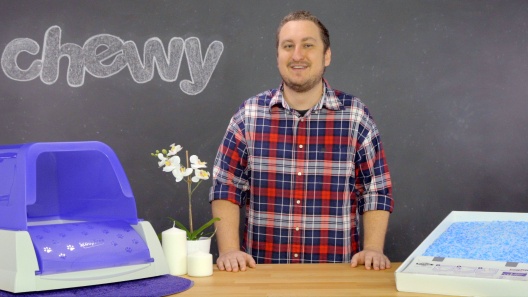 Learn More About ScoopFree From Our Team of Experts
---
Compare Similar Items
| | | | | | |
| --- | --- | --- | --- | --- | --- |
| | | | | | |
| Customer Rating | | | | | |
| Price | | | | | |
| Litter Box Type | Automatic | Automatic, Covered | Automatic | Automatic, Top Entry, Covered | Automatic |
| Litter Feature | Odor Control, Non-Clumping, Scented, Natural, Low Tracking | Non-Clumping, Scented, Natural, Low Tracking, Odor Control | N/A | Odor Control, Non-Clumping, Scented, Natural, Low Tracking | Odor Control |
| Material | Plastic, Silicone | Plastic, Silicone | Plastic | Plastic, Silicone | Plastic |
| Lifestage | Kitten, Adult, Senior | Kitten, Adult, Senior | N/A | Kitten, Adult, Senior | Adult |
| Compatibility | Plug-In Power | Plug-In Power | N/A | Plug-In Power | Wi-Fi |
| Assembly Required | Yes | Yes | N/A | Yes | N/A |
| Tools Included | No Tools Required | No Tools Required | N/A | No Tools Required | N/A |
---
Questions & Answers
38 Customer Questions
---
What is the difference between the original and delux models besides the privacy hood?
Answer by • May 24, 2018
The ScoopFree Ultra Self-Cleaning Cat Litter Box has alternate pickup options from 5, 10 and 20 minutes after use, contains a hood, and has a health counter to keep track of how often your furbaby uses the litter.
---
Does the litter stick to the cat's paws and end up on the floor around the litter box?
Answer by • Mar 30, 2019
This litter box features low-tracking and 99% dust-free crystals that won't stick to kitty's paws so your home stays clean and litter-free.
---
Is this noise loud when it clean ? My cat don't like noise . I m afraid if she hear noise she won't go near it
Answer by • Apr 11, 2018
The automatic rake system sweeps waste into the covered compartment 20 minutes after your cat uses the litter box. While self cleaning, the litter box makes a very minimal amount of noise.
---
How often do you need to change the crystal litter?
Answer by • Nov 17, 2020
You should change the litter tray when the crystal litter is saturated or when the waste trap is full. As the crystals absorb urine, the litter will start to turn yellow. Once the majority of the litter turns yellow, the crystals are nearing their saturation point. When the crystals can no longer absorb any more moisture, you may start to notice an odor from the urine. When the waste trap is full, the waste trap cover will not close completely. You may see small pieces of solid waste sticking out from underneath the lid. You may also start to notice an odor from the solid waste.
---
---
---
By Krissy on Jun 21, 2022
Absolutely Purrfect
My feline friend and I are pleased with the ScoopFree Automatic Self-Cleaning litter box. It is so quiet. The crystal litter makes it pretty and it is very absorbent. I do scoop out the kitty pebbles that collect in the tray at least two times a week. It has been three weeks since we started using this box, and I just changed the litter for the first time. My only complaint is that I do wish the open footprint was bigger for turning around and scratching. My cat is small, therefore it is adequate for her size.
---
By Heather on Jun 15, 2022
Smelly cat
I have 2 adult senior cats and also kept the traditional scoop-able litter box so they still have options. I really wanted to love this automatic litter box but with having to change the litter after only 4 days because it smelled so bad like urine I cannot in good conscience recommend this to anyone. I've tried all the different methods including disposable trays, a reusable tray with multiple different litters but with no luck. I hope you have better luck than my cats and I did!
---
By CHEWYFAN on May 6, 2022
ScoopFree Litter Box Not Great
Used this for 3 weeks for 2 cats. The blue litter needs to be changed out weekly as it smells. Because the urine is absorbed by the blue litter and holds the odor, one of my cats would only urinate in the towel outside of the box. Emptying the used, blue litter was anything but sanitary. I ordered LitterMaid, 3rd Edition which also has an electronic rake. My first LitterMaid lasted 15 years. Can use flushable litter. Lumps are easily accessed in covered pan at one end of the litter box. CHEWY was more than gracious allowing me to return the ScoopFree once the LitterMaid arrived and even provided me with a return label and house UPS pickup. I've been a customer of CHEWY's for years. Their customer service is amazing.
---
By Rick on Jun 21, 2022
Bottom tray
It work's marvelously. But the bottom tray that collect's the feces, should be more sturdy on the corner's. Mine separated. Do I tape, clue or both. Or look for a separate bottom tray.
---
By Matty on Apr 24, 2022
Malfunctioning :/
We've been wanting a auto kitty litter box for a long time. Having a baby on the way seemed like the time to do it. Unfortunately the auto function never worked from day 1. We're going to return and replace with a new model. It is obviously an inconvenience though. Usually chewy has great customer service this time I think we got a guy not having a great day.
---
By Finnegan on Apr 3, 2022
Poorly built, with expected results.
As with many users of this product, it worked fine for about 7 months using the recommended crystal litter from PetSafe. Now, it gets stuck right in the middle of the cycle, which is the worst of all worlds - not only did it fail to scoop, but now there's a huge rake in the middle of the litter pan so there is no longer room for a cat. That's awful durability for the price, but it's not surprising since it is quite cheaply made (all plastic construction and nylon screw drive, for instance).
---
By Charity on May 30, 2022
Best litter box ever!
I bought this litter box based on a recommendation from a friend. No odor. No cat litter scattered all over the floor. Super easy set up and litter disposal. Highly recommend this one.
---
By Ssteach on Mar 16, 2022
I can recommend if you can afford
I have 2 cats (4lbs, 10lbs) and had to change litter tray after 5 days. The waste container filled up fast. I have a second tray now for about 5 days, but this time I just scooped out the full waste container. And should be good to good for another 4-5 days. It is fairly quiet, it doesn't smell (big plus). But what I've noticed is litter tracks out of box more than advertised. Replacement trays are not cheap. And I've had to do a bit of maintenance like the before mentioned scooping and wiping down of box sides. All in all I am keeping because at least I am not scooping every day. Also will continue to try and tweak to make more useful to us.
---
By SusH on Apr 8, 2022
Does Not Work Well For Multiple Cats
The box works as promised in the product description for 1 cat. However, we have found that having more than 1 cat in the home that use/share this litter box is a big problem. For us, we needed to clean and change the "self-cleaning" litter box more than a normal litter box if we didn't want a strong ammonia-type smell that permeated the entire room. We tried both the regular litter and the lavender litter. Neither were able to mask the odor. After trying this litter box for a few months, we have opted to return to a "normal" litter box.
---
By AJ12 on Apr 27, 2022
Worst ever
This product simply doesn't work. Everything got caught in the tines and was just drug back and forth across the box. Our cat refused to use it after 1 day. Absolutely horrible.
---