ScoopFree Original Automatic Self-Cleaning Cat Litter Box, Gray
Frequently Bought Together
---
About This Item
Self-cleaning automatic rake system cleans entire box 20 minutes after your cat goes to the bathroom. The rakes moves waste into a separated closed waste compartment for superior odor control.
Crystal litter is formulated to eliminate odors 5 times more efficiently than clay or clumping litter. It is also designed to absorb urine on contact and dries solid waste to reduce odor.
Plastic litter tray liners prevents leaking that can stink up your home. Disposable litter trays are ideal for easy clean-up (1 tray included).
This product has been rigorously tested at manufacture's labs for more than 100,000 cycles without failure or jamming.
Extremely efficient as this system uses 5 to 10 times less litter than clay and clumping litter.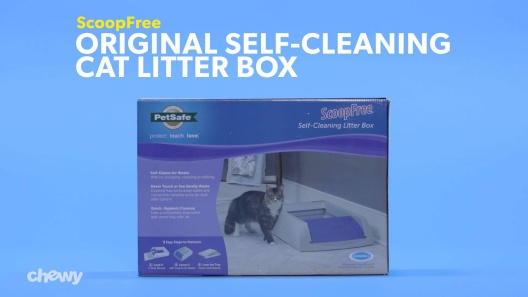 Learn More About ScoopFree From Our Team of Experts
---
---
Keeping Pets Happy & Safe Since 1998
PetSafe has helped millions of pet parents care for their pets through every stage and season of life.
US-Based Customer Care
The PetSafe team of customer care experts is available 5 days a week via live chat, email or phone.
Healthy Pets, Happy People
PetSafe is dedicated to helping pet parents keep their furry family members healthy, safe and happy. From irresistible toys to life-protecting pet fences, their innovative products are designed to help bring pet families closer, for a lifetime of love.
Pick of the Litter
What sets PetSafe apart is a team of pet experts who come to work every day with one goal: making the world a happier place for pets and their people. They work with professional trainers, veterinarians and pet behaviorists to keep up on the latest research and insights and use that in developing their products. They rigorously test every product for safety, quality and efficacy, too – because your pet deserves the best!
About PetSafe
PetSafe has been a global leader in pet care since 1998. They pride themselves on empowering pet parents through innovation, education and experiences. Their goal is to strengthen the bond between people and their pets, providing them with thoughtful products, expert advice and compassionate support. PetSafe's US-based customer support team is always ready to help you get the most out of your life together with your pets!
Shop PetSafe
Compare Similar Items
| | | | | | |
| --- | --- | --- | --- | --- | --- |
| | | | | | |
| Customer Rating | | | | | |
| Price | | | | | |
| Litter Box Type | Automatic | Automatic | Automatic, Covered | Automatic, Top Entry, Covered | Automatic |
| Material | Plastic, Silicone | Plastic | Plastic, Silicone | Plastic, Silicone | Plastic |
| Litter Feature | Odor Control, Non-Clumping, Scented, Natural, Low Tracking | — | Non-Clumping, Scented, Natural, Low Tracking, Odor Control | Odor Control, Non-Clumping, Scented, Natural, Low Tracking | Odor Control |
| Lifestage | Kitten, Adult, Senior | — | Kitten, Adult, Senior | Kitten, Adult, Senior | Adult |
| Compatibility | Plug-In Power | — | Plug-In Power | Plug-In Power | Wi-Fi |
| Assembly Required | Yes | — | Yes | Yes | — |
| Packaging Type | Tray | — | Tray | Tray | — |
---
Questions & Answers
37 Customer Questions
---
What is the difference between the original and delux models besides the privacy hood?
Answer by • May 24, 2018
The ScoopFree Ultra Self-Cleaning Cat Litter Box has alternate pickup options from 5, 10 and 20 minutes after use, contains a hood, and has a health counter to keep track of how often your furbaby uses the litter.
---
Does the litter stick to the cat's paws and end up on the floor around the litter box?
Answer by • Mar 30, 2019
This litter box features low-tracking and 99% dust-free crystals that won't stick to kitty's paws so your home stays clean and litter-free.
---
How often do you need to change the crystal litter?
Answer by • Nov 17, 2020
You should change the litter tray when the crystal litter is saturated or when the waste trap is full. As the crystals absorb urine, the litter will start to turn yellow. Once the majority of the litter turns yellow, the crystals are nearing their saturation point. When the crystals can no longer absorb any more moisture, you may start to notice an odor from the urine. When the waste trap is full, the waste trap cover will not close completely. You may see small pieces of solid waste sticking out from underneath the lid. You may also start to notice an odor from the solid waste.
---
Does the hood come with this product?
Answer by • Apr 10, 2020
This litter box does not include the privacy hood. However, it is available separately for purchase by using the Chewy search feature and searching for "The ScoopFree Self-Cleaning Cat Litter Box Privacy Hood".
---
---
---
By CatMama on Oct 26, 2022
Makes life easier
We started with one and now have two for a two cat household and use them with reusable trays and Fresh Step scented crystals. They have made life much easier and the house smelling fresh. We opted for a second to allow for more time between changes as the trays last about 35 uses. The Natures Miracle litter wipes help to clean up and stuck on particles and urine residue as well as keeping the combs clean. So much easier and cleaner than scooping a dusty litter box. They are much more sanitary as the debris is always dried out and combed away so there is a clean box each use for the kitties. I do wish they made some kind of pad that would stick to the bottom of the reusable tray! Fingers crossed
---
By jean on Nov 12, 2022
Love this litter solution
I had one of these and now I have 3 because they are everything they say they are (which is very rare!) The litter box is great at controlling odor. The cats love it. (they like to play with it sometimes). I only have to clean them out every 3 weeks or so compared to my regular litter boxes which must be emptied daily to say nothing of sanitizing them once a week. Since I have multiple cats, it makes my housekeeping much easier on a daily basis. I have a recurring order for new litter so that I do not have to go to the store to buy litter. I have nothing but positive feelings about this. The orignal litter box was purchased two years ago and works great still. It has a counter so I can see how often the kitties have used it, but I check it when it says it is time as sometimes the kitties just get in it to watch the rake and the counter only approximates the usage. But that is OK. Well worth the initial investment.
---
By Fizzy on Oct 1, 2022
Good for vacations only
Pros: Does not take up a ton of space. Super convenient for when we have to travel so that our sitter does not have to scoop. When we get home from our trip we just toss out the litter tray. Cons: Poop gets stuck to the metal rake that sweeps the box and the box itself gets smelly and gross very quickly. You can only use the specific litter tray for this box and the crystals track everywhere. My least favorite part of traveling is dealing with setting up and dismantling this disgusting thing. This used to be our regular, day-to-day litter box, but we switched away to the Breeze system with a litter genie to manage the smell. I would only recommend the ScoopFree box for someone that needs a solution for when they travel.
---
By joyz on Nov 3, 2022
My cats love this box
I was sceptical about this box. But my cats love it! The older cat took to it immediately. She loves a fresh box. The six months kittens were more intrigued and loved watching the rake move. It took a few days for them, but now they don't want regular litter. I ordered a second one yesterday so the three of them have options.
---
By dlwb on Oct 6, 2022
Works well but...
Works well but without a cover, the stench spreads. It often does not alert when my cats use it and I have to manually press the button. If not that then the pause before the sensor activates is so long that you end up pressing the button anyways to avoid the stench. Also, I was not aware the bottom is cardboard or that you have to buy specialized litter branded specifically for this litter box but that is likely due to my reading comprehension and not the box itself.
---
By Louise on Oct 26, 2022
Heed my warning! Don't ignore the other reviews!
I wanted a litter robot as I don't like to pick up the litter, but I also can't justify spending $500 on it, so I thought this was a good in between. I saw the other reviews describing the fact that it smelled, the litter did not last as long as advertised, frequent blockage... etc. I thought, these people must be using it wrong! Surely I will do a better job at it! I was wrong. I have been humbled. It started when I opened the box, and realized that this, in fact, does not have a bottom. The bottom that is included in this item is made out of flimsy cardboard, and PetSafe expects you to buy a new bottom every month rather than changing the litter yourself. I thought "I'll just use the cardboard and clean it, whatever!". It's now a few months in and the cardboard is warping, litter is getting stuck everywhere and I am still in denial. You want to buy a separate bottom that is reusable? It's not included! $30 !!! It's open top. If you're a fan of Jackson Galaxy and have a massive house where you can tuck it into a corner, that's great. For everyone else, be prepared for stinky town, even though the whole premise of this litter box is to control the smell. You want a top? Regular tops wont fit on it, you gotta shell out another $30 to PetSafe. My thinking was that I was going to buy one of those litter box hidings that look like furniture, but you would be hard pressed to find one that can fit this behemoth. It's HUGE, long and thick, none of the ones I looked at online (and I looked at a lot) would fit it. It gets stuck a lot if you use any other litter than the PetSafe kind, and that litter sucks. The included PetSafe litter does not clump, AT ALL. After a week, be prepared for a permeating scent of cat urine, as it has sunk to the bottom of the litter box and is not being dried by the litter crystals. No odor control at all, even with the Lavender scented one. Even with that litter, the mechanism gets stuck all the time, which is especially terrible when you are away for a few days and come back to a mess because your cat can't go to the bathroom when a big rod is stuck in the middle of her toilet. One good point for it, it's convenient ***when it works*** to just pick up the poop at the end of the litter box. Is it life changing? No. Is it a time saver? You gain 5 seconds of your time, which is lost by trying to fix the mechanism every day. Heed my warning!! This is NOT worth it! I only have one cat, and it sucked. At this point, I'm even thinking of asking for a refund and this clunky mess of a machine.
---
By LitterBoxQueen on Jul 16, 2022
Truly A Game Changer
I'm notoriously lazy when it comes to cleaning up the cat litter and needed a solution. This is it. The crystal cat litter bags I buy (I'm trying out different ones currently) last about a month ($18-20) and my fussy cat who likes a clean box to go in hasn't misbehaved since we installed this. The cleanup is easier than traditional clumping litter and so far I haven't run into troubleshooting issues. I thought my older cat would take longer to adjust to it but she picked up on it quickly. The cord is a good length, which I appreciate. I would recommend buying the reusable tray. Even priced ridiculously, it does save you in the long run and it lets you try different litters to your liking. Crystal litter also doesn't stick to the tray like clay litter does so it's easier to clean. I got this because my friend recommended it and I don't regret it.
---
By Terra on Sep 7, 2022
Not worth the money
Cardboard on bottom is a bad design, assembly is far too difficult, doesn't function properly, for such an expensive item it should not be needing a replacement every litter change
---
By MegP on Aug 9, 2022
Works but expensive and the litter gets EVERYWHERE
We have had this litter box for over two years. We have two cats that are really particular about a clean box, which this box is great for BUT every time they step in the box crystals follow them everywhere. They are all around the house, up stairs, down stairs, in beds, it just gross. I am so sick of seeing crystals throughout our house, that I am finally done.
---
By Review on Aug 3, 2022
Not worth the cost
I was expecting much more out of this product. I thought it would scoop the waste underneath into the holding tray but all that it does it scoop the poo to the end of the box and leave it there until you manually remove it with a scooper. I can do this with a manual box. This box is way too expensive for what you get. Would not recommend.
---