ScoopFree Ultra Top-Entry Automatic Self-Cleaning Cat Litter Box, Gray
By ScoopFree
---
About This Item
Self-cleaning box keeps itself tidy for weeks—with no scooping, cleaning or refilling—so you can focus on your favorite parts of being a cat parent.
Crystal cat litter first absorbs liquids and dehydrates solid waste, then the automatic rake shoves it all into a covered trap—which means you never have to touch or see the smelly stuff.
Litter crystals rarely stick to cats' paws, but this top-entry hood has a grated surface that adds extra protection from tracking.
Built-in health counter tells you how many times your cat has used the box, so you can easily track your cat's habits and share results with your veterinarian.
Cleaning up is simpler than ever—just stick the lid on the disposable tray and toss it in the trash!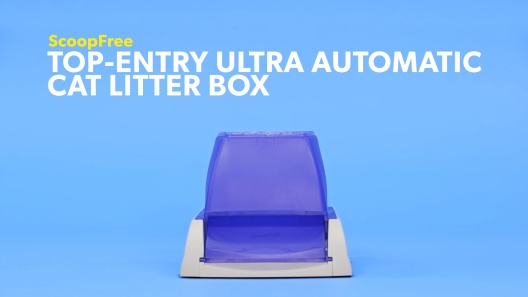 Learn More About ScoopFree From Our Team of Experts
Related Items
Click here for compatible litter.
Click here for reusable litter tray.
Shop Prescription Medications from Chewy Pharmacy
---
Compare Similar Items
| | | | | | |
| --- | --- | --- | --- | --- | --- |
| | | | | | |
| Customer Rating | | | | | |
| Price | | | | | |
| Litter Box Type | Automatic, Top Entry, Covered | Automatic | Automatic | Automatic | Automatic |
| Material | Plastic, Silicone | Plastic | Plastic | Plastic, Silicone | Plastic, Silicone |
| Litter Feature | Odor Control, Non-Clumping, Scented, Natural, Low Tracking | N/A | N/A | Odor Control, Non-Clumping, Scented, Natural, Low Tracking | Odor Control |
| Compatibility | Plug-In Power | N/A | N/A | Plug-In Power | Plug-In Power |
| Assembly Required | Yes | N/A | N/A | Yes | Yes |
| Packaging Type | Tray | N/A | N/A | Tray | N/A |
| Tools Included | No Tools Required | N/A | N/A | No Tools Required | No Tools Required |
---
Questions & Answers
30 Customer Questions
---
If I use the reusable cat litter tray , Can I use with the regular clumping litter or just have to be with the crystal?
Answer by • Nov 09, 2018
The plastic litter tray comes pre-filled with Premium Blue Crystals litter which has been proven to provide unbeatable odor control that's 5 times more effective than clay and clumping litters. Standard litter will not work with this item.
---
Does this fit for any size cat?
Answer by • Nov 11, 2018
We recommend measuring your cat to make sure they will fit properly inside the litter box. The cat potty area measures 15 1/2 inches long x 14 inches wide.
---
Is it possible to replace the top entry hood to the other privacy hood that's for ScoopFree?
Answer by • Nov 28, 2018
This litter box has interchangeable hoods. It is possible to insert the standard privacy hood in place of the top-entry hood.
---
Why kittens below 6 months we cannot plug it? Is there something harmful for them?
Answer by • Nov 08, 2018
Kittens under six months have a tendency to be quite skittish and can scare easily if they hear or see the rake move. Additionally the will often take longer amounts of time in the litter box to get used to the system.
---
---
---
By Lauren on May 10, 2022
Convenient, but not foolproof
Not having to scoop out our cats' litterbox every day is a game changer for sure, and our cats took to this very quickly. Unfortunately all too often, cat poop gets caught on the rake and never makes it to the waste reservoir, which feels a bit counterproductive.
---
By Happycatnana on Apr 30, 2022
Great product!
We have a 1 1/2 year old 16 pond cat and we love this litter box. It took him about a week to get used to it, but now he loves it! It came with a disposable ready to use litter tray but we plan on getting the reusable one. I definitely recommend this product.
---
By MH1cat on Apr 10, 2022
nice litter box!
This is a nice litter box. I would recommend just because it is easy to set up and seems like it is a quality item. We didn't actually get to use it because our cat passed away recently after. I can't figure out how to return or if that's even an option. I would recommend to others though. Thank you.
---
By OGKitten on Feb 14, 2022
Life Changing- Adding Another!
I've had one of these for over a year and I love it! One worked fine for one cat but now I'm adding a 3mo kitten kitten to our fam so I'm buying another. I've been changing the litter every two weeks for one cat since I bought the first one, and I think two weeks is the most I'd want to go before switching out the tray. Urine stays in the crystals so I wouldn't want the kitties stepping in it past that 2 week mark. I don't smell anything 95% of the time except right after they go. Trays are a little pricey but not that much more than premium litter and well worth it for the convenience and relief of not scooping every day! Highly recommend!
---
By sadcats on Apr 15, 2022
don't buy this
It's a horrible mess, I wish I splurged and bought the more expensive option. It worked for a couple days and then started smushing all the cat poop. I won't post pics because it's gross :/
---
By Jordan on Mar 3, 2022
Really really happy with the customer service!
I ordered this litter box and within one month there was an issue with the rake. I wasn't sure how to fix it, so I sent in a message to customer service and they immediately sent me a new one! It was a nice surprise on my doorstep! The product itself is nice and convenient. My cats had no issue using it!
---
By Erin on May 6, 2022
Will be your new favorite litterbox
This is my favorite purchase for my cats and honestly makes life so much easier. Highly recommend.
---
By ZoeZ on Mar 24, 2022
Cleans, but big and smells
Same filler in a different litter box didn't not smell. ScoopFree litter box with forever tray smells. Disappointed.
---
By Excellence on Feb 5, 2022
No More Scooping!
Thank you so much for taking the scooping & bagging out of our lives, we've bought 3 of them & they work like a dream! Our cats love them too. Thank you for simplifying our & our cats lives!
---
By EBWhite on Nov 18, 2021
not as Convenient as expected
Wish I loved it, but I don't really. I do like the top load option. But the crystals are not lasting as long as expected. I think they aren't getting stirred as much as they should be. I used the crystals in a regular box for a couple years before this with no issues. They would honestly last even longer than the recommended month long. Now when using This box it's a week before the smell is apparent and if it lasts two weeks the smell is unbearable. I also purchased the reusable tray and it's cumbersome and awkward to change. The cardboard disposable refills would be the way to go here if you are looking into this system. But throwing away so much felt bad, environmentally. Overall I'll be using the system for a while cuz I bought it and it's not cheap but I'm still hoping to find a better automatic system for my cat.
---