Scratch Lounge The Original Scratch Lounge Cat Toy with Catnip
By Scratch Lounge
---
About This Item
Small bag of catnip included so your feline friend can enjoy from the comfort of their Scratch Lounge!
Designed to fit cats of all sizes with 3-sided scratching sides that'll last longer than conventional one-sided scratchers.
Contains no harmful materials so you can feel confident about letting your little (or big) one claw and scratch at it.
Made in the USA from 100% recycled materials and is recyclable.
Measures 22 x 13 x 5 inches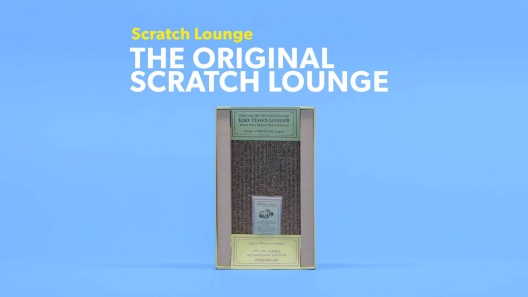 Learn More About Scratch Lounge From Our Team of Experts
Click here for the Scratch Lounge Replacement Floor.
Shop Prescription Medications from Chewy Pharmacy
---
---
Questions & Answers
15 Customer Questions
---
I have a 21 lb solid boned ginger boy...any chance he'll fit without breaking it?
Answer by • Dec 22, 2018
This product is designed to be durable enough for cats of all sizes.
---
My kitty needs a nest-scratcher that can fit on the bottom shelf of a book shelf. What are the dimensions of this one?
Answer by • Jan 19, 2019
This scratch lounge measures 22 x 13 x 5 inches. (Length x Width x Height)
---
Where is this made?
Answer by • Nov 30, 2017
This product is made in the United States.
---
What catnip was included in the package my kitties loved that catnip
Answer by • Aug 08, 2018
The included catnip is made by Scratch Lounge and is 100% natural Canadian catnip.
---
---
---
By Finally on Mar 19, 2022
even my dog loves it
This is great! My cat is super pick and doesn't like most of the $10 scratching pads you get at the store. He doesn't us posts. He mainly likes my velvet couch. But he loves this. He'll scratch at it a bit and sit in it. Yesterday, I caught my dog even getting comfy in it! We left it behind at my brothers once, and his cats couldn't get enough of it either. Definitely a bit and worth the splurge. They'll use it every day.
---
By mouse111 on May 8, 2022
cat can't decide
Our cats love this scratch lounger. I bought this to replace an old one, but now the cats can share. One of the kitties goes from one to the other. So cute.
---
By Kathleen on Feb 15, 2022
Great for sitting, scratching
My 2 year old cat enjoyed scratching this thing when it first arrived. Now that he's scratched it up, I think it needs the replacement cardboard. I could probably get more scratching life out of it if he were sensitive to catnip and I sprinkled some on it. It's not completely useless because now he will sit/loaf in it occasionally. He is a pretty big guy and fits in it comfortably.
---
By Amyw on May 8, 2022
My 4th One
One of my cats loves this! Totally worth the price, it last a good while. I have bought four so far.
---
By misskatie on Feb 2, 2022
my cats love it
My cats love to take their cat naps in these loungers. We have two loungers, five cats, so need to get another one (lounger, that is; not another cat). They also love to sharpen their claws , which kinda riddles the bed, but less so than other cheap scratch pads I have bought.
---
By Vonda on Apr 23, 2022
Cat is not interested!
My cat likes to scratch couches, but is not interested at all in this scratch lounge! Waste of money for me!
---
By ReadingCat on Dec 12, 2021
Perfect 10 Scratch Box
Okay, for all the toys and treats I buy for my cat, Vivian, her favorite thing was the bottom package carton from an appliance I bought. She would sit in it every day, morning, noon and night and scratch the edging. It was a real eye sore, but I had to keep it. Then I found this Scratch Lounge box. The size was about the same as the worn-out carton. Vivian hopped into it right away, scratching like mad and rolling. Needless to say, very happy cat and very happy cat parent! Great that it's made here in the USA! Will be buying more in the future. If your cat is a horizontal scratcher this is the box for your you! Thank you Chewy for this wonderful item!
---
By Hope on May 11, 2022
Cats love it!
Both cats love it. I think I'll get another one so they each have their own!
---
By Waverly on Nov 16, 2021
Mouse damage?
First, I absolutely adore Chewy. It is the best service for pets and I tell everyone I know who has pets to use it. However, I recently re-ordered an item that has to be purchased every so often -- a cat scratch lounge. I purchased two -- one for each of my cats. The price of this item has nearly doubled since the first time I started buying them. It was very noticeable this purchase how expensive this is. But my cats love them, so I got them anyway. One of the cat scratch lounges arrived with damage that looked like a mouse had chewed through a corner. It wasn't just chewed through the removable end piece, but through the actual box itself. Perhaps it was damaged by human error -- but it really doesn't look that way. I don't normally leave reviews, but since this is now a very expensive cardboard box, I did have the expectation that the items would arrive in perfect condition, and unfortunately this time, that did not happen. Otherwise, nothing but raves and good things to say about Chewy.
---
By buggie on Apr 9, 2022
great scratcher
buggie loves these scratchers she sleeps in there scratches away several times aday
---