Sentry Good Behavior Calming Collar for Cats, up to 15-in neck
Autoship
(Save an extra 5%)
Choose Autoship at checkout for regular deliveries.
Why Autoship?
FREE access to chat with licensed vets 7 days a week.
Save 5% on all future Autoship orders.
No fees, no commitments - cancel Autoship anytime.
---
About This Item
Uses pheromone technology that's proven to modify behaviors caused by stress and fear, such as inappropriate marking, scratching, excessive meowing, clawing, and destruction
Releases a pheromone that mimics the one mother cats produce to calm and soothe kittens, making cats feel safe and secure
Helps alleviate problem behaviors caused by stressful situations such as travel, thunderstorms, new pets in the home, new visitors, car rides, and vet visits
Releases pheromones for 30 days with a pleasant, soothing lavender chamomile fragrance
Adjusts to fit necks up to 15 inches. Can be used for cats of all ages and breeds with no long-term side effects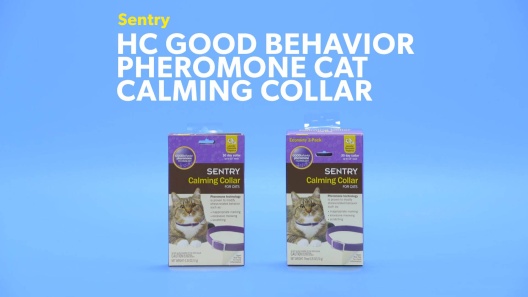 Learn More About Sentry From Our Team of Experts
---
Compare Similar Items
| | | | | | |
| --- | --- | --- | --- | --- | --- |
| | | | | | |
| Customer Rating | | | | | |
| Price | | | | | |
| Autoship | | | | | |
| Top Ingredients | Pheromone | Analogue of Feline Pheromones 4.00%, Other Ingredients 96.00%. | Natural Extracts of Nepeta Cataria Oils. | — | Active Ingredients: Lavender Oil (Lavandula Officinalis), Catmint Oil (Nepeta Cataria)., Inactive Ingredients: Almond Oil (carrier oil)... |
| Closure Type | N/A, Slip On, Buckle | Breakaway | — | Buckle, Slip On | — |
| Lifestage | Adult | Kitten | Adult | Adult | Adult |
| Health Feature | Calming | Calming | Calming | Calming | Calming |
---
Questions & Answers
49 Customer Questions
---
I struggled so hard to get this around my cats small neck making sure it was tight enough but loose enough (the collar you push through the buckle doesn't slide easily at all). While doing so I rubbed most, if not all, of the powder off. Does this render the collar ineffective?
Answer by • Feb 22, 2018
The powder that flakes off the collar when it is being stretched and applied is a normal occurrence and is how the collar operates. The pheromones are impregnated into the collar itself for a sustained release and the collar will still work for your pet and will not make the collar less effective.
---
Is it okay to have this collar on the cat along with a flea collar at same time?
Answer by • Sep 06, 2017
You can use this Calming Collar along with a flea collar. We advise keeping an eye on the area for signs of irritation or any discomfort from your pet.
---
My cats like to groom each other. Is this toxic?
Answer by • Aug 23, 2017
This collar is completely safe for normal grooming.
---
How to do secure the collar? The bucket doesn't clip or anything.
Answer by • Oct 14, 2021
The open end of the collar slides through the opposite end and through the clasp. The friction between the collar ends will keep it from sliding freely.
---
---
---
By Courtney on Nov 10, 2022
So grateful for this product!!!
My 8 year old cat has always had a lot of anxiety. We recently got a new kitten and she went into anxiety overload. She hid under the bed all the time and she stopped laying on her back to nap. She was so tense and jumpy, she seemed miserable. A couple weeks into wearing this collar, she's up between 5:30-6am every morning running around the house playing with the kitten. She lays on her back and purrs and rolls around. She's done a complete 180! I'm so grateful for this collar.. it really hurt my heart to see her so upset. She's always had anxiety, like I said. It hasn't cured that 100% but like I said, 180 from a couple weeks ago. She's comfortable and secure and she's bonded with her new kitten sister. I cannot recommend this collar enough. I've got it on autoship now.
---
By Nina on Nov 18, 2022
Best one Available
My Kelly cat is a nervous wreck, constantly full of anxiety and dread about every sound, sight and motion. This Sentry collar had an amazing effect. It calmed her into being comfortable and soothed. Kelly was so much more enjoyable to be around. I have tried other calming collars but have not found one as effective. The Sentry is definitely worth paying for. I only wish it last longer, it only lasts about 3 weeks for my cat.
---
By TikiMom on Oct 20, 2022
This works
We got a kitten and one of our resident cats was NOT happy. She was getting fresh with everyone (feline & human). I put this on her and within an hour she was climbing up in my lap giving head bumps. The kitten is still sequestered in her own room, but was crying loudly to come out. I went in to play with her to keep her busy and stop the crying, but instead she climbed up to my chest where she could smell the scent of the collar from my other cat just being on me/my clothes. Kitten stopped crying and curled up in her little bed and was mellow! I couldn't believe how quickly it worked. I had some pieces left over from a year ago (that I cut off collars that were too long). I kept them stored in the (opened) foil pouch and sealed in a ziplock bag. Those pieces kept their scent and seemed to still be effective. I keep a piece in my shirt pocket when I snuggle my kitties. But I think once it's being used, it lasts shorter than 30 days.
---
By Tansyblossom on Nov 4, 2022
A much happier kitty
My cat Princess had always been the terror of the house. She'd stalk other cats, attack them and if I'd pet her more than a few minutes she'd lash out at me. Our vet suggested these collars. They have been amazing! She is much more calm when around other cats and just lets them pass by. She hasn't been lashing out and will sit beside me without being aggressive. At night she has even been sleeping on the bed with me. I'm going to continue ordering these collars for her since they are working so well.
---
By Trish on Nov 11, 2022
This is the best
This really works great for my scaredy-cat!! She so nervous and scared of everything. With this collar she like my other cat. Out watching the rain from a thunderstorm or out to greet new people when. They come over. The self harm of licking one spot bald stopped and the hair chewing/pulling also stopped. This thing is the best.
---
By FutureCatLady on Sep 26, 2022
Miracle Worker
My cat, whom I have had for more than 5 years, is known to my friends as an obnoxious biter. I think she's only playing, but that did not make her chomps any less painful. I tried the Feliway, which didn't seem to work and so I believed that this was something I would have to live with. After living on my own for a number of years, I came into a roommate situation, and I was so worried that my cat would end up biting her, which is something I could not abide by. So I decided to try these collars not expecting much and bracing for the next ankle attack. This collar has totally transformed my cat! She has not bit me since I started using the collar for at least the past month. I am delightedly shocked. I joke that the collar makes her think her momma is nearby so she has to be on her best behavior. This is an amazing product and I'm so glad I pirchased it.
---
By FatBoi on Nov 13, 2022
Its A No For Me
my baby was not having this collar. he didn't get overly excessive with it, the behavior didn't change at all. What made it worse, is that my breed of cat is advertising this !!!! lol anyway, I personally wouldn't recommend this and fire the scientist that approved this.
---
By Becf150 on Oct 13, 2022
Works like a charm
I'll preface by saying that these do not last 30 days, more like 2-3 weeks for my senior kitty. BUT THEY'RE WORTH IT! My 20 yr old kitty will pace and be anxious if his bowl isn't full at all times (which is wet food and also unsure where this behavior came from as he's never been without). With this collar, he's so calm and he eats normally a few times a day. I notice a huge difference in his behavior and know the collar needs to be changed.
---
By Ducky on Nov 16, 2022
Was shocked
When we were getting ready to move. (I really had doubt that it would work.) I put the collars on our cats. They were so stressed. Once I put the collars on. They calmed down. And had an easier time adjusting. I was shocked how fast it worked
---
By JessN on Nov 10, 2022
Is this magic?
I have had these on for two days. One cat hates men the other is afraid of strangers. Today we had a male friend come over who neither cat has met. They were both friendly and approached the friend when he walked in for pets.... What magic is this?
---