Sentry Home Flea-Free Breeze Home & Carpet Spray, 24-oz bottle
Frequently Bought Together
---
About This Item
Help protect your home, pets and family from annoying parasitic pests and the potential diseases they may carry.
Water-based spray features an effective combination of the powerful insecticides permethrin and pyriproxyfen.
Goes to work fast to kill fleas and ticks, as well as flea eggs and flea larvae; fresh, clean scent eliminates pet odors.
Keeps working to break the flea lifecycle and prevent re-infestation for up to seven full months.
Recommended for use on pet bedding, carpets, rugs, upholstered furniture and other areas frequented by pets.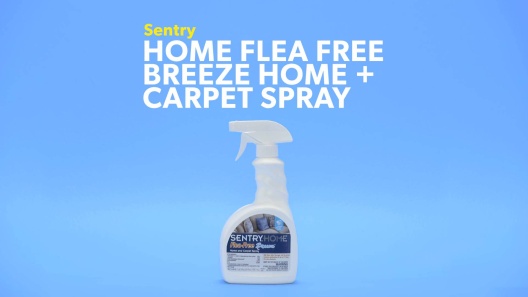 Learn More About Sentry From Our Team of Experts
Important Information
Fleas rise to the top of your pet's coat as they die, so consider it a triumph if you start seeing more fleas at first, after treating your pet. If you're still seeing fleas after application, it may be because your pet has picked up new fleas from the environment, which may include other pets, surfaces and outdoor areas. It may take up to 30 days to break the entire flea life cycle. Additionally, you should also treat sources of new fleas (i.e., carpet, yard, etc.) to ensure complete flea control.
---
Compare Similar Items
| | | | | | |
| --- | --- | --- | --- | --- | --- |
| | | | | | |
| Customer Rating | | | — | | |
| Price | | | | | |
| Autoship | | | — | | — |
| Top Ingredients | Active Ingredients: Pyriproxyfen: 0.02%, Permethrin: 0.20%, N-Octyl Bicycloheptene Dicarboximide: 1.00%. Other Ingredients: 98.78%.... | (S)-Methoprene: 0.01%, Permethrin: 0.28%, other ingredients: 99.71%. | Active Ingredients: 2-Phenethyl Propionate 5.00% Clove Oil 0.50% Rosemary Oil 0.50% Thyme Oil 0.25% Inert Ingredients 93.75% Total 100%, Inactive Ingredients: Deionized Water, Wintergreen Oil... | (S)-Methoprene: 0.09%, Permethrin: 0.50%, other ingredients: 99.41%. | 2-Phenethyl Propionate, Peppermint Oil, Rosemary Oil... |
| Lifestage | Adult | Adult | Adult | Adult | Adult |
---
Questions & Answers
14 Customer Questions
---
Is the flea spray for carpet safe for cats
Answer by • Jun 15, 2017
While the spray is not to be used directly on pets, it's safe to use on pet bedding, carpet, rugs, upholstered furniture and other areas frequented by pets.
---
How quickly does this product work?
Answer by • Oct 13, 2017
This would ultimately depend on how infested the area is. We would recommend spraying heavily in the affected areas once every day until any infestations are cleared out. This spray is intended to keep fleas, ticks, and larvae away for up to 210 days.
---
How safe for bunnies that free roam? Will I need to mop floors besides vacuum carpet?
Answer by • Jul 15, 2020
Thoroughly vacuum all carpeting, upholstered furniture, along baseboards, under furniture and in closets. Seal vacuum bag and dispose of in trash outdoors. Mop hard surface floors. Spray all floors and other aforementioned areas thoroughly using a smooth back and forth motion. Provide even treatment but do not soak the areas that you treat. If fleas reappear, repeat treatment or allow the product's residual effect to kill the newly emerged fleas. The spray will take approximately 2 hours to dry depending on the area of the country you live in (if humid it could take longer). You and your pets are not required to leave the house during this time frame, but you should stay out of any treated rooms while the spray is drying. Once the spray is dry, you and your pet's can resume your normal routine.
---
Does this also kill mites?
Answer by • Sep 18, 2019
This product is only formulated to kill adult fleas, flea eggs, flea larvae and ticks.
---
---
---
By spingus56 on Jun 23, 2022
Doesnt seem to do much
Bought this because after about two weeks after giving my cats their petarmorplus, fleas have reappeared and are biting me mostly. I got it because clearly there are eggs and pupae all over the house that now need to be intercepted to stop the cycle. The day I used this product I was bitten no less than 7 times, substantially more than any day prior, and even began to visibly see fleas crawling on me and the carpet. No clue how it has affected eggs/pupae/larvae but it very clearly is nothing but a pathetic sneeze in the direction of the adults. Cant in good faith give only one star considering I have no idea how it affected the other life cycles, but it does not work as a repellant or killer to adult fleas, I had more success creating a DIY repellant with essential oils at home for at least making them less interested in me. Might work as a preventative and for small infestations.
---
By Gracie on Jul 5, 2021
Excellent product
Someone at work recommended it. I have been using it ever since. This time we have an infestation outside; which, brings them inside by our pets. it's taking longer, because we keep getting more fleas on the pets. I spray it at night usually once a week throughout the house where it might be needed. That's all it usually takes, but this time it's not working, because the fleas are just going crazy outside. I need to use it more often or will have to bomb the house.
---
By midgie on Jul 10, 2021
Love this stuff!!!!
It smells great and works better. I was having problems with fleas AGAIN this year. This time my flea collar wasn't killing the fleas on my cat and it spread to my carpet etc. This cleared the flea issue right up when I switched her flea meds. She's a much happier kitty now thanks to flea breeze!!!
---
By Disappointed on Jul 19, 2020
Scented water
I bought this hoping it would help with the flea problem we have due to living where we do & the amount of rain we've gotten this year making our outdoor flea problem an indoor flea problem. Sprayed this product on visible fleas and it didn't even affect them. It's nothing more than scented water. Don't waste your money on this product. Definitely disappointed in the product. Spend the extra money and get something that will actually work.
---
By Retta on Sep 18, 2020
Leaking when delivered
Didn't really notice any impact at all. Vacuuming and steam cleaning carpets works best. I wanted a quick fix but this did not do that!
---
By Emma on Nov 13, 2019
Works great!
I recently brought in a stray kitten and she was covered in fleas. My senior cat is allergic to fleas and my senior dog is allergic to flea treatments. I combined this with a topical and capstar. It all worked within hours!! I havent had to reapply and the effects last for about 7 months according to the label. Smells almost like an off brand baby shampoo and was very pleasant. The areas I sprayed were contained and away from my dog so I can't really speak to his reaction but i am highly satisfied! I will buy this again if needed. I generously sprayed my entire basement and only used half the bottle.
---
By Tecumseh on Dec 3, 2019
Smells Nicely
One can never truly know how well a product such as this is working as it takes so long to get rid of fleas but it has a surprisingly fresh scent.
---
By Tjonaek on Oct 3, 2019
help I need answers
I just bought this it says to mop floors CAN I SPRAY THIS ON MY TABLES, DresserS and etc. also do I spray the floor with it as well THEN MOP
---
By agirlandtwocats on Feb 17, 2019
works until half of bottle is empty
i had fleas from rescue kittens that i had been fostering. i tried everything, nothing helped. finally when they left to go to their new foster home, the fleas stayed and my 2 kitties were over taken. i tried first revolution, in addition to washing everything and vacuuming, i still had them in my living room to the point that both of my cats would not come into the room. they would run thru to get to their litter box. i found this on chewy!!! i decided to try it. i sprayed everything down!! couch, carpet, duvet cover. anything i could not wash. the smell is like one of those sprays that you use to freshen up with. after multiple rounds of revolution and advantage do i think it helps? yes. but my one complain is, once the bottle gets about half way thru, it's hard to get it to spray out of the bottle. do i recommend it? yes and i have. and i will continue to use it. my oldest cat is severely allergic to fleas and he has bites around his neck. so i know there's fleas somewhere. my other cat, i tell everyone, is coated in teflon. so, advantage and spraying. i like this because it works. do the fleas come back? yes. but that is something I'm working on. i don't blame this product. it works where i spray it. i just want them to fix the bottle.
---
By Catlover on Jan 13, 2019
Powerful Smell
Not sure if it works because smell was so strong. Had to open windows (in middle of winter) after I sprayed because it's overwhelming. Let pet beds dry and cat won't go in any of the three beds that I sprayed anymore. Can still smell the spray. I am now rewashing beds in hopes to get rid of smell and maybe he will go back in them.
---