Seresto Flea & Tick Collar for Cats
Autoship
(Save an extra 5%)
Choose Autoship at checkout for regular deliveries.
Why Autoship?
FREE access to chat with licensed vets 7 days a week.
Save 5% on all future Autoship orders.
No fees, no commitments - cancel Autoship anytime.
Frequently Bought Together
---
About This Item
Veterinarian-recommended prevention treatment kills fleas and ticks on cats and kittens of all weights and 10 weeks of age and older.
Starts to repel and kill fleas within 24 hours of initial application and re-infesting fleas within two hours; works on contact with no painful biting required.
Also repels and kills ticks within 48 hours of initial application and re-infesting ticks within six hours; works on contact with no painful biting required.
Easy-to-use adjustable collar is odorless and non-greasy; quick-release feature and visibility reflectors provide extra safety.
Water-resistant formula continues working for up to eight months, even after bathing and sun exposure.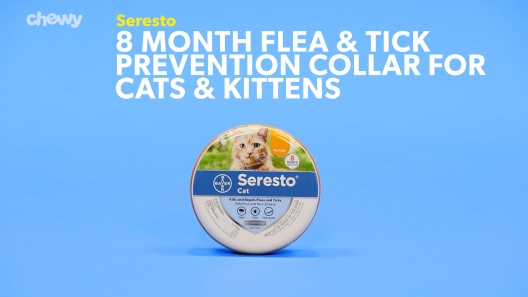 Learn More About Seresto From Our Team of Experts
---
Important Information
Fleas rise to the top of your pet's coat as they die, so consider it a triumph if you start seeing more fleas at first, after treating your pet. If you're still seeing fleas after application, it may be because your pet has picked up new fleas from the environment, which may include other pets, surfaces and outdoor areas. It may take up to 30 days to break the entire flea life cycle. Additionally, you should also treat sources of new fleas (i.e., carpet, yard, etc.) to ensure complete flea control.
---
---
8-Month Protection for 9 Lives
Give your cat the long-lasting protection of Seresto. This easy-to-use, non-greasy, odorless collar kills and repels fleas and ticks for eight continuous months with proper use, so your feline has protection from these biting pests. Get the performance you expect from a monthly topical treatment in an economical collar for convenient, effective protection against fleas and ticks.
Continuous Release for Long-Lasting Prevention
With Elanco, fleas and ticks are killed through contact, with no biting required. The active ingredients stored within the collar release in low concentration with daily wear and are distributed over your cats skin and coat from head to tail for effective protection. As the active ingredients wear off over time, the collar continuously replenishes the skin and coat with a new supply, for 8 continuous months.
Why Choose Seresto?
The veterinarian-recommended Seresto collar is non-greasy and helps avoid the inconvenience of applying monthly flea and tick treatments. It's easy to adjust for a secure fit and kills and repels ticks too. This is important because if a flea or tick is repelled, it cannot bite and transmit disease. Plus, the collar is designed with a ratchet-release mechanism and pre-determined breaking point.
Is Seresto the Right Choice for your Cat?
If your cat is always on the go or dislikes topical and oral medications, then the Seresto collar is a great option to help keep them protected. The Seresto collar provides pet owners with a convenient flea and tick preventative option that works continuously for eight months, eliminating the need for monthly reapplications.
Protection Your Pet Can Wear
Seresto brings convenience to every pet owner with lasting 8 month protection against fleas and ticks that's totally wearable. Plus, Seresto works through contact which means fleas and ticks don't have to bite for the active ingredients to work. It's also available without a prescription, so it's just one less step to take care of.
About Elanco
Elanco is manufactured by Bayer, a leading name in the healthcare industry for over 150 years. Elanco kills and repels fleas and ticks for eight continuous months in one easy-to-use, non-greasy, odorless collar. It effectively kills fleas and ticks and is veterinarian-recommended, so you can feel confident knowing that your pet is getting the protection she needs.
Shop Seresto
---
Questions & Answers
51 Customer Questions
---
How hard is to put collar on as I am 80 and alone and she goes crazy with anything I try to do
---
how long until all fleas are gone ?
Answer by • Oct 02, 2017
This can vary depending on how infested your pet is. The treatment activates by the oil from the cat's skin so as soon as the pet begins to wear the collar, it will begin to work.
---
Does it repel pests away, or do they have to land on cat and wait to die???
Answer by • Jul 07, 2017
There are 2 active ingredients. The flumethrin repels and kills ticks, larvae and nymphs. The imidacloprid controls fleas. As it works through contact, the fleas and ticks on the cat will die but fewer will land on your feline friend given the repelling property.
---
Does this Seresto collar also kill flea eggs?
Answer by • Jul 14, 2017
Seresto kills existing fleas within 24 hours, killing and repelling fleas before they lay eggs.
---
---
---
By Chief on Nov 30, 2022
Works great but difficult to remove
I have used these collars for a few years. We currently have two cats one inside who is allergic to flea bites and after two years no fleas. We change the collar every 8 months. The other cat is a domesticated barn cat who is outside most of the time. She sleeps inside the shop whenever she wants. She has never had a tick or flea problem since we started using these collars two years ago, they work great, but they are very difficult to remove neither of these cats are heavy enough or strong enough to release these collars if they got caught on something. So I adjust them to the point I can slip two fingers between the cat and collar and so far this has worked fine.
---
By HappyCatDad23 on Nov 14, 2022
Best over-the-counter flea product ever!
Our two indoor cats got a bad case of fleas this year (probably from jumping on our socks in the yard) and were both losing weight and fur. We tried daily vacuuming, flea combing, bathing, and laundry, but couldn't keep up with the infestation. The pills we used only killed adult fleas for 24 hours, so we needed a long-term solution. My wife highly recommended these collars because they worked well for her dogs in the past, and Chewy has the cheapest price around! Our cats have dramatically improved over the last few weeks in demeanor and appearance; they've gained weight and regrew most of the lost fur. I highly recommend these collars as the best flea solution available without having to pay $$$ at the vet. These collars are definitely worth the price- we've probably spent twice the amount on inferior flea products before finally trying these. We will be buying them again next spring!
---
By Momof2bigboys on Nov 7, 2022
Saved my Sanity
In August, I took my 2 indoor boys to the vet for itching and sure enough they had somehow gotten fleas. They weren't on any protection since we have no outdoor pets. The vet put FrontLine on them and we went home and began the task of de-fleaing the house. From the start, the infestation wasn't horrible, like we didn't see fleas on them or on our furniture but every time I combed them, I'd get 4-5 live fleas. After a few days, we gave them flea baths. We still saw 4-5 fleas on them per day, even with repeated vacuuming, laundry and cleaning of the house. I was losing my mind so I ordered these collars and within 1-2 days, I was combing out 1-2 half dead fleas and that was it. After a few more days, no fleas at all on the cats. I ran the Robot vacuum every day on our wood floor and still got 3-4 live fleas per day but I knew they had no host now so it was only a matter of time. In October, I felt confident the fleas were actually gone. I still have a closet and spare room closed up with flea lights in them just in case but I finally feel like the house is flea free. I'm leaving the collars on because they don't bother them and I'm scared of a re-infestation. Great product!
---
By Kimm on Nov 16, 2022
New brand name worse product
I am not sure what the new brand did to these collars we have used them for a long time under the bayer brand suddenly they have a new brand name and absolutely do not work. All our animals have them on one of which has a terrible flea allergy they went from wearing a Bayer one with no issue untill the end of their usefulness about 7 months to wearing these "new" ones for about 2 months and the fleas have only gotten worse. I just had to give the cats dewormer (same brand) because of the fleas I hope it works better then these collars.
---
By Astros on Nov 2, 2022
Amazing! Fleas 100 % gone in 1-2 days.
From previous reviews, I know these collars can be hit or miss for each individual cat, but it worked wonders for the 2 stray cats I take of. Nothing worked before. I tried cheap collars that had no effect on the fleas. I tried frontline plus drops, and once again, zero effect on the fleas. I would bathe them in dishwashing soap. It would kill nearly all the fleas, and then the next day, they would be back in massive numbers. Finally, I paid up for the seresto collars. And literally in 1-2 days, the fleas were 100 % gone! That's been the case for 7 months straight, and I'm now ordering 2 more collars. They are pricey, but for the results I got, I would highly recommend them.
---
By mycatishoudini on Oct 13, 2022
Effective flea control, if the collar can stay on
I bought these as an alternative to the Frontline drops, as they also repel fleas. My cat loves to play in our hallway, which means he picks up the occasional flea from a neighbors animal. He is very allergic to them and will scratch himself raw, but going out in the hallway makes him feel like a king. I bought two collars, one for him and his brother. They work really well at repelling fleas, but within a matter of weeks, both of my cats had gotten out of the collars as the breakaway mechanism is too fragile. I never even saw them trying to get out of them, but I found the collars broken and off. Given that this was supposed to last 7 months (and is not exactly cheap), the fact that I couldn't use them more than a month was disappointing.
---
By cersei on Oct 19, 2022
only worked for 3 months
Bought this product in July and it worked really well for a minute, but now it's mid-October and my cat is covered in fleas… and now I have to deal with tapeworms too. The box says it's supposed to last until March, so technically it should be good for another 5 months. My roommate does not flea treat her cat, so I was really hoping this would keep my girl safe in our shared home. I don't know what else to do at this point. Adding picture of my white bed quilt - washed it three days ago, and they are again covered in flea/tapeworm mess. :/
---
By Diane on Nov 27, 2022
The 100% Best
My poor cat was suffering with fleas, my daughter recommended this flea collar and it works! Within 1 day and 2 the max my cat was turning to herself. The itching and biting stopped. It really killed the fleas. She's back to her old self and I am so relieved.
---
By bibi on Oct 13, 2022
what happened?
I've used these since they came out. I have one adult cat, and 2 dogs. I recently got 2 kittens. I was surprised when I took my dog to the vet, and the vet said he had fleas! I've never seen a flea on my dog before! He told me there are counterfeit collars out there; however, I bought 2 from him for the kittens. He assured me that they buy the collars right from the manufacturer. Well, guess who has fleas. The kittens, and they aren't exposed to the dogs. I don't know what to do now. These used to be flawless.
---
By LouLyd on Oct 25, 2022
Doesn't work anymore
The first time I bought these collars for all my animals. They worked great. I bought them again after the 8 month life was up. The new collars do not work at all. I even bought another round of collars thinking it might have been a bad batch. Second batch the same. I would not recommend these. Expensive and they don't work anymore. Not sure what they did, but I will not purchase again.
---