Seresto Flea & Tick Collar for Cats
By Seresto
Save 15% on First Autoship
Must select Autoship for discount to apply.
Autoship
(Save an extra 5%)
Choose Autoship at checkout for regular deliveries.
Why Autoship?
FREE access to chat with licensed vets 7 days a week.
Save 5% on all future Autoship orders.
No fees, no commitments - cancel Autoship anytime.
---
About This Item
Veterinarian-recommended prevention treatment kills fleas and ticks on cats and kittens of all weights and 10 weeks of age and older.
Starts to repel and kill fleas within 24 hours of initial application and re-infesting fleas within two hours; works on contact with no painful biting required.
Also repels and kills ticks within 48 hours of initial application and re-infesting ticks within six hours; works on contact with no painful biting required.
Easy-to-use adjustable collar is odorless and non-greasy; quick-release feature and visibility reflectors provide extra safety.
Water-resistant formula continues working for up to eight months, even after bathing and sun exposure.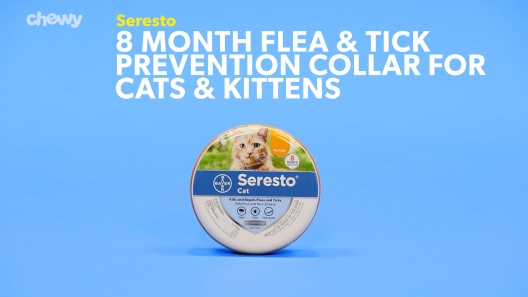 Learn More About Seresto From Our Team of Experts
Important Information
Fleas rise to the top of your pet's coat as they die, so consider it a triumph if you start seeing more fleas at first, after treating your pet. If you're still seeing fleas after application, it may be because your pet has picked up new fleas from the environment, which may include other pets, surfaces and outdoor areas. It may take up to 30 days to break the entire flea life cycle. Additionally, you should also treat sources of new fleas (i.e., carpet, yard, etc.) to ensure complete flea control.
---
---
8-Month Protection for 9 Lives
Give your cat the long-lasting protection of Seresto. This easy-to-use, non-greasy, odorless collar kills and repels fleas and ticks for eight continuous months with proper use, so your feline has protection from these biting pests. Get the performance you expect from a monthly topical treatment in an economical collar for convenient, effective protection against fleas and ticks.
Continuous Release for Long-Lasting Prevention
With Seresto, fleas and ticks are killed through contact, with no biting required. The active ingredients stored within the collar release in low concentration with daily wear and are distributed over your cats skin and coat from head to tail for effective protection. As the active ingredients wear off over time, the collar continuously replenishes the skin and coat with a new supply, for 8 continuous months.
Why Choose Seresto?
The veterinarian-recommended Seresto collar is non-greasy and helps avoid the inconvenience of applying monthly flea and tick treatments. It's easy to adjust for a secure fit and kills and repels ticks too. This is important because if a flea or tick is repelled, it cannot bite and transmit disease. Plus, the collar is designed with a ratchet-release mechanism and pre-determined breaking point.
Is Seresto the Right Choice for your Cat?
If your cat is always on the go or dislikes topical and oral medications, then the Seresto collar is a great option to help keep them protected. The Seresto collar provides pet owners with a convenient flea and tick preventative option that works continuously for eight months, eliminating the need for monthly reapplications.
Protection Your Pet Can Wear
Seresto brings convenience to every pet owner with lasting 8 month protection against fleas and ticks that's totally wearable. Plus, Seresto works through contact which means fleas and ticks don't have to bite for the active ingredients to work. It's also available without a prescription, so it's just one less step to take care of.
About Seresto
Seresto is manufactured by Bayer, a leading name in the healthcare industry for over 150 years. Seresto kills and repels fleas and ticks for eight continuous months in one easy-to-use, non-greasy, odorless collar. It effectively kills fleas and ticks and is veterinarian-recommended, so you can feel confident knowing that your pet is getting the protection she needs.
Shop Seresto
---
Questions & Answers
45 Customer Questions
---
Can I put the collar in my cats when they go outside and then take them off when I bring them in? Will the collar still be effective against ticks?
---
how long until all fleas are gone ?
Answer by • Oct 02, 2017
This can vary depending on how infested your pet is. The treatment activates by the oil from the cat's skin so as soon as the pet begins to wear the collar, it will begin to work.
---
How long should I wait to put this collar on my cat after having applied a spot-on that didn't work?
Answer by • Jul 21, 2017
We recommend to wait a 7 day period before putting on the collar on the cat.
---
Does it repel pests away, or do they have to land on cat and wait to die???
Answer by • Jul 07, 2017
There are 2 active ingredients. The flumethrin repels and kills ticks, larvae and nymphs. The imidacloprid controls fleas. As it works through contact, the fleas and ticks on the cat will die but fewer will land on your feline friend given the repelling property.
---
---
---
By ArchieDiesel on May 13, 2022
Works as intended - happy and pest free home for years
I originally bought this in 2019 to curb a flea infestation. My vet recommended this collar to halt the flea life cycle on our cat. In a few weeks, we went from having fleas leaping off the carpet and biting us humans to not a single flea to be found, even on the cat. SUCCESS! Since then I have kept my cat on seresto. We recently added a small breed puppy to our family in 2021, and put him on seresto in March 2022 when the weather began to warm up. He picks up ticks when traipsing through the woods near our home, but none have bitten him, as all were dead, dying, and not attached to him. This is probably the most important thing for me, because I am IRRATIONALLY afraid of tick bites (hello Lyme disease!) I feel confident in endorsing this product, as it has kept our home free of fleas and ticks for the past few years. I'll keep buying until it no longer works.
---
By Seppi on May 11, 2022
Delivery instructions
The only issues I have with Chewy is the fact that they leave the packages in the wrong spot at least half of the time. Instead of leaving them at the door they drop them out in front of the garage. They are quite often very heavy so difficult for me to carry around to the main door. As far as the products are concerned I've never had any issues. I buy all of my food/supplies from Chewy.
---
By Meredith on May 5, 2022
Best Product That Actually Does Its Job
Where I live we have an incredible amount of fleas in the front and back yard and I seem to always be the carrier to my poor indoor kitties. After trial and error with different flea and tick products, I was recommended this brand from a coworker and it works miracles. I haven't found a single living flea on my cats since I started using these collars a year ago. Well worth the price!
---
By karen on Apr 15, 2022
Mixed Feelings about Seresto
I'm torn. This seems to work on some cats, others not so much. It certainly is NOT an 8 month flea control. 4-6 months tops. I've gone back to treating the outside cats with Revolution due to the horror of Bobcat fever which can be caused by ticks. A few of the inside cats are extremely flea sensitive and while the collars help initially, they seem to fade out around 4 months. A few people have whined about the collars coming off so easily. That's on them. They are obviously NOT using the clips to fasten the collar or are incorrectly using them
---
By Melissa on May 14, 2022
The best flea prevention ever!
My local vet recommended these a couple years ago..and told me the key is to tighten to where you can only fit 2 fingers (side by side) underneath for it to have the correct contact to skin/medicine administration. They work GREAT on my two cats.
---
By Pokeysmom on Apr 23, 2022
They work!
This is the second pair of flea collars I have purchased for my two cats. They were successful in ridding my two cats of fleas, so ,I am not taking any chances this season, I have the new collars ready . Very little odor and no irritation to my cats necks. Have been pleased with the product and the pricing from Chewy.com.
---
By Cindy on May 15, 2022
Seresto Flea & Tick Collar for Cats
Both of my cats had a bad reaction to this flea collar. The fur under the collar completely disintegrated. When I took the collars off of them they seemed so relieved. I will be inquiring about receiving a refund.
---
By LukesMama on Apr 26, 2022
True Believer in Chewy and Seresto
My order arrived in stellar time and was exactly the quality I've come to admire in Seresto - I've been a loyal user of Seresto products for several years. Now, I plan to be a loyal user of Chewy to provide for the comfort of my cat. Morgana loves and so do I.
---
By Holly on Apr 16, 2022
Love these collars
I have been using these for a few years against ticks. I had tried everything and still had to pull ticks off the cats every time they came inside until I found these. They actually work up to a year as I switch them out every May. Ticks have come in and fallen off but I have not found one attached.
---
By Debbie on May 11, 2022
Love the collars!!!
We live in the country and our 4 cats go in/out all the time. Seresto collars have kept us all safe for years. In the past my dogs have hated the monthly liquid applications which did not work as well.
---