Seresto Flea & Tick Collar for Cats
Autoship
(Save an extra 5%)
Choose Autoship at checkout for regular deliveries.
Why Autoship?
FREE access to chat with licensed vets 7 days a week.
Save 5% on all future Autoship orders.
No fees, no commitments - cancel Autoship anytime.
---
About This Item
Veterinarian-recommended prevention treatment kills fleas and ticks on cats and kittens of all weights and 10 weeks of age and older.
Starts to repel and kill fleas within 24 hours of initial application and re-infesting fleas within two hours; works on contact with no painful biting required.
Also repels and kills ticks within 48 hours of initial application and re-infesting ticks within six hours; works on contact with no painful biting required.
Easy-to-use adjustable collar is odorless and non-greasy; quick-release feature and visibility reflectors provide extra safety.
Water-resistant formula continues working for up to eight months, even after bathing and sun exposure.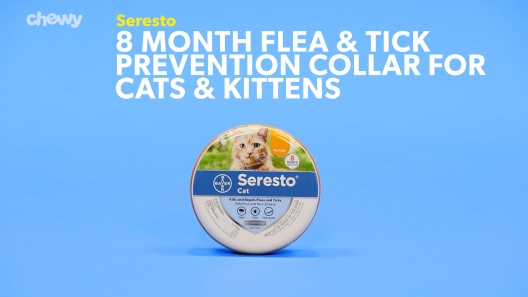 Learn More About Seresto From Our Team of Experts
Important Information
Fleas rise to the top of your pet's coat as they die, so consider it a triumph if you start seeing more fleas at first, after treating your pet. If you're still seeing fleas after application, it may be because your pet has picked up new fleas from the environment, which may include other pets, surfaces and outdoor areas. It may take up to 30 days to break the entire flea life cycle. Additionally, you should also treat sources of new fleas (i.e., carpet, yard, etc.) to ensure complete flea control.
---
---
8-Month Protection for 9 Lives
Give your cat the long-lasting protection of Seresto. This easy-to-use, non-greasy, odorless collar kills and repels fleas and ticks for eight continuous months with proper use, so your feline has protection from these biting pests. Get the performance you expect from a monthly topical treatment in an economical collar for convenient, effective protection against fleas and ticks.
Continuous Release for Long-Lasting Prevention
With Seresto, fleas and ticks are killed through contact, with no biting required. The active ingredients stored within the collar release in low concentration with daily wear and are distributed over your cats skin and coat from head to tail for effective protection. As the active ingredients wear off over time, the collar continuously replenishes the skin and coat with a new supply, for 8 continuous months.
Why Choose Seresto?
The veterinarian-recommended Seresto collar is non-greasy and helps avoid the inconvenience of applying monthly flea and tick treatments. It's easy to adjust for a secure fit and kills and repels ticks too. This is important because if a flea or tick is repelled, it cannot bite and transmit disease. Plus, the collar is designed with a ratchet-release mechanism and pre-determined breaking point.
Is Seresto the Right Choice for your Cat?
If your cat is always on the go or dislikes topical and oral medications, then the Seresto collar is a great option to help keep them protected. The Seresto collar provides pet owners with a convenient flea and tick preventative option that works continuously for eight months, eliminating the need for monthly reapplications.
Protection Your Pet Can Wear
Seresto brings convenience to every pet owner with lasting 8 month protection against fleas and ticks that's totally wearable. Plus, Seresto works through contact which means fleas and ticks don't have to bite for the active ingredients to work. It's also available without a prescription, so it's just one less step to take care of.
About Seresto
Seresto is manufactured by Bayer, a leading name in the healthcare industry for over 150 years. Seresto kills and repels fleas and ticks for eight continuous months in one easy-to-use, non-greasy, odorless collar. It effectively kills fleas and ticks and is veterinarian-recommended, so you can feel confident knowing that your pet is getting the protection she needs.
Shop Seresto
---
Questions & Answers
46 Customer Questions
---
how long until all fleas are gone ?
Answer by • Oct 02, 2017
This can vary depending on how infested your pet is. The treatment activates by the oil from the cat's skin so as soon as the pet begins to wear the collar, it will begin to work.
---
How long should I wait to put this collar on my cat after having applied a spot-on that didn't work?
Answer by • Jul 21, 2017
We recommend to wait a 7 day period before putting on the collar on the cat.
---
Does it repel pests away, or do they have to land on cat and wait to die???
Answer by • Jul 07, 2017
There are 2 active ingredients. The flumethrin repels and kills ticks, larvae and nymphs. The imidacloprid controls fleas. As it works through contact, the fleas and ticks on the cat will die but fewer will land on your feline friend given the repelling property.
---
Does this Seresto collar also kill flea eggs?
Answer by • Jul 14, 2017
Seresto kills existing fleas within 24 hours, killing and repelling fleas before they lay eggs.
---
---
---
By Elke on Jul 17, 2022
if your cat has dealt with flea dermatitis…
… then you must give this collar a try!This is my story of what's Seresto did for us: October 2020, Charlie first came to my yard and I adopted him as a stray when nobody claimed him. He was an outdoor cat for 3 years before I took him in and never seemed to have flea- related issues. After I had him fixed chipped and taken care of at the vet, I made him an indoor/outdoor cat. I had him on Revolution Plus, but for some reason he developed terrible crusty, itchy sores on his face and neck that he never seemed to have before I adopted him. It turned out to be flea dermatitis, and even with the Revolution Plus he would still get them. He also would get tapeworm from the fleas and at that point we had enough. The only solution for us was to make him permanently indoors. We realized pretty soon that he was getting aggressive towards my other cats, extremely hyper, and seemed to develop what looked like depression, longingly looking out the window all day long and eating out of boredom, putting on a lot of weight. After doing a bunch of research I decided to give Seresto a try. Life changing! He has been wearing the collar for two weeks and I have not seen any kind of sores on him or any fleas. Of course Seresto doesn't do all the other things that RP does, but I am OK with that. I was worried that he would lose his collar because he has never kept a collar on the entire time I had him, but Seresto is made different and we haven't had any problems. If you have tried everything and your cat is still dealing with fleas, I suggest you give this a try. Charlie is a happy camper being able to go out again and I am so glad that Seresto is working for him and us. I love that he gets to have his freedom again.
---
By hollykat on Jul 7, 2022
Magic collars
These things are awesome. I normally keep my cats indoors, but when we went to stay with friends whose cats are indoor-outdoor, they got fleas and even a tick or two. I bought them each one of these collars, and the problem was mostly solved pretty quickly. They had new fleas jumping onto them all the time while we were there, so they did still have a couple at any given moment, but after we went back home, they were flea-free within a day or so. And stayed that way. They're $60, but since they work for 8 months, they're actually cheaper than the liquid flea stuff that's applied monthly.
---
By Catwonder22 on Jul 7, 2022
fleasbgone4now
Seresto has been a great product for my 2 elder felines and my younger one, up until just now, July in a non-air-conditioned apt. in Brooklyn, NY where temps in the kitchen alone reach 90 degrees. Needless to say, a perfect breeding ground for fleas, ticks, etc. especially because they go outside to an enclosed garden space. I've had to switch back to using Advantage Multi that my vet recommended to take on the extra added protection during the hot summer months. I was very happy using Seresto during the fall/winter/spring and will likely do so again.
---
By Lindsey on Jul 27, 2022
Only thing that works!
I've tried so many different flea medicines and collars before finally trying this. The fleas were gone in a few days and have never come back. Both my cats are indoor cats, but I have one that likes to run outside and run in the yard before coming back inside. No more worrying about him bringing back fleas!
---
By Kath on Jul 30, 2022
Worth every penny
These collars are exceptionally effective. Instead of wasting money trying things and applying something over and over again, this so far has been the best thing that we've ever used. Also, there appears so far to have been no secondary effects on any of our animals as happens often with other products.
---
By klamo on Jun 7, 2022
Works pretty good
I have two cats and brought fleas in after traveling with them. We had a small infestation in the winter, but as soon as the hot and humid weather hit....we got absolutely infested. I tried several methods until I got desperate and splurged on the collars. It took about 2 weeks before I stopped seeing as many fleas on them (maybe a few that were struggling for dear life) and the scratching stopped (other than normal, occasional scratching). I am still finding dead fleas but it seems we are out of the worst part. My cats usually will not wear collars of any kind and will bite and chew until they get them off. Not these. I put them on and there hasn't been any fuss at all. I check them daily to make sure they are still comfortably and securely on their neck. I did notice, at first, what seemed to be loss of hair around the collar. Upon inspecting further, the hair just looks like it has parted in the area the collar is laying on. Every now and then I will comb their neck hair so the collar isn't laying directly on their skin. I am honestly not entirely sure, hence the lack of a star. They don't seem to be uncomfortable and there isn't any redness, so I hope its not causing distress. Overall seems to be worth it.
---
By NSwab on Jun 25, 2022
Not working
I bought these collars for my indoor cat and dog a few months ago. My dog goes in and out. Today I combed 50 fleas out of my cat. 20 were hiding under or around the collar. Now we are battling keeping the fleas from spreading in the house. My vet recommended these but they do not seem to help keep fleas away or under control. Even tried capstars to help but came right back. The only thing they have helped is keeping ticks off the dog.
---
By 060965 on Jun 9, 2022
disappointed
I've bought these collars for my dogs and cats for years. My 8 pound cat had sores on her and Lymph nodes swollen and her stomach. I thought there's no way I collar isn't working, I bought it 3 months ago. Well took my poor cat to the vet and sure enough she has fleas and from it she got a infection from scratching. Cost me big bucks and I had to buy more flea meds because I'm not spending $60 on another collar that's not going to do the job. Come to think about it the collar only kept flea off my dog for 6 months.
---
By HappyCats on Jun 6, 2022
Works as expected
After trying other methods such as advantage, flea baths and combing them every day I gave up and bought these collars. I was honestly hesitant getting these and was going to take them to the vet but with appointments being so far out and their noticeable discomfort I didn't feel like I had a choice. I'm really glad I got them, after about 30-35 hours of wearing the collars I'm happy to report that they have no fleas I can find with a flea comb! They already seem to be more comfortable and have gotten used to the collars.
---
By Sweetie on Jun 12, 2022
No rejection
My cat hates topically applied flea and tick medicine. She grooms and grooms excessively when it's applied. Very sensitive to foreign smells. Not a problem with this flea collar. She barely fussed with it. No scratching at it or trying to groom it off. As I don't have a flea problem to begin with, I can say I still don't have a flea problem even though she goes for walks on a harness.
---