Seresto Flea & Tick Collar for Dogs, over 18 lbs
Save an extra $7.98 today
Autoship
(Save an extra 5%)
Choose Autoship at checkout for regular deliveries.
Why Autoship?
FREE access to chat with licensed vets 7 days a week.
Save 5% on all future Autoship orders.
No fees, no commitments - cancel Autoship anytime.
---
About This Item
Veterinarian-recommended prevention treatment kills fleas and ticks on puppies and dogs 7 weeks and older weighing over 18 pounds.
Starts to repel and kill fleas within 24 hours of initial application and re-infesting fleas within two hours; works on contact with no painful biting required.
Also repels and kills ticks within 48 hours of initial application and re-infesting ticks within six hours; works on contact with no painful biting required.
Easy-to-use, 27.5-inch adjustable collar is odorless and non-greasy; quick-release feature and visibility reflectors provide extra safety.
Water-resistant formula continues working for up to eight months, even after bathing, swimming and sun exposure.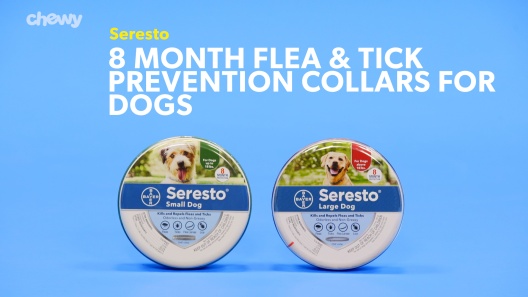 Learn More About Seresto From Our Team of Experts
Important Information
Fleas rise to the top of your pet's coat as they die, so consider it a triumph if you start seeing more fleas at first, after treating your pet. If you're still seeing fleas after application, it may be because your pet has picked up new fleas from the environment, which may include other pets, surfaces and outdoor areas. It may take up to 30 days to break the entire flea life cycle. Additionally, you should also treat sources of new fleas (i.e., carpet, yard, etc.) to ensure complete flea control.
---
---
Vet-Recommended Flea and Tick Protection
Help your dog lead the pack with long-lasting 8 month protection from Seresto. This easy-to-use, non-greasy, odorless collar kills and repels fleas and ticks for eight continuous months with daily wear, and can even help treat and control sarcoptic mange and lice. Get the performance you expect from a monthly treatment in an economical collar for convenient, effective protection.
Continuous Release for Long-Lasting Prevention
With Seresto, fleas and ticks are killed and repelled through contact, with no biting required. The active ingredients stored within the collar release in low concentrations with daily wear and distribute over your dog's skin and coat from head to tail for effective coverage. As the active ingredients wear off over time, the collar continuously replenishes the skin and coat with a new supply, for 8 continuous months.
Why Choose Seresto?
The veterinarian-recommended Seresto collar is non-greasy and helps avoid the inconvenience of applying monthly treatments. If fleas and ticks are repelled, they cannot bite and transmit dangerous diseases. It also helps to treat and control sarcoptic mange and kill lice. Seresto also doesn't interfere with your dog's regular collar and can easily be worn simultaneously.
Protection Your Pet Can Wear
Seresto brings convenience to every pet owner with lasting 8 month protection against fleas and ticks. Plus, Seresto works through contact which means fleas and ticks don't have to bite for the active ingredients to work. It's also available without a prescription, so it's just one less step to take care of.
A Little Water Never Slowed You Down
Seresto is water-resistant and remains effective following a shampoo treatment, swimming or after exposure to rain or sunlight. Under normal conditions, effectiveness lasts for 8 months. In order to maintain an eight-month duration, dogs must not be bathed more than once per month. For dogs that swim once a month or more, the control duration is reduced to 5 months for flea control and reduced to 7 months for tick control.
About Seresto
Seresto is manufactured by Bayer, a leading name in the healthcare industry for over 150 years. Seresto kills and repels fleas and ticks for eight continuous months in one easy-to-use, non-greasy, odorless collar. It effectively kills fleas and ticks and is veterinarian-recommended, so you can feel confident knowing that your pet is getting effective protection.
Shop Seresto
Compare Similar Items
| | | | | | |
| --- | --- | --- | --- | --- | --- |
| | | | | | |
| Customer Rating | | | | | |
| Price | | | | | |
| Autoship | | | | | |
| Top Ingredients | Active Ingredients: Flumethrin 4.5%, Imidacloprid 10.0%. | Active Ingredients: Flumethrin 4.5%, Imidacloprid 10.0%. | Deltamethrin 4.00%, Pyriproxyfen 1.00%, Other Ingredients 95.00%. | Active Ingredients: Deltamethrin 4.00%, (S)-Methoprene 1.02%, Other Ingredients 94.98%... | Peppermint, Clove, Cinnamon... |
| Breed Size | Medium Breeds, Large Breeds, Giant Breeds | Extra Small & Toy Breeds, Small Breeds | All Breeds | All Breeds | Small Breeds, Medium Breeds, Large Breeds, All Breeds |
| Lifestage | Puppy, Adult, Senior | Puppy, Adult, Senior | Puppy, Adult, Senior | Adult | Adult |
| Collar Type | Flea & Tick | Flea & Tick | Flea & Tick | Flea & Tick | N/A |
---
Questions & Answers
69 Customer Questions
---
Can this be used with other flea and ticks treatment?
---
How do you loosen a collar that has become to tight
Answer by • Dec 19, 2018
Seresto is designed with a safety release mechanism. A hard pull causes the ratchet-release mechanism to allow a widening of the collar.
---
Does it work on dogs with long thick hair?
Answer by • May 03, 2018
The active ingredients within this Collar spread from the site of direct contact over the skin surface. In some cases where a pet has a very thick coat, it is recommended to trim their fur so that the Collar has more contact and the ingredients are able to be absorbed.
---
Does this collar kill mites too?
Answer by • Aug 04, 2017
The active ingredients protect from fleas, ticks, and lice. Mites are in the same family as ticks and may be controlled by this collar, but this is not a specified function of the Seresto collar.
---
---
---
By benji007 on Jun 26, 2022
Works great for the first 7 & half months
Great alternative to topical treatments! He had a bad skin reaction to the last topical dose more than a year ago so we switched to Seresto collars since then. Agree with other reviews on decreased efficacy in the last half month or so of the collar. Took my dog for walk in the woods the month before a new collar was due and pulled 2 ticks from his paws. Granted they were still pretty small and didn't crawl up his body, but now I get him a new Seresto at the 7 month mark. Worth it for the peace of mind and no harsh chemicals on his skin.
---
By skeptical on Jun 12, 2022
pleasingly surprised
Have two furry 4 legged kids Golden retriever and Australian shepherd both showing signs of flea problems with my shepherd showing the beginnings of mange on hind quarters even though i have never had much success with collars a friend recommended this product before i went with my normal routine of medicated washes and dips so i gave it one more try and much to my surprise the product seems to be working very effectively at least for my pets. You must show alittle patience though i found it took about 3 days before i noticed a considerably decline in scratching after 1 week almost none the signs of mange have slowly gone away after 15 days so it takes time but for me steady progress and with no side effects after 1 month although quite pricey as for me worth it. Now only time will tell if its claim of 8 months is accurate
---
By Uwood on Jul 2, 2022
Seresto Collars are not a good choice for your fur babies
Found out on the news these Seresto collars are causing deaths to a huge number of dogs everywhere! They have been trying to get these banned, and is going through legislation now. Bayer knows this? I wish I knew this before making this purchase. I threw these out! I Went back to Frontline but am giving a lower dose so not to cause such a dramatic effect after giving the frontline to our two dogs.
---
By Upset on Jun 25, 2022
Doesn't work anymore
I purchased these collars 10 months ago (chewy) for my 2 dogs and they worked excellent. I was so surprised and happy. When the 8 months came to a end, we purchased these 2 months ago and they aren't working at all for ethier dog. My mother purchased 4 from tractor supply and its not working on her dogs ethier we are finding fleas and big green ticks, that are alive, frequently. I don't know what they changed in these, but I do not recommend at all.
---
By Rottmom on Jul 1, 2022
Thumbs up!!!
Not a huge fan of flea/tick collars, however, my dog doesn't tolerate most oral medications and I prefer to have a product that repels ticks. Using another oral product, we came home with 12 wandering ticks on her discovered hours later, and one made it to my neck once we were home! I've used topical products that have stopped working on fleas in my area. So Seresto is our choice. Very happy.
---
By Courtz on Jun 10, 2022
Try this Collar.
I live in a rural area in MO. I have used Frontline Plus for years on our shepherds and lab but they get in the pond or the creek frequently and I feel like the topical wears off. Have to apply monthly for sure. I was hesitant to buy these collars but went for it. I am completely amazed at how well it repels the ticks. Virtually no fleas or ticks on our dogs, couple ticks here and there but so much better!!! These collars are great. I bought them for our shop cats too and they are working beautifully. No adverse reactions. Even if I have to buy another collar until we get cold here 10collars is way different than 30 treatments of frontline!
---
By DogParent on Jun 15, 2022
So far, so good!
We can't use the topical drugs because they cause neurologic side effects for our Labrador. For the past many years, we've taken to obsessively checking him for ticks multiple times/day, all summer long. Despite this, every year our dog has probably 10-12 dog ticks that attach. I'm always worried about diseases and felt there were no options until I heard about this collar. So far, no side effects and no ticks. There's a lot of summer left, so we'll see how it goes. The collar was very easy to unpack and put on.
---
By Unsatisfied on Jul 2, 2022
Horrible collars
I've been using these for a few years now but I've got them from Tractor Supply and they always worked. I ordered some from here and now my dogs have fleas. I don't believe these are authentic. My pups are miserable and now I've got to use NextGuard again. I'm very disappointed with these. I will stick to Tractor Supply for my future purchases of these collars.
---
By David on Jun 6, 2022
Best of the best!
This has been my go-to flea preventative for the past six years and I have not once been disappointed. I've gone from California to Texas with my dogs and seresto has yet to let us down. I have never seen a single flea or tick on any of my dogs in six years and I used to live in an extremely tick-heavy wooded area in California. One of my dogs has a lot of skin/allergy issues, but the collar hasn't ever caused an issue with him despite his sensitivities. I haven't experienced a single negative reaction with this product and my animals. 10/10 I hope this product never changes!
---
By Meghann0622 on Jun 20, 2022
It works BUT
The collar only works on the front half of my lab mix. She is a large dog. Her backside is getting DEVOURED by fleas. Vet stated that with large dogs, the medicine from the collar doesn't go that far down large dogs back so we have to get a secondary flea prevention like Bravecto. Seems like something that costs so much should protect all of her vs only the half of her body closest to the collar especially considering we ordered the size for large dogs. Our cats and small dog it works great. So, just be aware if you have a large dog before buying this.
---