Seresto Flea & Tick Collar for Dogs, up to 18 lbs
Autoship
(Save an extra 5%)
Choose Autoship at checkout for regular deliveries.
Why Autoship?
FREE access to chat with licensed vets 7 days a week.
Save 5% on all future Autoship orders.
No fees, no commitments - cancel Autoship anytime.
---
About This Item
Veterinarian-recommended prevention treatment kills fleas and ticks on puppies and dogs 7 weeks and older weighing up to 18 pounds.
Starts to repel and kill fleas within 24 hours of initial application and re-infesting fleas within two hours; works on contact with no painful biting required.
Also repels and kills ticks within 48 hours of initial application and re-infesting ticks within six hours; works on contact with no painful biting required.
Easy-to-use, 15-inch adjustable collar is odorless and non-greasy; quick-release feature and visibility reflectors provide extra safety.
Water-resistant formula continues working for up to eight months, even after bathing, swimming and sun exposure.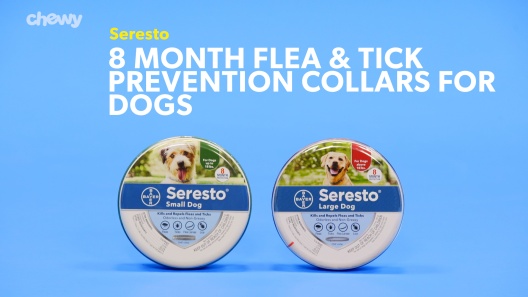 Learn More About Seresto From Our Team of Experts
---
Important Information
Fleas rise to the top of your pet's coat as they die, so consider it a triumph if you start seeing more fleas at first, after treating your pet. If you're still seeing fleas after application, it may be because your pet has picked up new fleas from the environment, which may include other pets, surfaces and outdoor areas. It may take up to 30 days to break the entire flea life cycle. Additionally, you should also treat sources of new fleas (i.e., carpet, yard, etc.) to ensure complete flea control.
---
---
Vet-Recommended Flea and Tick Protection
Help your dog lead the pack with long-lasting 8 month protection from Elanco. This easy-to-use, non-greasy, odorless collar kills and repels fleas and ticks for eight continuous months with daily wear, and can even help treat and control sarcoptic mange and lice. Get the performance you expect from a monthly treatment in an economical collar for convenient, effective protection.
Continuous Release for Long-Lasting Prevention
With Seresto, fleas and ticks are killed and repelled through contact, with no biting required. The active ingredients stored within the collar release in low concentrations with daily wear and distribute over your dog's skin and coat from head to tail for effective coverage. As the active ingredients wear off over time, the collar continuously replenishes the skin and coat with a new supply, for 8 continuous months.
Why Choose Seresto?
The veterinarian-recommended Seresto collar is non-greasy and helps avoid the inconvenience of applying monthly treatments. If fleas and ticks are repelled, they cannot bite and transmit dangerous diseases. It also helps to treat and control sarcoptic mange and kill lice. Seresto also doesn't interfere with your dog's regular collar and can easily be worn simultaneously.
Protection Your Pet Can Wear
Seresto brings convenience to every pet owner with lasting 8 month protection against fleas and ticks. Plus, Seresto works through contact which means fleas and ticks don't have to bite for the active ingredients to work. It's also available without a prescription, so it's just one less step to take care of.
A Little Water Never Slowed You Down
Elanco is water-resistant and remains effective following a shampoo treatment, swimming or after exposure to rain or sunlight. Under normal conditions, effectiveness lasts for 8 months. In order to maintain an eight-month duration, dogs must not be bathed more than once per month. For dogs that swim once a month or more, the control duration is reduced to 5 months for flea control and reduced to 7 months for tick control.
About Seresto
Seresto is manufactured by Elanco, a leading name in the healthcare industry for over 150 years. Seresto kills and repels fleas and ticks for eight continuous months in one easy-to-use, non-greasy, odorless collar. It effectively kills fleas and ticks and is veterinarian-recommended, so you can feel confident knowing that your pet is getting effective protection.
Shop Seresto
---
Questions & Answers
31 Customer Questions
---
What is the expiration date?
---
Can my dog sleep with me while wearing the collar ?
Answer by • Jul 13, 2018
It is safe to allow pets to sleep in bed with you while wearing this collar. The active ingredients spread from the site of direct contact over the skin surface, so it is not recommended to continuously touch the collar.
---
Can this collar be worn alongside or under another, regular collar?
Answer by • Sep 14, 2018
This collar may be worn in addition to a regular collar. It is important to make sure the other collar does not interfere with the Seresto collar as it needs to remain in contact with the pets skin to be effective.
---
Is this safe to use on dogs around a toddler as long as the toddler does not play with the collar?
Answer by • Nov 07, 2018
The active ingredients in Seresto® are released in low concentrations from within the collar to the pets skin. As long as the child is not handling the collar it will be safe for them to be around the pet.
---
---
---
By Chrystal on Nov 12, 2022
Disappointed
I buy these collars every year from chewy for my 2 dogs and they have always worked great, but this time I bought them and I don't know if they changed the formula in them or if I just got 2 bad collars but they are not working at all. I even gave them extra time to work because they usually only take a day or 2 to start killing off the fleas but this time my poor dogs still have fleas and it's been at least 2 months of wearing the collars. They just are not working and I'm very disappointed and frustrated. I spent $100 on 2 collars and this time my money was wasted and I'm spending more on shampoos and things to try and help. I would buy new ones to see if these ones were just a bad batch but I just can't afford it right now, so I'm out money and my dogs are still miserable.
---
By Brenda on Nov 15, 2022
seresto Flea collar
LOve it love it my dogs were suffering from fleas the confortis was no longer working for them , my son told me about the Seresto flea collars I ordered from Chewy was the best thing I had done in a while with in two day I had all the fleas under control I have 6 dogs now my sister passed away so I now have her dogs so I have a crew and needed them collars bad, I also brought the spray so I could spray there doggie beds it works and I have them on reorder in 8 months Thanks Chewy
---
By Lilybell77 on Nov 1, 2022
use to work.
I used to buy these for my pets and never had a problem but recently that seem to not worth much longer than a month before my dog and cats had fleas. I haven't spotted any text but they haven't been outside much. I'm assuming the fleas either came from another pet at the vet or maybe one of the mice the cats found in the basement. Either way it's too much money for it not to work for fleas so I'll never be using them again. Sad.
---
By Michelle79 on Sep 11, 2022
Great protection from flees & ticks
I found this product several years ago after my dog brought flees into our house and infested my 3 indoor-only cats. It was a nightmare trying to get the flees off my pets and out of my house, but once I did, I needed to find an effective peoduct to use to keep them off the dog. After reading many reviews of this product and hearing some horror stories of pets who mysteriously died after their owners used these collars, I was initially scared and skeptical. But after doing some further research and speaking to my vet, I chose to use this flee & tick collar. I have zero regrets. It has worked reliably year after year and kept all my pets safe and healthy. I cannot recommend this product enough. I encourage anybody who may be skeptical or fearful about it to discuss it with their veterinarian.
---
By Deeze on Oct 17, 2022
Didn't last long...
So I've gotten these for my dogs in the past and they've always lasted 8months....bought 2 in July and they don't work anymore! I'm very careful not to get them wet and wait til my dogs are completely dry after a bath or I take them off before they go outside on a rainy day. I probably won't buy these again :(
---
By Lisa on Nov 17, 2022
excellent product
I have been using these collars for about 3 years now and I love them. They are easy to use and my animals don't seem to mind wearing them. I will never go back to nasty liquid stuff again!!!
---
By GiGi on Nov 12, 2022
Seresto Great Product
This is the best flea & tick collar. I have tried several brands and to much avail, none of them worked to keep fleas off my Yorkie. I feel it is safer to use a collar than oral or topical flea control.
---
By 3floofers on Nov 26, 2022
Didn't work
I bought these for my dogs and cats not long ago, and they already stopped working. The package said they last 8 months, and it hasn't even been 1.
---
By Maggie on Nov 1, 2022
Kept my dogs safe all summer
We live in a heavily infested tick area, and my dogs didn't get a single tick on them! Can only believe that it is due to the fact that they had these wonderful collars on!
---
By PatsMom on Jul 31, 2022
Great product for our fur babies
After reading many negative reviews on this product I'm totally baffled at what could be going on and hoping that I don't get some ineffective collars at some point. I've been using Seresto on my dogs for over 15 years and have had nothing but positive results. We take our Pomeranian to be groomed every 5 weeks and our 2 long haired Dachshunds every 10 weeks. Our groomer has never found one flea on any of our doggies so far. We do keep a close eye on them due to the stories we have read about pets that suffered bad side effects from the medication. It's heartbreaking to read. I don't think the cost of Seresto is any worse than other products because we get a good 8 months use out of one collar. Topical applications didn't work well for us since one of my dogs always managed to go roll in some dirt because he didn't like them. Washing the cost of those drops down the bathtub while bathing him almost made me cry! I sure hope that this continues to work so well for us and many others.
---