Simparica Trio Chewable Tablet for Dogs, 5.6-11.0 lbs, (Purple Box)
Autoship
(Save an extra 5%)
Choose Autoship at checkout for regular deliveries.
Why Autoship?
FREE access to chat with licensed vets 7 days a week.
Save 5% on all future Autoship orders.
No fees, no commitments - cancel Autoship anytime.
This item requires prescription approval.
---
Medications ship separately. Delivery times may vary.
---
---
---
We'll collect your pet's prescription information at Checkout.
---
---
About This Item
Help your furry friend fight off pests with Simparica Trio Chewable Tablets for Dogs! Every purchase comes with 6 treatments that are specially formulated for canine companions 8 weeks of age and older, weighing between 5.6 and 11 pounds. Simparica Trio is the first and only product that combines sarolaner, moxidectin and pyrantel in each treatment to help prevent heartworm disease, kill fleas before they can lay eggs, kill 5 types of ticks, treat and prevent flea infestations and treat and control roundworms and hookworms. And each monthly chewable tablet has a palatable liver flavor and can be taken with or without food!
Proudly sourced directly from the manufacturer or their approved distributor. Guaranteed genuine and backed by the manufacturer.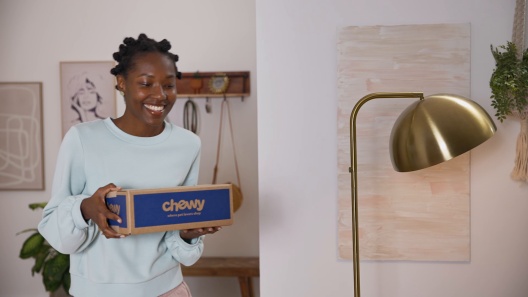 Learn More About Simparica Trio From Our Team of Experts
Dosage Chart
| Color on Box | Weight Range | Strength | Dosage | Product Page |
| --- | --- | --- | --- | --- |
| Gold | 2.8-5.5 lbs | 3 mg Sarolaner, 0.06 mg Moxidectin, 12.5 mg Pyrantel | Administer orally once a month | ✓-Click Here |
| Purple | 5.6-11.0 lbs | 6 mg Sarolaner, 0.12 mg Moxidectin, 25 mg Pyrantel | Administer orally once a month | ✓-Click Here |
| Caramel | 11.1-22.0 lbs | 12 mg Sarolaner, 0.24 mg Moxidectin, 50 mg Pyrantel | Administer orally once a month | ✓-Click Here |
| Teal | 22.1-44.0 lbs | 24 mg Sarolaner, 0.48 mg Moxidectin, 100 mg Pyrantel | Administer orally once a month | ✓-Click Here |
| Green | 44.1-88.0 lbs | 48 mg Sarolaner, 0.96 mg Moxidectin, 200 mg Pyrantel | Administer orally once a month | ✓-Click Here |
| Brown | 88.1-132.0 lbs | 72 mg Sarolaner, 1.44 mg Moxidectin, 300 mg Pyrantel | Administer orally once a month | ✓-Click Here |
---
---
About Simparica Trio for Dogs
Go With Simparica Trio
Give your dog triple protection with Simparica Trio. It's the first monthly chewable that provides defense against heartworm disease, fleas & ticks*, roundworms**, and hookworms***.
Triple Protection, Made Simple
Just one Simparica Trio dose does the job of two or three products, protecting against common parasites that can threaten the health of your dog. It is easy to give and can help simplify your routine as you protect your dog every month.
Use Simparica Trio for Puppies
When puppies are exposed to parasites, it can lead to serious health concerns. Make sure to protect your little ones from the start with Simparica Trio. It is demonstrated safe for puppies 8 weeks and older who weigh at least 2.8 pounds.
Enhance Your Dog's Protection
Just 1 monthly Simparica Trio chewable provided 100% protection from heartworm disease in a study.
The only combination chewable proven to kill 5 types of ticks. Competitive chewable brands are only approved to kill 4.
Kills fleas before they can even lay eggs. Starts killing fleas within 4 hours, with 100% effectiveness achieved in 8 hours in a study.
Treats and controls roundworms and hookworms to protect dogs from intestinal parasites.
IMPORTANT SAFETY INFORMATION
Use with caution in dogs with a history of seizures. Simparica Trio contains sarolaner, a member of the isoxazoline class, which has been associated with neurologic adverse reactions including tremors, ataxia, and seizures in dogs with or without a history of neurologic disorders. The safe use of Simparica Trio has not been evaluated in breeding, pregnant, or lactating dogs. The most frequently reported adverse reactions in clinical trials were vomiting and diarrhea. See full Prescribing Information.
Prescribing Information.
*Amblyomma americanum, Abylomma maculatum, Dermacentor variabilis, Ixodes scapularis, and Rhicephalus sanguineus. **Toxocara canis and Toxascaris leonina. ***Ancylostoma caninum and Uncinaria stenocephala.
All trademarks are the property of Zoetis Services LLC or a related company or a licensor unless otherwise noted. © 2021 Zoetis Services LLC. All rights reserved. STR-00337
About Simparica Trio
Simparica Trio is a once-a-month, easy-to-give chewable that helps simplify protecting your pet every month. With three active ingredients designed for defense, Simparica Trio keeps dogs protected from heartworm disease, fleas & ticks, and roundworms & hookworms. Dogs get all this protection with just one dose of Simparica Trio. Available by prescription only.
Shop Simparica Trio
---
---
By sabb on Jul 19, 2022
Easy to give and my dog has no side effects
Was very easy to give and my dog takes the tablet and chews it right up. Have not had any side effects from it and the fact that you don't have to buy 3 different products because one tablet takes care of it all.
---
By TnTYorkies on Jul 7, 2022
TOO many pills
We love Chewy but somehow got 2 separate orders and of course were charged for 2 orders -- all on the same day. We will use them but not exactly ready to put out that much cash all at once. But we will certainly continue using Chewy ! Love it !
---
By Fleas on Jul 23, 2022
Going back to our old meds
Used to use Sentinel and Nexgard for heartworms and fleas. Switched to this a few months ago because it was more economical. I've seen 2 fleas ON ME today. Going back to the old stuff that works!
---
By Nancy on Jun 4, 2022
Simparica the best!
This is the best because it's one treatment for All. My puppy can chew the pill as well. I'm very thankful that this type of treatment for fleas, ticks, and heart worms is available. Now I don't have to remember what to buy, it's all right there in one pill!
---
By mchpearland on Jul 23, 2022
Tried and true
I have given my dog Simparica Trio for several years, on the advice of the veterinarian. He has had none of the problems that it prevents.
---
By tickattracter on May 23, 2022
garbage product
I have my 9 pound dog the pill and she ate the whole thing. A few days later we ran in the park and found at least 18 ticks on her!!!! They were all over. This pill did absolutely nothing and maybe even made it worse cuz I never heard of a dog getting over 16 ticks at once!!!!!!!!
---
By jayc on May 2, 2022
Covers All The Bases!
I used to give my dog Sentinel and Bravecto, which worked fine. But, switching to Simparica has been WAY EASIER because it is just the one pill every month. The most challenging part of having two meds was that one was monthly and the other was every six weeks and I would forget one of them... This is SO MUCH BETTER!
---
By DotWallace on May 19, 2022
flea/tick meds.
You sent me tablets. I was under the impression the med was in the form that is applied to the back of the neck. I cannot comment on its effectiveness as it has only been 2 days since pup had pill
---
By Dee1 on Apr 5, 2022
Life made easy
I was hesitant about ordering meds online especially since these require a prescription which Chewy needed to obtain from my veterinarian. I was pleasantly surprised at how quickly Chewy responded to my order. They contacted my vet within one day of placing my order, and I received the meds shortly thereafter. Will definitely be using Chewy again.
---
By Honey on Jul 26, 2022
Great service
They were friendly and helpful with changing my address and everything arrived on time!
---