Smart Pet Love Snuggle Kitty Behavioral Aid Cat Toy, Tan Tiger
By Smart Pet Love
---
About This Item
Adorable toy reduces negative behaviors resulting from anxiety or loneliness through natural instinct, not through medication.
Recreates intimacy with physical warmth and a simulated heartbeat which eases crying, loneliness and separation anxiety in pets.
Disposable warming pack provides an extra source of comfort for your pet and is all natural, odorless, and simple to use with no electricity, no microwaving, and no mess.
Easy to clean, the plush toy is machine washable with the heart removed.
Pulsing heartbeat lasts up to two weeks of 24/7 use on just one set of AAA alkaline batteries (included).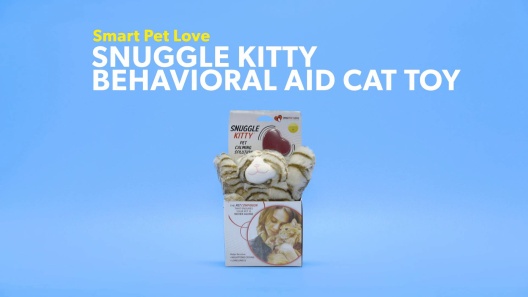 Learn More About Smart Pet Love From Our Team of Experts
---
---
Questions & Answers
13 Customer Questions
---
Can you use bleach when washing this to disinfect it for different litters?
Answer by • Aug 12, 2021
The Snuggle Kitty (and Snuggle Puppy) are machine washable on gentle cycle using mild detergent. It is not recommended using bleach or fabric softener as it can damage the plush and degrade the Velcro. The plush should be air-dried, as well. Remove the heartbeat and heat pack prior to washing.
---
Can this be used with a 2 week old orphan kitten?
Answer by • Apr 15, 2018
This product can be used by cats of all ages.
---
How long is it?
Answer by • Apr 28, 2019
The toy is 12 inches long, 10 inches wide and 3 inches thick.
---
Will this one be safe for a puppy?
Answer by • Apr 14, 2020
We recommend the Smart Pet Love Snuggle Puppy Behavioral Aid Dog Toy for puppies.
---
---
---
By Katherine on Dec 29, 2021
not my kitties' cuppa tea
Unfortunately neither of my adult kitties were enamored of the Snuggle Kitty. I'm going to give it to a friend who's adopting a puppy. It's very well made - my kitties just didn't cotton to it.
---
By Flowergirls on Dec 27, 2021
Don't waste your money
My 3 girls who are 7, all three sniffed the toy and walked away. I tried it with the heart on and off. They had nothing to do with it. I gave it to my sons dog who enjoyed tearing it up. Lol.
---
By Bunny on Nov 5, 2021
Heart STOPPED oh no!
It was going great she loves it. and it serves it's purpose until,the heart stop. put every new battery in there I could. still no change, still no beat. Now I need to know the next step I sent an email to no avail response however I'll be waiting on someone to let me know how to get a new a new heart for the Tiger .
---
By SusieQ on Dec 14, 2021
adorable comfort toy
My 8 month old cat still gets pretty randy sometimes. This snuggle toy calms her. She loves the thumping heartbeat and the warmth of the heat pad.
---
By CatToy on Dec 28, 2021
Snuggle Kitty
My cat loves this item. Calms her down. It's a great calming tool. Would definitely recommend this item.
---
By Jenn on Sep 14, 2021
Such a comfort for an orphan.
I do rescue. A one day old kitten was brought to me, no sign of mom other babies. The finder searched everywhere. We didn't think he would make it, but he is almost three weeks old. We got him this and he immediately reacted. He plays with it and snuggles under it in his incubator.
---
By EmiMae on Aug 22, 2021
A gift from Chewy for Emi
Thank you so much for the special gift for Emi. She was grieving the loss of her best friend, our 17-1/2 yr. old cat, Cosmo. She loves her new friend and sleeps with her head on top of it. Your kindness and caring for your customers and their pets is above and beyond in every way. You are the best. Carol Ann Ruggiero & Emi
---
By Bearfam on Jul 27, 2021
Love it so far
When my foster kitten's sibling got adopted I started looking for something to keep her company until I can foster another kitten. She loved it immediately and has been sleeping on it all afternoon. Knocked off one star for not having a reusable heat pack.
---
By kittykat on Sep 13, 2021
adorable toy
My pup Diezel loved Kitty. I didnt use the Heart for fear he may try to eat it in his cage. he enjoys playing with it & carrying it around
---
By Mendinghearts on Sep 28, 2021
BUY THIS!!!!
We purchased this for an orphaned kitten and this product helped the kitten snuggle and feel secure.
---