SmartCat The Ultimate 32-in Sisal Cat Scratching Post
Compare Similar Items
| | | | | | |
| --- | --- | --- | --- | --- | --- |
| | | | | | |
| Customer Rating | | | | | |
| Price | | | | | |
| Furniture Features | N/A | Anchoring Kit Included | Condo, N/A | N/A | Hanging Toys, Modern |
| Cover Material | Sisal | Faux Fur, Sisal | Sisal | Sisal | N/A, Faux Fur, Sisal |
| Height Range | 31 inches to 59 inches | 31 inches to 59 inches | 31 inches to 59 inches | 30 inches & under | 31 inches to 59 inches |
| Tools Included | No | Yes | No | No Tools Required | Yes |
| Furniture Frame Material | Engineered Wood | Engineered Wood | Engineered Wood | Cardboard | Engineered Wood |
| Number Of Condos | N/A | N/A | 1 condo | N/A | N/A |
| Furniture Mount Type | Free Standing | Free Standing | Free Standing | Free Standing | Free Standing |
---
About This Item
Sturdy 16" x 16" base keeps post from tipping and wobbling.
32" post height allows your cat to stretch vertically while using the post (important for territorial marking purposes and for toning muscles).
Fibrous and durable woven sisal naturally inspires scratching and relieves cat's stress without snagging cats' nails.
Attractive and neutrally toned to fit in with any home decor.
Assembles quickly and easily with two included screws.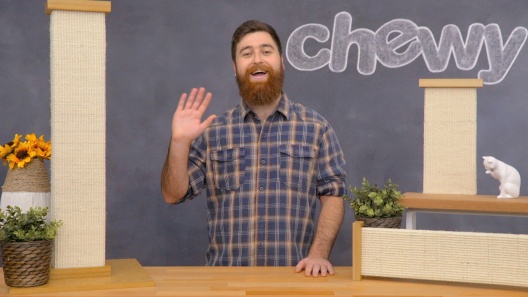 Learn More About SmartCat From Our Team of Experts
Click here for the Ultimate Post Perch.
Shop Prescription Medications from Chewy Pharmacy
---
---
Questions & Answers
25 Customer Questions
---
How much does this scratching post weigh? I have 8 cats, and 3 of them weigh at least 15 lbs, so I'd like to feel sure the post won't just tip over. Thx!
Answer by • Jun 02, 2021
This scratching post weighs approximately 16.0 pounds.
---
When my 5 cats wear out the sisal mat on the post, can the sisal mat slide out of the pole and flip over to use the bottom part? or is there a replacement sisal mat to order when they finish shredding this one?
Answer by • Jun 09, 2018
This scratching post is made as a solid unit. There are no replacement pieces available.
---
My 2 cats are on the bigger side and weigh 19 pounds each. Will this work for them?
Answer by • Jan 01, 2018
This Scratching Post is great for cats of all sizes. It features a sturdy 16 x 16 inch base that keeps the post from tipping and wobbling.
---
My cats kill the top but are tall enough tgat they leave the bottom alone - can the pole be installed with either end up, to even out usage?
Answer by • Oct 13, 2017
This scratching post cannot be installed with either end up.
---
---
---
By GSLove on Apr 15, 2022
Best with Catnip Spray
My cats immediately took to this post, i set it near my couch to entice them away from furniture. After I sprayed it with our favorite catnip oil spray, once a day for about a week, it was used instead of my furniture. I've had it for several years and just turned it around when one side got shredded up into pieces of straw hair. This thing is sturdy, lasts for years. The cats use it as a jumping point to the cat tree. They have played very rough on it and I am getting another one now that they have finally become disinterested in the destroyed threads. Worth the money. Just use catnip oil or a favorite scent to kick it off.
---
By Kat8 on Apr 20, 2022
This Scratching Post is a Solution!
We had a problem with our cats using the wicker furniture on our balcony as their scratching post. We tried to repair the furniture, but I knew the carpet covered scratching post we put out on the balcony was wearing out, and not the number one choice for our cats' scratching. I found this tall sisal cat scratching post on Chewy. The cats love it because they can really stretch up and give it a good scratching workout. It is much more durable outside than the old carpeted post and more stable at standing up to the weight of our not very small cats. I have not seen my cats use the wicker furniture since they have discovered the new 32 inch sisal cat scratching post. I recommend this post to anyone who has larger cats and need an outside scratching post.
---
By wess on Apr 26, 2022
Hope he will use it
I can only rate this on It's appearance --- it looks well made, I've had this for about 4 days now and he hasn't used it yet; I've scratched on it with my nails hoping he will take the hint but he just stood and watched. I'm handicapped and don't drive anymore so I can't take him to the vet to have his nails trimmed and I thought this would help him, maybe it just takes a little time for him to get used to it being in the house; the next thing I thought I would try is laying down instead of having it standing up, I will give this a try in a few days.
---
By Phil on Apr 20, 2022
Evo Loves It
I have tried various other scratching posts and pads but my boy always preferred the furniture. A touch of catnip spray near the top of his new post and he has abandoned everything else. This post can easily pass as a piece of furniture and is tall enough to let your cat stretch out as he pulls on his claws, something that is much more difficult on a shorter post. He enjoys sinking his claws into the sisal rope. I'm usually wary of any product that has all rave reviews, but this post deserves it.
---
By catlover on Apr 28, 2022
claws get stuck
We have 3 cats and this scratching post did not work for any of them. They all tried it and every time they almost instantly were hanging by a foot, struggling to get loose. They've now given up on it altogether and we are trying to figure out ways to modify it to make it usable. We are going to try a tool to fluff it up and if that doesn't work we will wrap it with carpet or something. Very disappointed for this price.
---
By Motowngirl on Mar 18, 2022
Cat Scratching Post that Works!
I recently adopted a new cat. She immediately went after a leather chair and the pleather tops of our kitchen stools. I needed a solution! I order this and encouraged her to use it. She does use it, and seems to have (mostly) stopped being interested in other items. Early days, but this is a solid piece and nice and tall so she can stretch out. I subsequently bought the "perch" that goes with it (attaches on top.). Jury is still out on that, as she doesn't use it much yet. But it is well made and hopefully will get used in the future. I would recommend this.
---
By Patty on Apr 24, 2022
Sturdy and Effective
Both of our cats are using this scratching post and I'm thrilled that Lucky is no longer attracted to the chair in the living room! My husband sprinkled catnip on it and laid it on its side the first day or two and they both jumped on it and scratched up a storm! Great purchase.
---
By Suzi on Apr 29, 2022
Finally!!!
I can now get a new couch! Lovely Lady Lily has transferred her clawing acumen to her new scratching post and shows not the slightest interest in my couch. She also likes to sit on the very top of post looking ever so statuesque.
---
By Vickster on Mar 21, 2022
Scratching Post
I hesitate to purchase items like this online. Sometimes it's a difficult assembly OR not what I had in mind. THIS particular Scratching Post is the BEST. Easy to assemble, sturdy, tall and just perfect for my two kitties. I think it may last longer than the "rope" ones that are on their cat tree. Please keep this item available.....or, I might just order another one for "their" room.
---
By IMET on Apr 20, 2022
My Cats LOVE this
Day 1, my 3 cats just sniffed their new scratch post. Day 2, everyone was taking turns using it. It is 6 inches taller than their previous post and they just love being able to stretch their full length. Very happy with this purchase.
---