SmartCat The Ultimate 32-in Sisal Cat Scratching Post
Frequently Bought Together
---
About This Item
Sturdy 16" x 16" base keeps post from tipping and wobbling.
32" post height allows your cat to stretch vertically while using the post (important for territorial marking purposes and for toning muscles).
Fibrous and durable woven sisal naturally inspires scratching and relieves cat's stress without snagging cats' nails.
Attractive and neutrally toned to fit in with any home decor.
Assembles quickly and easily with two included screws.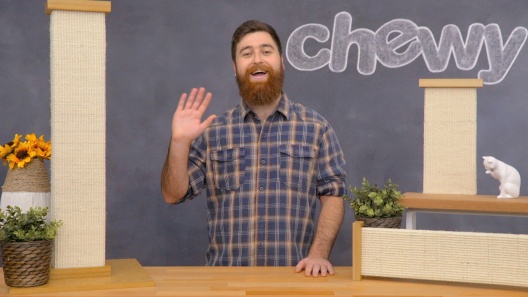 Learn More About SmartCat From Our Team of Experts
---
Compare Similar Items
| | | | | | |
| --- | --- | --- | --- | --- | --- |
| | | | | | |
| Customer Rating | | | | | |
| Price | | | | | |
| Cover Material | Sisal, Plant Material | Faux Fur, Sisal, Plant Material, Synthetic Fabric | N/A, Sisal, Plant Material | Faux Fur, Sisal, Plant Material, Synthetic Fabric | Sisal, Plant Material |
| Furniture Frame Material | Engineered Wood, Wood | Engineered Wood, Wood | Engineered Wood, Wood | Engineered Wood, Wood | Cardboard |
| Height Range | 31 inches to 59 inches | 31 inches to 59 inches | 31 inches to 59 inches | 30 inches & under | 30 inches & under |
| Tools Included | No | Yes | Yes | Yes | No |
| Furniture Mount Type | Free Standing | Free Standing | Free Standing | Free Standing | Free Standing |
| Assembly Required | Yes | Yes | Yes | Yes | No |
| Lifestage | Adult | Adult | Adult | — | Adult |
---
Questions & Answers
26 Customer Questions
---
How much does this scratching post weigh? I have 8 cats, and 3 of them weigh at least 15 lbs, so I'd like to feel sure the post won't just tip over. Thx!
Answer by • Jun 02, 2021
This scratching post weighs approximately 16.0 pounds.
---
When my 5 cats wear out the sisal mat on the post, can the sisal mat slide out of the pole and flip over to use the bottom part? or is there a replacement sisal mat to order when they finish shredding this one?
Answer by • Jun 09, 2018
This scratching post is made as a solid unit. There are no replacement pieces available.
---
My 2 cats are on the bigger side and weigh 19 pounds each. Will this work for them?
Answer by • Jan 01, 2018
This Scratching Post is great for cats of all sizes. It features a sturdy 16 x 16 inch base that keeps the post from tipping and wobbling.
---
My cats kill the top but are tall enough tgat they leave the bottom alone - can the pole be installed with either end up, to even out usage?
Answer by • Oct 13, 2017
This scratching post cannot be installed with either end up.
---
---
---
By Jenna on Sep 24, 2022
Brand does not think about customers with their designs
No fault with chewy. It got to me fast and I need this to persuade my cats to not claw the furniture. The stretching post is great. My issues are #1 the packaging only protects the lower half. The top arrived badly damaged. #2 the stickers are terrible. They don't come off, and when you finally scrap it all off, there is still residue. #3 the assembly dowels and screws come in a plastic bag that is inserted into the pillar. Thanks. My cat with the plastic addiction will like that little bit I can't remove. #4 the screws to attach the bar are large, domed, and not smooth. Not good for wooden floors. So many little things that add up to me being very resentful of this piece that was supposed to bring my cats pleasure. I need it now, so returning it isn't an option at the moment.
---
By Doma on Sep 19, 2022
My cat won't touch it
Maybe is because he's used to rope scratching posts, but he won't pay any attention to it, even after I rubbed it doen in catnip. He won't even rub on it when passing by. I'm giving it to my cousin instead of returning because she has 3 tall cats, so odds are at least one will enjoy it. I'm giving it 3 stars because it's made very well, very sturdy and tall. I just wish Cipher would agree!
---
By JulieBR on Aug 22, 2022
The BEST scratching post I've ever owned!
This is my second time purchasing two of "The Ultimate 23-in Sisal Cat Scratchng Post" by SmartCat. I purchased the first two (one for upstairs, one for downstairs) when we first adopted our now 5-year old cats as kittens. I didn't actually have to replace them, but the material was starting to show ever so slight wear at the top, and I didn't want to give them any excuse to try to scratch elsewhere. Let me tell you, this is the very, very best scratching post I have ever used as a long-time cat owner of many decades. My 2 cats have never once tried to scratch on furniture, because they enjoy these posts so much and use them constantly!! First of all, it's very tall, even for full-grown cats. My male cats are 13 and 14 lbs and it's plenty tall for them. (See my photo!) This is important because they like to extend their arms as high as possible when scratching, if you really want them using it. Second, the sisal material is so much more appealing to cats than other materials, such as carpet. Third, it's extremely durable. The post is heavy and will absolutely not topple over, no matter how rough your cat is with it or how big they are. My first two posts lasted for 5 years, and they probably could have gotten another 2 years' use. The sisal material really holds up! Fourth, it's easy to put together. *** Be sure you look for the screws closely because they are hard to find and you will think they are missing. This happened to me the first time I bought the posts 5 years ago, and I didn't remember and it happened to me again this time. The screws are in a little plastic bag stapled to the seam of the post about halfway up. Anyway, trust me whn I say this is by far the BEST scratching post in the market because I've tried many over the years. It's worth every single penny!!
---
By Beth on Sep 16, 2022
A must if you have a cat
This is truly the greatest of all time for cats of any age or size. The post is quite heavy, so even the biggest cat (like our twenty pound one) can't knock it over. The material is tightly attached to the base. We bought our first one more than a year ago and, although all four of our cats use it several times a day, it's still like new. We couldn't be more pleased.
---
By Ashley on Aug 25, 2022
Effective and attractive scratcher
We have a large orange tabby, and this scratcher is tall enough that he can stretch all the way up on his back legs to scratch. It doesn't slide on our tile, and overall it's attractive for being a cat scratcher. The material has held up well during my cat's daily use. It did arrive dented though which was disappointing.
---
By amos on Aug 15, 2022
This is a great product but...
This is really nice looking, sturdy, easy to assemble—everything as promised. My cat would have nothing to do with it. It didn't even register as a "thing." For about a week or so I followed all the suggestions for enticing him, but nothing worked. However, the story has a happy ending. I gave it to a friend, and her cat immediately got it. Amos's loss, Hobbs's gain.
---
By Naula on Aug 11, 2022
Great Scratcher
My cat is big & she uses it daily. It's big like her & I don't have to worry about it falling over. She tore up a fabric chair, so I trashed it & bought a faux leather & put the scratcher right by it. Cats love fabric. I've always known that. It's just an old chair I used in my bedroom. I'm so glad I bought it. Its worth every penny!
---
By TheBoys on Aug 28, 2022
Great idea!
Our boys are 14# & 17#...with a long stretch! They were used to small round posts, so we're a bit confused with this tall square post. After about a week to get used to it, they're stretching & scratching. It's well made & sturdy. I expect it to last much longer than small round posts.
---
By CatDad on Aug 15, 2022
Best Scratching Post
This was recommended as the best scratching post by the New York Times Wirecutter and their review is accurate. Heavy and sturdy. Attractive. Simple to assemble. Claws don't snag the sisal fabric which is much better than sisal rope. My two large cats love it and one even sits on top of it from time to time.
---
By Charlotte on Aug 9, 2022
I like this and so does kitty!
This scratching post is nice and tall, which is why I ordered it. Our new cat seems to love scratching posts, so I have more than one for her. She adapted to this one right away, and seems to like it very much. I want to provide her with plenty of scratching posts so she won't be tempted with the furniture!
---