Smarty Pear Leo's Loo Covered Automatic Self-Cleaning Cat Litter Box
By Smarty Pear
---
About This Item
Automatically cleans itself after each use by separating waste from clean litter and depositing it in the enclosed waste drawer underneath.
Helps get rid of odors by storing waste in a fully enclosed waste drawer with an all-natural bamboo charcoal filter.
The large display and touch-friendly buttons make setup and use a cinch. Plus, it tracks your feline friend's health and behaviors.
The ultra-quiet sifting technology creates less noise during cleaning cycles than many household appliances.
The ambient lighting offers visibility at night for you and your cat companion!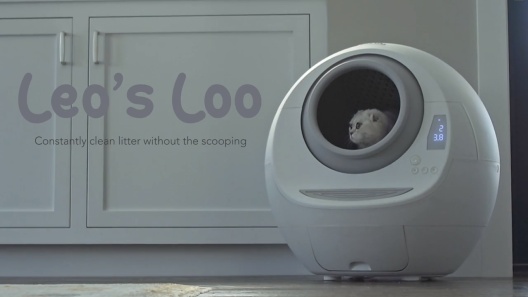 Learn More About Smarty Pear From Our Team of Experts
---
Compare Similar Items
| | | | | | |
| --- | --- | --- | --- | --- | --- |
| | | | | | |
| Customer Rating | | | | | — |
| Price | | | | | |
| Litter Box Type | Automatic, Covered | Automatic, Covered | Automatic, Covered | Self-Cleaning, Automatic | Self-Cleaning, Automatic |
| Material | Plastic | Plastic | Polypropylene | Plastic | N/A |
| Litter Feature | N/A | Odor Control | N/A | N/A | N/A |
| Compatibility | Plug-In Power | Wi-Fi | Wi-Fi | Plug-In Power | Wi-Fi |
| Potty Feature | N/A | N/A | N/A | N/A | N/A |
| Cleaner Type | N/A | N/A | Litter Box | N/A | Litter Box |
| Litter & Bedding Type | N/A | Crystal | N/A | N/A | N/A |
---
Questions & Answers
29 Customer Questions
---
can a large cat fit in it?
Answer by • Apr 05, 2021
Leo's Loo does support large cats and has an inside sphere diameter of over 21" making more than comfortable for them to move around once in. In addition, our access hole is specifically designed give kitties privacy, to keep litter in when then they exit and we all know cats LOVE to squeeze into cozy places.
---
How will the unit stop litter from being tracked? It's still on their paws. What kind of warranty? Where can the bags be purchased? How long has it been on the market (to know life expectancy of unit and long term quality)? Just asking before I dive in and buy one! Thanks
Answer by • May 10, 2021
The entranceway features a silicone ring with a custom designed lip to remove excess litter from kitty feet upon exit. While no system is perfect, Leo's Loo allows minimal amounts of litter to escape, especially compared to traditional boxes and competing products. Any large size litter liner bag can work and their custom bags will soon be available on the manufacturer's website. This product was recently launched in the US but has been tested for well over a year for quality and durability. This litter box has a 1 year warranty and Leo's Loo will cover all parts, labor, and shipping costs (within the contiguous 48 United States). You must register your product on their website after purchasing to be eligible by simply entering the serial number from the base of your unit, date of purchase, your name, email and phone number.
---
How often do you have to change out the litter and litter collection bag?
Answer by • Apr 18, 2021
How often the litter will be changed depends on how many and how often each cat uses the litter box. Cats like using a clean loo just as we do. We recommend changing the litter completely periodically. When this is done, you should also clean the inside of the loo. When the disposal bin is full, an alarm will go off along with a screen notification letting you know it is time to replace the bag. The alarm will continue periodically until you change it.
---
How often does it self-clean? Is there any danger of it self-cleaning when cat is inside of it?
Answer by • Apr 19, 2021
Leo's Loo is designed with kitty safety in mind. Weight sensors and anti-pinch technology stop moving parts so our feline friends are always safe when they step inside. Leo's Loo automatically cleans itself after each cat visit. An alert on the display will tell you when the waste drawer needs to be changed.
---
---
---
By NYsam on May 2, 2022
Easy life upgrade
When my wife wanted to buy a Leo's Loo, I was skeptical and it really didn't seem like it would be a life changing decision, but you don't realize how much time you spend scooping and cleaning your cat's litter box until your litter box does it for you. And you don't realize how messy maintaining a litter box is until keeping it clean is automatic. We have a Leo's Loo and also bought the newer one too and they both are doing their job. The cleaning process is very quiet and emptying it is a breeze. We have one placed upstairs and another out in the open in our living room. You can't hear or smell them and they're nice looking enough to display. I have never been impressed by anything on the market but these automatic cleaning machines changed my mind. I would recommend it to anyone.
---
By Pete on May 20, 2022
Disappointed
Bought this for convenience with our two cats. It worked great for 4 months and I cleaned it as per the instructions like clockwork. Then all of a sudden it started throwing error codes and it hasn't stopped. So now I have to leave it shut off and check it several times a day and turn it on so it can cycle when the cats use it then turn it back off again or the base light will flash for what seems like forever. Pretty bummed out on the waste of $400.00
---
By Carollovesanimals on Apr 21, 2022
Leos Loo Rocks!
Okay first of all? I never imagined buying an automatic self cleaning litter box. However in a multiple cat family, and me getting older?(61years old) Scooping 5 regular litter boxes was becoming very painful as I have fibromyalgia and moderate osteoarthritis. I did a lot of research before I purchased. We don't have Smartphones so a manual/ automatic self cleaning litterbox? That did not require Wi Fi? Was exactly what we needed. I wanted to make sure that I would REALLY like the model that we were going to get. It took me over a week of research to decide on Smarty Pear Leo's Loo. This litter box is quite eye appealing! My husband describes it as a spaceship for cats to poop in. I describe it as modern, attractive, well designed, simple to operate and the darn thing works just amazing! The night light in the base? Was an awesome bonus! I will admit I did play with the night light and it was reminiscent of A 70s disco ball. There are 5 colors to pick from.This comes fully assembled. The directions were VERY clear. It is so simple to operate a 10 year-old could do it. 3 cats are using it and the rest are still contemplating. Cats can be a bit finicky. While this is self cleaning? My cats gather round to watch the show! It is adorable to watch. I absolutely LOVE this machine. It is everything it was described it would be. The tray pulls out and the bags fit very well as long as they are smoothed out neatly. The 3 clips fit very well to hold the bag in place, and there are extra clips too! I love the charcoal pack that fits in the tray. NO smelly room here! Leos Loo? Is quite attractive to the eye, simple to operate and a lifesaver for my old back. This was an excellent purchase! I did my homework, I found exactly what I needed, it perfectly matches my needs and I could not be happier. My cats are very happy with it too! Plus they get to watch it self clean. One more important thing? This baby is so quiet. Not noisy at all. I give Leos Loo? An A+. I am so satisfied with my purchase! A big shout out to Smarty Pear for making such a great machine! I'm sensing another purchase in the very near future. Kudos to Leos Loo!
---
By JackandJill on Apr 23, 2022
An excellent solution for automated self-cleaning cat litter
We have been using this product since January 2022. Such a vast improvement over all previously owned automated liltter solutions. It takes a little getting used to initially, because this product is such a new concept. However, the cats adapted to Leo's Loo the first day it was set up. An excellent automated self-cleaning solution - thank you, Smarty Pear!
---
By Rowtoo on Apr 27, 2022
Why did I wait so long?
I love this box. My 3 kids have used it for a week. Only had 2 problems. The first was getting the kids to understand it is not a toy to play in. Second watching it go around does not require jumping back in for a ride. I can not believe I waited so long to get this product. Planning on getting another one, well worth the price.
---
By Matt on Apr 3, 2022
Does not work well
I have one cat that is not even full grown (7 months), and this needs to be changed every 4-5 days. The worst part of it is that it only makes it to the 4-5 days without having some sort of error every 1 out of 3 times and needs to be reset. This is a pain bc if we leave for 3 days and it has an error the first day, there's no way to reset it. There support did not respond with anything helpful other than to turn it on and then off. I would not recommend this product to anyone.
---
By HobbitCat on Mar 28, 2022
The worst cat box ever
This is the worst cat box I have ever had. The litter settles to the back right where the shifter hangs down, so our cat goes to the other side to relieve itself...getting it all over the bottom where it sticks. Cleaning it takes over half an hour & with 2 people. We've been using it for 4 months & the sensor is already malfunctioning, I've tried all the trouble shooting they recommend & NOPE! So it is no longer even an automatic cat box. DO NOT BUY THIS LITTER BOX.
---
By Alisa on May 8, 2022
Returning
Works for a few hours then says it's full and it was only used one time then it stops working until you completely clean out the whole box tray and wipe all sensors at least once a day... A normal liter box has less maintenance
---
By Arya on Apr 1, 2022
Leos Loo gets poop all over it
If you are looking for a low maintenace cat litter box for multiple cats, the Leo's Loo is not for you. Works better than the Nature Maid litter boxes - which break within 3 months, but hard to clean when the poop gets smushed all over the inside of the litter barrel. Lavviebot from Robot Shop is a much better litter box - costs more, but well worth the added expense.
---
By MartiB on Mar 1, 2022
Above and Beyond so happy
It's not silent, but it's very quiet. My cats took to it right away. One of my cat likes to toss litter right out the door so it's a bit messier than the litter box I had before which was a top entry box, but man do they love this thing. I love it too, so easy to clean. It is a bit smellier than our old litter box if you don't empty the tray often. I don't wait for the alarm, I just empty it like every two days. When I did wait it took my two cats about 5 days to fill it up. So far my husband, I and my two cats really like this thing.
---