Smarty Pear Leo's Loo Too Wifi Enabled Cat Litter Box
---
About This Item
Automatically separates waste from clean litter and stores the mess in a drawer underneath.
Extra dense bamboo filters block odors from leaving the enclosed waste drawer.
Control the device all from your smartphone and stay updated with your feline friend's health.
Sleep soundly with a litter box that creates less noise than many household appliances.
Keep your litter box tidy with UV sanitizer and your purr-fect companion safe with radar and sensor-based safety systems.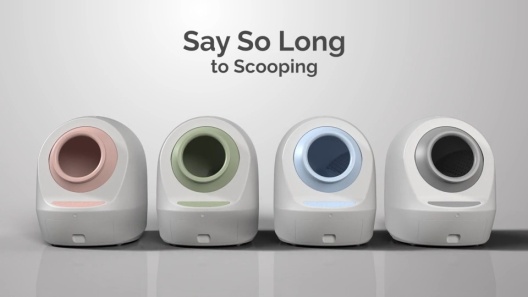 Learn More About Smarty Pear From Our Team of Experts
---
---
About Smarty Pear Leo's Loo Too Cat Litter Box
Say "So Long" to Scooping
Get the Leo's Loo Too and say goodbye to the least enjoyable part of cat parenting—scooping litter! This smart litter box detects when kitties visit and automatically cleans up after they leave. It comes in cute colors and provides a better alternative to the traditional litter box. Consider it a massive step forward for cat families everywhere.
Say Hello to the Smartest Litter Box
The Leo's Loo Too features an advanced set of convenient features for superior control and ease. It includes a smart home connected app, support for Google and Alexa voice controls, an EPA-certified UV light that kills 99.9% of bacteria and viruses, triple-layer safety protection and more!
Connected Smart Home App
With the Smarty Pear app, you can remotely monitor and control your Loo from anywhere in the world. You can access and adjust settings, get alerts when the waste drawer is full, and view activity reports that provide insights into your kitty's health and wellness.
Just Say "Alexa" or "Hey Google"
Use the Alexa or Google voice assistants to turn your Leo's Loo Too off or adjust key settings. The Loo easily integrates with both assistant platforms for the ultimate in hands-off convenience.
Triple Layer Protection
To help keep your kitty protected, the three layers of advanced safety technology stop all moving parts whenever she is detected:
A state-of-the-art radar system forms a protective wall

F

our weight sensors detect when your cat is inside the drum
An aerospace-grade anti-pinch sensor is located at the top of the waste drawer
Leak-Free Seamless Drum
The Leo's Loo Too litter drum is made from a single piece of seamless plastic to prevent anything from leaking into its base. The drum is made of light, but durable, plastic and easily removes for cleaning.
Easy Cleaning and Maintenance.
All the major components of the Leo's Loo disassemble with ease, making cleaning a breeze!
Easily Lift Off the Hood and Drum
The hood and drum remove easily to make changing litter and deep cleaning easy. The drum is made from a solid, seamless piece of plastic to help prevent leakage and wear.
Easy Access to Base and Drawer
Once the hood and drum are removed, you can easily clean the interior of the base using a damp cloth or wipes. The drawer slides out fully for cleaning, as well, and it holds replaceable carbon filters for freshness.
Features You'll Love
The Leo's Loo too is packed with features that make it one of the most advanced and convenient self-cleaning litter boxes around.
UV Sterilization Light
The EPA-certified UV treatment system is designed to kill 99.9% of bacteria and viruses.
Whisper Quiet Sifting
Generating 30 dB of sound during cleaning cycles, the Leo's Loo Too won't disturb you during waking or sleeping hours.
A Bigger, Better Drawer
The waste drawer holds up to 9 liters of waste and includes a lid and carbon filters to reduce odors.
Active Odor Protection
The waste drawer has two sustainable, activated bamboo charcoal filters that absorb odors and deodorize the air.
About Smarty Pear
Smarty Pear is a California-based technology company made up of innovators and pet lovers. Their team is dedicated to improving life for pets and pet parents through smart products like Leo's Loo Too. Leo's Loo Too was named after the founder and CEO's oversized, loving, and sometimes cantankerous cat. Leo was rescued after being found injured and eating from a dumpster at a young age. He went on to live for over 18 wonderful years, providing love and fun memories to everyone he met.
Shop Smarty Pear
Compare Similar Items
| | | | | | |
| --- | --- | --- | --- | --- | --- |
| | | | | | |
| Customer Rating | | | | | |
| Price | | | | | |
| Litter Box Type | Self-Cleaning, Automatic | Automatic | Automatic, Covered | Self-Cleaning, Automatic | Automatic, Covered |
| Material | Plastic | Plastic | Polypropylene, Plastic | — | Plastic |
| Compatibility | Plug-In Power | — | Wi-Fi | Wi-Fi | Plug-In Power |
| Cleaner Type | — | — | Litter Box | Litter Box | — |
| Lifestage | — | — | — | Adult | — |
| Technology Feature | — | — | — | Programmable | — |
---
Questions & Answers
12 Customer Questions
---
Changing from a litter robot will this fit a big cat? Also you have to take it apart every week to clean?
Answer by • May 09, 2022
This litter box is meant to support cats who weigh up to 20 pounds. The manufacturer recommends deep cleaning the Loo monthly.
---
what type of litter is needed for this unit ?
Answer by • May 13, 2022
Both the Leo's Loo and the Leo's Loo Too require 100% clay clumping litter as other litter types can wind up getting into the compartments and electronics of your Loo.
---
can I use prettylitter for Leo's loo too cat litter box?
Answer by • Aug 22, 2022
The Leo's Loo Too requires 100% clay clumping litter as other litter types can wind up getting into the compartments and electronics of your Loo. Also, Pretty Litter does not clump. Smarty Pear has tested several different kinds of litter to see which ones work well and which ones don't, and they've found that some lighter weight clumping litter appeared to work well until a few months passed. They discovered lighter litters were getting into compartments of the machine it shouldn't, which created odor problems and potential damaging to components. Smarty Pear recommend using Scoop Away Clay Clumping Litter as it has been tested and proven to work well with our machines and comes in smaller bags that make filling the Loo much easier.
---
Minimum weight needed to use it ?
Answer by • May 25, 2022
Cats should weigh a minimum of 2 pounds to use Leo's Loo in automatic mode.
---
---
48 Customer Reviews
---
Filter by reviews that mention
---
By Djewel on Nov 29, 2022
GameChanger
No more Scooping!! I have had cats all my life and this is a game changer. I use the recommended litter from Chewy and there is no odor at all. I took away the old litter box immediately and put our kitty in the box and let her get use to the Loo and she acclimated quickly. The app is very easy to use. I went away on vacation and got notified regularly that the cat was using the Loo. Changed the bag when I returned. GENIUS! LOVE LOVE LOVE
---
By Felix on Nov 30, 2022
Game changer for busy families
Busy family of 4 +2 fur babies this has taken the daily work of scooping away and we are free to travel and be busy. Customer Care was able to help right away when I had a problem even though I bought from Chewy.
---
By Hopeful on Oct 22, 2022
Poor design
I wanted to love this litter box. I have two kittens and within 24 hours I get a notification the the drawer is full. The litter mounds up in the drawer, once I rearrange the clumps, I am able to get another 12 hours before needing to move the litter around. Typically I get just under 3 days before I need to empty the drawer. I will be returning it and continue using my scoop free box.
---
By Susan on Sep 30, 2022
Little Disappointed
I wanted to love this litter box it's so cute, but sadly it did not work for me for several reasons listed below. What I did like was the style, the anti chew cord, size of the waste disposal box. Problems: 1. Missing the carbon filters 2. Issues trying to connect through there application. The other thing I didn't like was there are no outside controls for someone to make the system work. So if you couldn't connect through the app or didn't have access to the app you were screwed. 3. Lastly the inside of the globe was too small for my cats. I do have 2 Ragdoll cats which is a larger breed cat. One is 7 months old, weighing in at 9.2lbs and no room to grow with this litter box. The pictures show size, keep in mind the litter box was empty. It would be even smaller inside for my cat once you add litter to it.
---
By Gaze on Aug 29, 2022
best cat mom investment
Leo's loo too has really stepped up the game. I can't imagine my journey as a cat mom without it in my life. It checks all the marks when it comes to convenience and simplicity. Even the company support is genuinely nice and accommodating. You can tell that they took their time designing this product and even thought about the bite resistant cord and stepping stool for my cat. Cleaning it is also a breeze as it takes me less than 30 mins. And even when I'm away from home, the app keeps me updated so I'll never have to worry about it. Holistically, this is the one product that I would recommend any cat parent to have because now you can spend more time with your cat(s) than cleaning the litter :)
---
By Olyvier on Sep 12, 2022
Pet parent friendly
I've had this product going on 3 months, and I think the product is human friendly. It's not too heavy(I'm a petite, nearly 5ft woman). It's easy to disassemble, and I like how there's not too many parts. I also enjoy the simplicity of the tray replacement. Contains smells better than the LR3, in my opinion. My main dislike is that I would have difficulty fitting the tray back in all the way to the drawer. I later found out that the litter crumbs that fell through the chute had remained on top of the uv cover of the tray. So when I was shimmying the tray back into place, all those crumbs fell onto the base and...I was just mashing that up... My tray had a very gnarly streak on the bottom and the base. Based on the weight displays, only one of my two cats use it.
---
By Lauren on Sep 7, 2022
Never going back to a regular litter box
I have two cats so I normally had to scoop the litter box pretty frequently. I kept it in the bathroom because the cats flung litter everywhere, but I was self-conscious about it when I had guests over because it's almost impossible to hide the litter box smell. I decided to give this a try and I am sold. One of my cats is VERY picky about the litter and litter box, so I was nervous she wasn't going to use it. Happy to say that both my cats use it without issue. I was about to move it to the bedroom because there's very little litter that makes it outside the litter box. There's no smell at all and it is surprisingly quiet. My cats aren't a huge fan of the sound, but I can set the cleaning to happen a couple of minutes after they're done so they aren't super close to the box anymore. The ONLY downside is that it is massive, but I knew it would be big when I bought it. Overall, super happy with it!
---
By TSCG on Sep 8, 2022
Best litter box
I love this litter box! It was very easy to set up and the waste drawer is a fairly large size. I am a multi-cat household and I change the waste bag every 4-5 days (they do have access to other boxes around the house). I have been impressed with the sensitivity of the sensors. The least bump or touch from one of the cats stops the drum spinning immediately, so I feel very safe using it even with smaller cats. It is very quiet during the cleaning cycles. I enjoy being able to control it from the unit and from the app. I have been using mine for almost a year and have had no issues. It is very easy to disassemble and clean (recommended monthly). Overall it is a great investment and I plan to purchase more in the future.
---
By Will on Sep 5, 2022
Two Cat House
They love it! I had some issues in the beginning when setting it up, but I emailed the customer service and they got back with me fast. And it's nice to know I don't have to worry about my house smelling like a liter box. My girlfriend and I work all crazy hours and making sure the animals are all good and the house doesn't smell terrible when we get home was the plan. It's the most expensive investment I've made for an animal but I pay monthly and the app will tell you everything. Even to clean the waste bin. Highly recommended
---
By Shannon on Aug 15, 2022
Love Leo's Loo Too from Smarty Pear!
My three cats have been using the Leo's Loo Too for about 6 months now and it has been a game changer! I had a minor issue with the sensor for the waste drawer (why I knocked off one star), but it was easily fixed with a small adjustment, once I found instructions on the Smarty Pear website. Even with 3 cats that go a fair amount, the drawer only needs to be emptied every 3-5 days.The drawstring liners make emptying the waste drawer easy and clean and the box comes apart easily for a deeper cleaning. All of my cats took to it easily and love having a litterbox that is constantly clean. Smarty Pear customer service is top notch, if you need to contact them for anything.
---