SmartyKat Hot Pursuit Electronic Concealed Motion Cat Toy, Blue
By SmartyKat
---
About This Item
Encourages healthy play and fulfills your cat's complete need for exercise
Different speeds lets you control the action
Toy attachments for variety that mimics the motions of hidden prey
Great for individual play to keep your cat occupied while you are away
Tested to child safety standards, so you know its safe for your feline friend too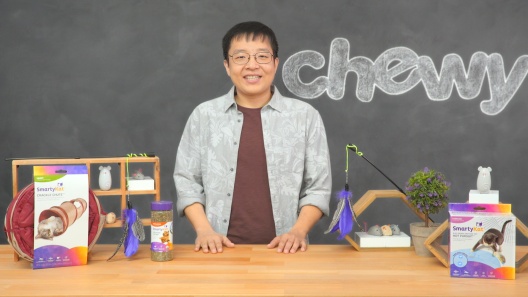 Learn More About SmartyKat From Our Team of Experts
---
Compare Similar Items
| | | | | | |
| --- | --- | --- | --- | --- | --- |
| | | | | | |
| Customer Rating | | | | | |
| Price | | | | | |
| Autoship | — | — | — | — | — |
| Toy Feature | Glowing & Light-Up, Electronic, Exercise, Feather | Replacement | Catnip, Electronic | Squeaky, Electronic, Exercise | Outdoor, Training, Exercise |
| Toy Type | Motion Toys | Motion Toys, Treat Refills for Treat Dispensers | Motion Toys | Motion Toys | Games & Puzzles |
| Material | Plastic | Polyester | Polyester | Plastic, Polyester | Wood |
| Compatibility | N/A | N/A | Rechargeable | N/A | N/A |
| Sport Team | N/A | N/A | N/A | N/A | N/A |
---
Questions & Answers
33 Customer Questions
---
If the cat catches the toy and holds it will it stop/ shut off or will it burn up the motor? I have a 15 lb Maine coon mix with all his claws intact
Answer by • Jan 22, 2019
This item won't shut off or burn the motor once the cat catches the toy attachment.
---
How noisy is this when turned on?
Answer by • Feb 20, 2018
When on this toy will make a humming noise.
---
Listing states "Great for individual play to keep your cat occupied while you are away." Can my cat actually use this while I am gone and he is bored? Doesn't look like it. Thanks.
Answer by • May 23, 2019
This toy can be left on while you're gone and turned off once you're home so it's great option to keep your cat occupied while you are away.
---
can this shine in and hurt cat's eyes
Answer by • Apr 01, 2018
This product won't hurt your cat's eyes. However, it's always best to monitor your cat during playtime.
---
---
---
By Nekiema on May 20, 2022
Works But not designed well
The skirt is made out of really cheap material and does not stay flat causing the moving piece underneath it to get caught and bunch up the fabric which makes the motor part make this loud clacking sound. Also, the actual part they chase will just come unscrewed randomly. So yes it does work and my cat likes it but you have to fix it every 5 minutes. So if your cat doesn't care about chasing the exposed rat looking part then you'll be out of luck unless you want to sit and fix it over and over again.
---
By MilliesMom on May 19, 2022
Preliminary Review: They Love It!
We've only had this toy a couple of days. So far the cats love it! I don't see a use for the lights and I think my cats couldn't care less about the lights. As many reviews state, there is a clicking when the cat catches the toy and stops it. It startled them a moment at first but it doesn't seem to bother them. As the cloth disc on top moves around the toy has the natural appearance of almost moving in and out from under. I'll update my review in the future to see what, if anything, changes.
---
By John on May 10, 2022
Broken/Incessant Grinding After Three Days
My cat liked this right out the box, but it only took 3 days to become unreasonable with the grinding/clicking noise. I didn't mind it as much at first when it was only clicking when the cat grabbed at it, but now it doesn't even go in a half circle without fully stopping and clicking. I have it placed on hardwood. I put in new batteries today. I rearranged the cloth. Nothing Helps. The quality is very low and I wouldn't recommend this to anyone. Oh, and it didn't come with batteries (Requires 3x AA). This isn't the quality I expected from Chewy.
---
By Kaylin on May 14, 2022
Unbearably Loud Clicking
My cat likes this toy, however I can't stand it. My cat will hold onto the toy to attack it which makes the toy start clicking/grinding. It will also get stuck on the floor start clicking that way as well. The clicking is extremely loud to the point I have to turn it off after a few minutes. I also have an issue where the feather toy attaches. It unscrews itself all the time so I have to keep putting it back on. Honestly I wouldn't recommend it unless you don't mind a lot of noise.
---
By Loki on May 15, 2022
Not for my cats!
Sadly this was not a good choice for my cats. The mechanical arm got caught in the fabric & stopped, leaving flashing lights & grinding noises. Loki cat almost immediately dismantled the feather arm (although screwed on tightly) & God knows where it is now? Our favorite & most successful toy has been the Frisco Cat chaser thingy. Oh! & a package of catnip balls. Admittedly, these are young, very busy cats.
---
By Smartykitty on May 11, 2022
Not recommended
My cat is probably smarter than most cats but with this toy it does get his attention with the chase toy, however the "fast mode" isn't even close to what I would call fast by any means. It also clicks alot when caught, which has made the fast mode even slower. Plus the lights.....are not necessary for this toy or at least with my kitty. Overall i would say either lower the price significantly or just stay away from this product.
---
By Kittyhaus on Apr 16, 2022
Poor design and quality
This worked for about two hours, during which time my cats absolutely loved it. However, after that the motor was weakened to the point where the wand would barely move and make a horrible grinding noise. I thought perhaps the batteries had already been exhausted - put in new ones and there was no change. I see a review here mentioning taking it apart so I will try that. However even if that fixes it, I would not recommend this toy. The motor even when in working order is weak, so if the cats go after the wand it will stop the motion of the wand and cause the grinding noise. The fabric overlay is also flimsy and doesn't sit in place well which will also cause the wand to stop moving. The fabric piece is also not large enough to completely cover the wand so the toy in the end is outside of the fabric. I wish it worked well as my cats are obsessed, but I will have to search for something a little more robust.
---
By KittyBoysMom on Apr 19, 2022
Hot Pursuit? I think not
I have been watching this toy for sometime because it was fairly expensive. When it got marked down I bought it. I understand 100% now why they marked it down. Unfortunately it is a horrible toy. The toy itself spins around erratically and catches the fabric over it folding it underneath and stopping. Once it stops it makes a horrible clicking sound. It has two speeds and I have to put it on high to get it to do anything. It does stop and flash some lights, perhaps to try to regain my cat's attention. It doesn't work. Now it makes this horrible clicking sound even if the fabric is off it and it is free and clear to move. I am so sorry I bought this.
---
By John on May 20, 2022
Major flaws
The fabric cover is too wide and cheaply thin. The fluffy tail is underneath the fabric cover most of the time and when the toy spins, the tail catches and bunches the fabric cover so that it gets all twisted. It also doesn't spin much. It keeps pausing and stays paused more than it spins and completely shuts off after a few minutes.
---
By ValorieO on Apr 11, 2022
Cats still ask for us to turn it on
Fun products which all four of our cats really like. While they cannot yet push the button on top, they do understand that is how it works so when it is not on, they will sit next to it, tap their paw on the top, and look at us. PROS: engaging and erratic enough to entice most cats; still a favorite after 2 months; comes with 2 lures; runs about 8 minutes, then pauses, and starts again for another few minutes; handles a surprisingly fierce Murder Cat :-) ; CONS: Comes with a feather lure which my cats eat rather than play with; Lure is secure but will detach with vigorous play; Unsure if replacement lures are easily obtained; Skirting is thin fabric so it ripped the first day of play; relies on batteries and we have had limited success with rechargables lasting through two or three play sessions.
---