SmartyKat Hot Pursuit Electronic Concealed Motion Cat Toy, Blue
---
---
Try This Similar Item By Chewy
---
Frequently Bought Together
---
About This Item
Encourages healthy play and fulfills your cat's complete need for exercise
Different speeds lets you control the action
Toy attachments for variety that mimics the motions of hidden prey
Great for individual play to keep your cat occupied while you are away
Tested to child safety standards, so you know its safe for your feline friend too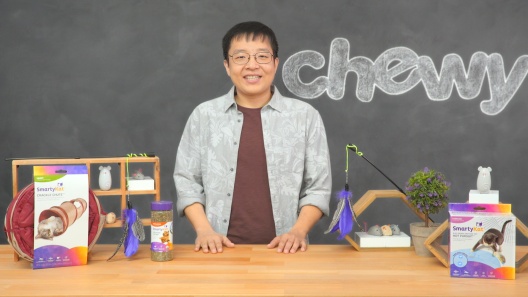 Learn More About SmartyKat From Our Team of Experts
---
Compare Similar Items
| | | | | | |
| --- | --- | --- | --- | --- | --- |
| | | | | | |
| Customer Rating | | | | | |
| Price | | | | | |
| Material | Plastic | Polyester, Synthetic Fabric | Polyester, Synthetic Fabric | Plastic | Cardboard / Paper |
| Toy Feature | Glowing & Light-Up, Electronic, Exercise, Feather | Replacement | Catnip, Electronic | Bouncy | Catnip |
| Toy Type | Motion Toys | Motion Toys, Treat Refills for Treat Dispensers | Motion Toys | Lasers, Treat Dispensers | Scratchers, Scratch Boxes |
| Lifestage | Adult | Adult | Adult | Adult | Adult |
| Compatibility | — | — | Rechargeable | — | — |
---
Questions & Answers
36 Customer Questions
---
How do I get a replacement for the cloth cover?
---
If the cat catches the toy and holds it will it stop/ shut off or will it burn up the motor? I have a 15 lb Maine coon mix with all his claws intact
Answer by • Jan 22, 2019
This item won't shut off or burn the motor once the cat catches the toy attachment.
---
How noisy is this when turned on?
Answer by • Feb 20, 2018
When on this toy will make a humming noise.
---
Listing states "Great for individual play to keep your cat occupied while you are away." Can my cat actually use this while I am gone and he is bored? Doesn't look like it. Thanks.
Answer by • May 23, 2019
This toy can be left on while you're gone and turned off once you're home so it's great option to keep your cat occupied while you are away.
---
---
---
By LoveAnimals on Sep 28, 2022
Not a great toy
This is very flimsy. The little mouse attachment toy that moves around can be seen. The blue drape part of the toy is very thin and sits wobbly. It also doesnt cover the entire toy because it doesnt reach it so my cat can see it.. which defeats the purpose of this toy. The toy gets stuck occasionally and needs to be readjusted which shouldnt happen as a toy that is advertised to keep the cats attention all on its own. My cat was barely interested in playing with this. She has played with it for maybe 5 minutes since we bought it. I will be returning it. I got it on sale but it isnt worth the price. Hugely disappointed!
---
By Wendy on Sep 22, 2022
My kitten LOVED it!!!!
This is my kitten first electronic toy. She was CRAZY about it the first 2 days but now shes starting to get bored of it. Im in the process of getting more toys from Chewy so I can mix things up for her. This toy does shut off automatically after a while, whether the cat is playing with it or not. After about 15-20min. It takes 3 AA batteries.
---
By kylee21991 on Sep 10, 2022
Decent but not great
My cats love it. The blue fabric that goes over it to hide the rod the toy connects to and that they try to catch the toy under comes unconnected and they can pull it right off within seconds. So I have had to put it back on so many times. And one of my cats will stick his nail in the toy and keep it from moving and it makes a loud winding noise. But otherwise we have had it for months and it's holding up really well, I'm still surprised my cat hasn't burned out the motor. I would say for the price it's worth it but sometimes the spinning toy will move or bunch the top fabric which doesn't cause issues with the toy itself but it removes a little of the fun of the toy since they're able to see the toy completely the whole time instead of following it under the fabric. But with that being said I'm always happy to find an interactive electronic toy that isnt outrageously expensive. I always compare prices to other companies and when I bought this chewys price was at least 25% cheaper than anywhere else
---
By Ranger on Sep 22, 2022
Came Broken
We purchased this toy thinking it would be great to have something our kitty didn't need our attention to run and around and play with sometimes. When we set it up, the first setting would make a sound but nothing would move. The second setting moved the feathers a little bit but slowly and made a sound like it wasn't moving when it should. The lights never worked. Sounds like there are older versions of this that were of better quality. I wouldn't recommend buying this unless they verify that it will work.
---
By rshea on Sep 9, 2022
My cats are FASCINATED by this
My kitten loves things that move under blankets (i.e. feet) so I thought she would enjoy this toy. Both of my cats think it's the coolest thing ever and will spend an inordinate amount of time with it. They also love the wand attachment and will pull it out of their toy shelf when it's put away! That being said, if they hold/lay on the toy too long while it's on then the wand attachment will unscrew itself. This isn't a big deal as my cats think it's fun and it hasn't broken the screw or toy so they watch in fascination while I put it back on. It is also very loud when they hold it down but not a big deal to me either. They have so much fun with this toy and it's so relatively inexpensive that I'd recommend it to any cats that like chasing hidden things!
---
By Jeff on Sep 16, 2022
Worked a few times well, then slowed and is battery hungry
This thing worked nicely at first, or seemed to move around fairly quickly. Then after the third or fourth it slowed a good bit. And I might get 15 or so runs out of it before it eats another set of batteries. It had some kind of clutch inside it so if your cat pounces on the little arm where it makes a ratchet noise. I don't know if my cat pouncing on it a couple times did it in or not, but it moved swiftly at first.... then slowed down and chews through batteries like there's no tomorrow. Bummer since the cat really like it at first.
---
By BagOWhiskey on Sep 3, 2022
Dysfunctional money sink
This toy is slow, comes apart by itself, and generally is uninteresting to cats. This toy fails on all marks. If you've ever witnessed a toy operate slower and slower as the last few volts trickle out of the 3 AA batteries required to operate, then you've got a great idea of how this toy operates with perfectly fresh batteries installed. It advertises a slow vs fast setting, but truly the speed difference is inconsequential. This is made further frustrating because of the sound the motor makes. It constantly is buzzing and making clacking sounds as though the motor is providing too much torque and skipping the gears, even as it makes its slow orbit underneath the cloth. The cloth is also laughable as any interaction from the cat causes it to bunch up…which stops the arm from moving and a chorus of gear skipping. And thats only if the arm stays on, as the rotation of the device causes the arm to unthread itself from the base. Also I guess it has flashing lights for some reason? Truly neither my cat nor I find this toy worthwhile as after only 5 minutes of confusion it falls apart or gets stuck on itself. Spend your money elsewhere.
---
By Risa on Aug 20, 2022
Preferred the previous version over the new product
I didn't do a whole lot of research because this was a really good toy. Same brand, same product but the old version had a sturdy base, didn't get stuck in corners of the room, the mat wasn't semi-transparent and covered the floor better. This one waves and part of it is off the ground. There used to be more attachments. Now there is one and it's a weird hairy piece which I assume should be a mouse but it's not clear. The only cool thing is the lights but I could do without that. Also, both my cats can unscrew the attachment and it also does a weird clicking noise that is very annoying. I will likely donate it or throw it away. The mousey abstract attachment also sheds and that's not cool.
---
By sabrina on Sep 28, 2022
Good for when it worked
My cats were obsessed with this when I first got it, loved the 2 speeds, but keep in mind it your cat plays aggressively, it's not for them. My one cat played with it so hard the motor disconnected with the spinny part and no longer works. It's worked fantastic for 3 months until they broke it
---
By Chris on Sep 8, 2022
Good idea, poor execution
It doesn't go very fast - there's the extra slow when you turn it on, hit the on button again and it'll go ever so slightly faster. The cover comes off really easily so your cat will take it off after 10 minutes of play (if the speed somehow engages your cat). Overall, my cat will engage with it but I have to come and fix the cover quite frequently.
---