SnugglyCat Ripple Rug Cat Activity Play Mat
---
About This Item
Play mat, scratching spot, social activity, and cozy bed all in one.
Folds and holes provide interactive, enriching play and support primal cat behaviors.
Durable carpet fibers are perfect for digging claws while sparing your furniture.
Provides a comfy bed with thermal base and collects loose fur from shedding.
Proudly made in the USA and folds away for easy storage and take-along.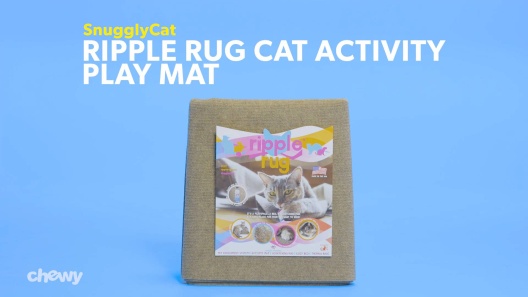 Learn More About SnugglyCat From Our Team of Experts
---
Compare Similar Items
| | | | | | |
| --- | --- | --- | --- | --- | --- |
| | | | | | |
| Customer Rating | | | | | |
| Price | | | | | |
| Toy Feature | Exercise | N/A | Bouncy | N/A | Catnip |
| Toy Type | Tunnels, Scratch Boxes, Scratchers | Tunnels | Tunnels | Scratchers | Scratchers |
| Material | Rubber, Polyester | Fleece | Polyester | Cardboard / Paper | Polyester, Rope |
| Lifestage | Adult | Adult | Adult | Adult | Adult |
| Chew Style | N/A | N/A | N/A | Moderate | N/A |
---
Questions & Answers
18 Customer Questions
---
Is it machine washable?
Answer by • Mar 12, 2021
Unfold both rugs, lay flat and vacuum when new. Place the rug coated with non-slip surface onto the floor. Next, position the other rug with holes over the top, use the fuzzy fastener touch-points to shape ripples. Touch-points can be attached by pressing them down to any spot on the bottom rug. To release, pull up on the top carpet at any time. You may reshape the carpet as often as you like. To create reinforced arch, fold the long edge of the top rug (next to center touch-point) - twice. Ensure that the touch-point's burrs make contact with the carpet fibers. Next, press down corner touch-points on either side of the fold to make arch. A sticky roller or vacuum can help remove fur when needed. Use soap and water for other nasties. Rinse using a garden hose. Hang flat to dry. Do not tumble dry.
---
I've had mine for about 8 months and it's lost its stiffness from the folding and from one of the cats laying in top of it. Is there anyway to regain the integrity of the structure? Even with reinforced ends, the center with cave in.
Answer by • May 02, 2019
Cat oils and fur left on carpet fibers may soften the carpet. Simply vacuuming (to remove fur and other pet dander), then washing the rug with soap and water to remove fur oils followed by hanging straight/flat to dry will help to bring much of the original springiness back.
---
Can this be torn apart? My cat seems to like chewing on it and I'm afraid he's gonna eat it
Answer by • Oct 09, 2019
This rug is made with a non-fray material that will stand up to scratching and playing.
---
Would an adult cat like this or is it more for kitties?
Answer by • Oct 09, 2019
This mat is suitable for cats of all sizes and ages. There are 14 holes ranging from 2 inches to 7 inches. The medium to large holes have expansion slits allowing cats to pass through or pop their heads out. The small holes are meant for paws to poke through.The safety slits can be elongated about an additional inch, making them 2 inches long total.The holes can be made larger or even interconnected if need be.
---
---
---
By Nadia on Apr 26, 2022
My cats love it!
Highly recommend- the cats have a blast jumping in and out of the holes. They generally enjoy it more when I engage with them (i.e. hiding toys and treats inside, using a wand toy, etc.), but even when I am not playing with them they love to lay on and inside of the mat. My only complaint is the structural integrity that others mentioned; it would be nice if the center of the mat would stay propped up on its own instead of caving in. Otherwise, absolutely love it.
---
By Alicia on May 11, 2022
Flat and doesn't"break away"
I wanted to like this so much but I can't recommend it to anyone. The "carpet" loses its ability to hold up within the first two months. Save yourself some frustration and just but a large jute rug and fold it over a chair. They are much happier being able to run on top of the jute rug.
---
By RubyJuniper on Mar 22, 2022
Great investment
Our cats love this rug! The only downside is that they now constantly demand for us to play with them with the rug. They love using the ripples and holes as obstacles and hideaways to attack their rope and other toys. I was hoping they would play more independently with it, but maybe they will learn slowly. They have their moments when they attack the toys hidden in the rug, but they prefer the moving rope handled by mom or dad.
---
By Kellie on Apr 6, 2022
Doesn't stay up
I was a little disappointed with this. The crease from where it was folded when shipped won't go away so it keeps folding down there. I can't seem to keep the shape up. There are a lot of velcro pieces and they all want to stick to the bottom mat; this also makes it harder to stay up. It initially was alright-ish. The cats were interested in it after unboxing, but have quickly lost interest. I put it away for a while, hoping they'll forget and be interested again once I bring it back out, but nope.
---
By RedMaryT on Mar 16, 2022
Rascal likes it, but....
This is a huge play mat! It's almost too big for one cat. For apartment dwellers, this might be impractical. Once my cat Rascal got over his fear of it, he liked to crawl into one of the "caves" I formed for him. It's been just a few days since I set it up in my living room and already the "cave" won't stay put. No matter how many times I reposition the top piece of the mat, it won't stay in place. Rascal likes to lay on a flattened part of it behind the cave to play hide and seek with me, or to nap. All in all, the play mat hasn't met my expectations. Rascal still prefers to "play" with, or lay on, the infamous paper that Chewy adds to the boxes. He does enjoy it when I try to toss his mouse toys into the larger holes of the play mat. I guess that brings out the hunter in him. The ones that don't make it into the holes bounce off the mat and he will chase them. The concept of the play mat is great, but the actual mat needs some improvement.
---
By JB1014 on Mar 18, 2022
Cat Parenting Made Easy
This is quite possibly the dumbest yet most brilliant cat toy ever. It is literally two pieces of heavy duty carpet. The top layer has holes of varying sizes cut into it and velcro on the bottom so that it sticks to the other carpet. It's a simple design. BUT as soon as I put it down, my cat went nuts. She will play in it. Hunt in it. Chew on it. Groom herself on top of it. Hours of endless entertainment. I love cat toys you can put away (Montessori principle of cat toys, if you will) and this folds right up. It's well worth the $40.
---
By Avery on Apr 5, 2022
Simply the best
This is hands down the greatest cat toy we've ever bought. Our cat loves playing on it, hiding and hunting in it, and just laying on it. She never gets bored because you can reconfigure it. In fact, she usually insists on sitting on top of the bottom rug when I go to change the configuration of the top rug so that it goes right over her. Hours of fun!
---
By Navi on Feb 25, 2022
Kitty adores it!!
I was skeptical but my kitten loves it. A LOT. Loves when I take it out, loves just sitting under it and hiding under it, loves going under and popping out when playing. She also sits on it and my dog decided to sit on it as well. I only wish now that it's been out for a couple days, that it would have a better time standing up, it's kind of just flops over most of the time. I'd love to find a way to reinforce parts of it to help it keep its shape and stand up to create those little caves. But when I lift it up my kitty goes right in and wiggles her way around and will try to wriggle herself in by herself as well. Cats are truly stange.
---
By relieved on May 23, 2022
Definitely Recommend
I was skeptical of this at first, and it seemed like a pretty big investment. It's held up really well, and it's a really easy way to add variety to the cats' lives and playtime.
---
By TuxieMom on Feb 24, 2022
Fun Fun Fun!
Meet Pepper, she's a fun-loving 7mo. She was in need of mental stimulation to ward off unwanted behaviors, and the ripple rug has given her just that. She loves to pounce on things hiding below the holes, crawls around and plays hide-and-seek, and she loves to stalk from under the ripples. Her play has become more appropriate, and her unwanted behaviors have diminished. Pepper gives it two paws up! This product is really versatile, well made, and adaptable to any kitty's need for new adventure. It's easy to use and clean. Pepper chews a lot and it hasn't frayed or warped in any way. It's great for cats who just want to be cats!
---