SnugglyCat Ripple Rug Cat Activity Play Mat
---
---
Try This Similar Item By Chewy
---
Frequently Bought Together
---
About This Item
Play mat, scratching spot, social activity, and cozy bed all in one.
Folds and holes provide interactive, enriching play and support primal cat behaviors.
Durable carpet fibers are perfect for digging claws while sparing your furniture.
Provides a comfy bed with thermal base and collects loose fur from shedding.
Proudly made in the USA and folds away for easy storage and take-along.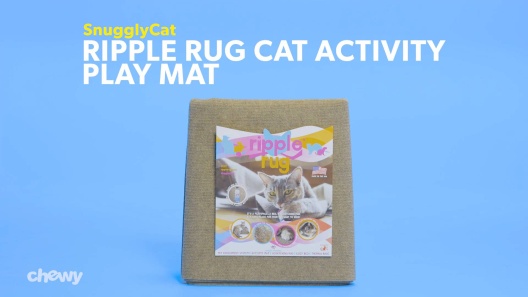 Learn More About SnugglyCat From Our Team of Experts
---
Compare Similar Items
| | | | | | |
| --- | --- | --- | --- | --- | --- |
| | | | | | |
| Customer Rating | | | | | |
| Price | | | | | |
| Material | Rubber, Polyester, Synthetic Fabric | Sisal, Plastic, Polyester | Polyester, Synthetic Fabric | Cardboard / Paper | Polyester, Synthetic Fabric |
| Toy Feature | Exercise | Catnip | Catnip | — | Bouncy |
| Toy Type | Tunnels, Scratch Boxes, Scratchers | Scratchers | Tunnels | Scratchers | Tunnels |
| Lifestage | Adult | Adult | Adult | Adult | Adult |
| Chew Style | — | — | — | Moderate | — |
---
Questions & Answers
16 Customer Questions
---
Is it machine washable?
Answer by • Oct 25, 2022
This play mat should be cleaned using a sticky roller or vacuum to remove fur. If needed, use soap and water to remove stains. Rinse using a garden hose. Hang flat to dry. Do not tumble dry.
---
I've had mine for about 8 months and it's lost its stiffness from the folding and from one of the cats laying in top of it. Is there anyway to regain the integrity of the structure? Even with reinforced ends, the center with cave in.
Answer by • May 02, 2019
Cat oils and fur left on carpet fibers may soften the carpet. Simply vacuuming (to remove fur and other pet dander), then washing the rug with soap and water to remove fur oils followed by hanging straight/flat to dry will help to bring much of the original springiness back.
---
Would an adult cat like this or is it more for kitties?
Answer by • Oct 09, 2019
This mat is suitable for cats of all sizes and ages. There are 14 holes ranging from 2 inches to 7 inches. The medium to large holes have expansion slits allowing cats to pass through or pop their heads out. The small holes are meant for paws to poke through.The safety slits can be elongated about an additional inch, making them 2 inches long total.The holes can be made larger or even interconnected if need be.
---
Can this be torn apart? My cat seems to like chewing on it and I'm afraid he's gonna eat it
Answer by • Oct 09, 2019
This rug is made with a non-fray material that will stand up to scratching and playing.
---
---
940 Customer Reviews
---
Filter by reviews that mention
---
By Olivia on Nov 20, 2022
energetic kit LOVES THIS THING
I work from home so I try to play with my kit as much as I can, but some days are heavier workloads than others. She will STARE and SCREAM at me when I'm at the computer too long, not getting why she isn't the center of my attention (COVID kitten….). I've been trying to get her some interactive toys she can play with while I'm on meetings or can't tend to her every dying wish. Behold: THE RIPPLE RUG. I can't put into words how much my kit ADORES this play mat. Even the second I took it out of the box, she was amping up to play with it. She's constantly diving into the holes, running through the tunnels, back kicking the ripples, scratching the every living daylights of it, peeking an ever-watching eye out of the smaller holes as I walk by, hoping to bap my feet. It's hilarious to watch her get into stealth mode and have a wee paw shot out of nowhere. Couldn't recommend this enough - buy it, just for the sake of YOUR entertainment, let alone your kit's!
---
By AmandaF on Nov 11, 2022
Ripple Rug activity and play mat
My cats love it! I barely got it out of the box and on the floor and they were already playing with it. Unlike some toys that they play with for a few days and forget about, they play on this rug daily. I put some toys and ribbons under the top rug for them to find underneath. I also got the Squeak Squeak mouse toys to put in this rug and they love it, play with it everyday! I know it is a little pricey, but your cats will use it a lot, worth it. Only thing is the top rug is very pliable and hard to keep stiff and propped up. But it does keep pockets and has the holes they can stick their paws and faces in. Get it! Use with other toys! My cats really enjoy this rug and use it everyday.
---
By ZuriMom on Nov 8, 2022
Almost Doesn't Count: Bad Execution, Great Idea
In theory this was a great idea. I played with my cat in similar ways without the rug so I figured why not. Unfortunately, it's flimsy and some velcro fell off just a few days after getting it. It's $44 but cheaply made. It needs to be a stiffer carpet to hold a shape AND they need to get better velcro strips so they don't fall off. Without it being stiff, you can easily go buy a flimsy rug like this and cut holes in it. Issues aside, I think this is a great concept. I just hope they innovate this idea so it actual does what they claim. It's close but I wouldn't recommend any purchase it before they eventually improve the design. Almost doesn't count when it comes to spending almost $50 on a cheap rug.
---
By ZazMom on Nov 12, 2022
Great for scratching
This play mat has worked out very well for my cat. He used to scratch my rug and a chair but now gets his scratching done on the base of this mat. He knows the mat is his "spot" in the living room and he will specifically go there when he wants to play. Overall I'm so happy that this mat spares my carpeting and furniture. I do agree with the reviewers who said it would be better if the top layer were firmer and kept its shape better. I will add that my boy is 14 lbs and he fits through the two largest holes. So that is good!
---
By Katara on Oct 28, 2022
my cat is a picky player but is having so much fun
I got this rug for my cat who loves to play hunt with the feather wand, but doesn't like to play with any other toys unless its with us simulating prey behavior. We now have some added variation where we dangle the feather/worm in the holes and she loves to jump in and out of the holes to catch it! I've even seen her playing with some toys independently in this rug— springs and balls that she's never played with before!!! Now she wants to play on the rug all the time and meows at us to come play with her. Great to have something to mix up the play and also to encourage solo play time as well. Highly recommend, esp if you have an active cat that is also picky about play!
---
By CassandPhoeb on Nov 13, 2022
All Time Favorite
My cats love this rug. As other people have noted, it does lose its shape over time, but that doesn't stop my cats from trying to dig their way under the now soft top rug. They love to play footsie with this rug as their barrier, or love to chase the stick end of a teaser under the top rug laid flat like whack-a-mole. I can guarantee that I will have their attention when using this rug. It's perfect.
---
By izzy on Nov 10, 2022
hours of play
My cat, to my dismay, turns his nose up to many toys I get him. At first he was not sure about it, but by the end of the first week he absolutely was in love with this play mat. He goes crazy jumping in and out, running and simulating hunting on the mat as he chases his toys and balls, and when he is tired he rolls over and chills out on this thing. It keeps him busy and active.
---
By TallGal on Oct 24, 2022
Snugglycat Ripple Rug
My cats both love it. They hang out there frequently, on it, under it, near it. My one comment is that I feel everyday I need to change the configuration for two reasons- 1) to keep their interest 2) to get it erect in some fashion. The structures I configure with it never stay up sometimes even before they approach it. I suspect with time it will become less stiff therefore making it more difficult to create a play space for them. So is this a short term answer to fun for them? And how will short term be defined?
---
By Dubya on Oct 30, 2022
For adventurous cats?
Our cats are lame and don't do much to begin with, so I was not surprised when they ignored this. I still put it out for them, and entice them with treats, but they do not play on/in it. It is well constructed, a decent size, and the variety could be very good for active cats. The only thing I would request are more large openings, as most of the holes are too small for adult cats to do much with.
---
By Chenin on Oct 25, 2022
The Best Play Rug
I had one of these when my second cat was a kitten, and they both *adored* it. But then the kitten peed on it several times and I had to toss it. Now they're all adults so I purchased it again, and they love it even *more* now! I wish there were less velcro because it won't stay upright long with their positioning as it is, but the solution was to cover the pieces I didn't want to use at the moment. Works like a charm!
---