SnugglyCat Ripple Rug Cat Activity Play Mat
---
---
Try This Similar Item By Chewy
---
Frequently Bought Together
---
About This Item
Play mat, scratching spot, social activity, and cozy bed all in one.
Folds and holes provide interactive, enriching play and support primal cat behaviors.
Durable carpet fibers are perfect for digging claws while sparing your furniture.
Provides a comfy bed with thermal base and collects loose fur from shedding.
Proudly made in the USA and folds away for easy storage and take-along.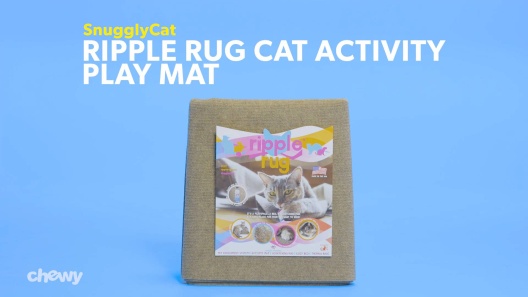 Learn More About SnugglyCat From Our Team of Experts
---
Compare Similar Items
| | | | | | |
| --- | --- | --- | --- | --- | --- |
| | | | | | |
| Customer Rating | | | | | |
| Price | | | | | |
| Material | Rubber, Polyester, Synthetic Fabric | Polyester, Rope, Synthetic Fabric | Sisal, Vinyl / PVC, Natural Fabric | — | Polyester, Synthetic Fabric |
| Toy Feature | Exercise | Catnip | — | — | Crinkle |
| Toy Type | Tunnels, Scratch Boxes, Scratchers | Scratchers | Scratchers | Tunnels | Tunnels |
| Lifestage | Adult | Adult | Adult | Adult, Kitten, Senior | Adult |
| Tools Included | — | — | — | Yes | — |
| Assembly Required | — | — | — | No | — |
| Cover Material | — | — | — | Cotton | — |
---
Questions & Answers
16 Customer Questions
---
Is it machine washable?
Answer by • Mar 12, 2021
Unfold both rugs, lay flat and vacuum when new. Place the rug coated with non-slip surface onto the floor. Next, position the other rug with holes over the top, use the fuzzy fastener touch-points to shape ripples. Touch-points can be attached by pressing them down to any spot on the bottom rug. To release, pull up on the top carpet at any time. You may reshape the carpet as often as you like. To create reinforced arch, fold the long edge of the top rug (next to center touch-point) - twice. Ensure that the touch-point's burrs make contact with the carpet fibers. Next, press down corner touch-points on either side of the fold to make arch. A sticky roller or vacuum can help remove fur when needed. Use soap and water for other nasties. Rinse using a garden hose. Hang flat to dry. Do not tumble dry.
---
I've had mine for about 8 months and it's lost its stiffness from the folding and from one of the cats laying in top of it. Is there anyway to regain the integrity of the structure? Even with reinforced ends, the center with cave in.
Answer by • May 02, 2019
Cat oils and fur left on carpet fibers may soften the carpet. Simply vacuuming (to remove fur and other pet dander), then washing the rug with soap and water to remove fur oils followed by hanging straight/flat to dry will help to bring much of the original springiness back.
---
Can this be torn apart? My cat seems to like chewing on it and I'm afraid he's gonna eat it
Answer by • Oct 09, 2019
This rug is made with a non-fray material that will stand up to scratching and playing.
---
Would an adult cat like this or is it more for kitties?
Answer by • Oct 09, 2019
This mat is suitable for cats of all sizes and ages. There are 14 holes ranging from 2 inches to 7 inches. The medium to large holes have expansion slits allowing cats to pass through or pop their heads out. The small holes are meant for paws to poke through.The safety slits can be elongated about an additional inch, making them 2 inches long total.The holes can be made larger or even interconnected if need be.
---
---
---
By Cali on Sep 27, 2022
Wonderful Cat Toy
I am pleased to say this is one of the best purchases I've made for my cat, & I've made many in the past year. She immediately started playing and hiding and eventually went to sleep. I can tell she loves it because she hasn't left it alone. I've noticed she likes to drag her Pom poms and other soft toys inside and hide them. This was a great purchase, and it seems like it's going to last a long time.
---
By softpaw on Sep 20, 2022
two cat are the best for this
The ripple rug thing is great - esp. if you have two cats. One goes in a hole the other jumps on top etc. And they love pushing paws through holes or just lying on top. We'll see how long the newness effect lasts (you know cats!) but for now it is a great replacement for various cardboard boxes with holes and 'chewy' packing paper. (Although they still love making a shelter out of that.)
---
By Drew on Sep 4, 2022
A miss for Noodle
Noodle loves hunting hidden objects, which gave me high hopes for this product to the holes and configurability of it, but for whatever reason, he just has zero interest in this product outside of using it as yet another cat bed. The sad reality is he has more fun playing with the free packaging paper in the Chewy box than the item itself. I'm sure this would make a wonderful gift for some cats, but sadly my Noodle isn't one of them.
---
By miriam on Sep 25, 2022
the best possible thing Ive ever bought my cat
my cat loves hidey holes and boxes and blanket forts and any kind of cave. she will only play with strings or ropes and now that she has been diagnosed with FeLV, this is our nightly routine. two weeks strong and we have not gotten bored once. buy it!
---
By Matt on Sep 23, 2022
Cat loves it but doesn't make tunnels
So the ripple mat has become one of our cats' favorite places in the house. He likes the traction and laying on it. It also augments play time. However, I wish there was a way to get the tunnels to be more stable. Neither of ours dive in and out or play with EACH OTHER on it.
---
By Cashmere on Aug 6, 2022
It's ugly but it works!
Not aesthetically pleasing in the slightest but this isn't a beauty contest after all. This rug/mat is the new favorite obsession. Cashmere the rescue kitty is the only fur baby in the house and happily entertains herself by dragging toys to it, sleeping on it, peeking through the holes and playing with her toys through the holes. I work from home and she would sit in my office with me all day until this arrived. Now I'm alone in my home office but can still see her playing and napping all day with this rug. As long as she's happy.
---
By Jlovescats on Sep 17, 2022
Best thing ever!
My 3 cats enjoy this. One of them is obsessed. It is the play central area of our home. We hide toys under the holes, put the floppy fish under the top layer, spray with catnip spray. They love to bunny kick and run to and from the rug while playing with wand toys. Very easy to vacuum every week or so. LOVE IT
---
By Carpet on Aug 12, 2022
Great Idea, Bad Design
This is a great idea for a cat. This particular mat, however, is not designed to have lasting benefit. The top rug becomes flimsy quickly. I only have one cat, and ithis rug is not flimsy due to cat dander and fur, as is stated in the question and answers. Also, the huge circle in the very center of the top rug makes it completely impossible to get the rug to stay stiff and not collapse from the center. It's kind of a no-brainer. SHouldn't have been designed this way. The cats can still use it, but it's not as fun with tunnels, and it is not serving it's intended purpose after just a couple of weeks.
---
By Storm on Aug 5, 2022
Worth every penny!
Was a bit skeptical at first, I have a newly adopted first cat who was a stray , she doesn't understand toys very well and most times only interacts if I'm running around the house like a mad-woman with a fishing line toy. Was desperately looking for something that she can play with on her own while i work. She loves this thing! I put a few toys inside, got a mouse that squeaks that she goes crazy for. She likes to lay down and take a nap belly up on the folds of the carpet. Has definitely saved me a lot of time when i need to work and it's entertaining to watch her play too! The carpet with holes is flimsier than expected, but you can reattach the velcro underneath to make little hideaway spots for cats. Definitely recommend.
---
By RachelB on Aug 14, 2022
More interactive than it looks
Or two cats love this toy. It does take up quite a bit of floor space but the designers thought of everything: the bottom pad is non slip, the holes have cuts to allow cats to fit through holes, and it comes with cleaning instructions. Our cats love to take naps in it, and love hunting laser dots that appear in it, but surprisingly they also love to play with each other using it! One hides inside and the other attacks from the outside; it's hilarious to watch and I was very happy to see it was a toy they could use to have fun with without me.
---