Solid Gold Supplements SeaMeal Skin & Coat, Digestive & Immune Health Powder Grain-Free Dog & Cat Supplement
Autoship
(Save an extra 5%)
Choose Autoship at checkout for regular deliveries.
Why Autoship?
FREE access to chat with licensed vets 7 days a week.
Save 5% on all future Autoship orders.
No fees, no commitments - cancel Autoship anytime.
---
About This Item
Supports skin and coat health in dogs and cats with USA-sourced seaweed that's high in chlorophyll, iodine, and essential nutrients.
Helps maintain digestive and immune health with natural digestive enzymes plus pineapple, B vitamins, zinc, selenium, iron and magnesium.
Soothes and nourishes the skin and coat with omega-3 fatty acids and antioxidant-rich flaxseeds, and can be given to kittens and puppies too.
Easy to mix into your pal's wet food for daily feeding, and is made with no artificial colors, flavors or preservatives.
Proudly made in the USA with absolutely no gluten or grains so it's ideal for pets with sensitivities.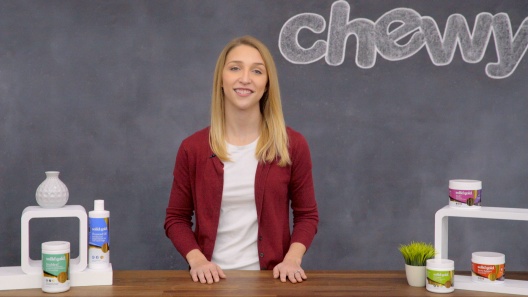 Learn More About Solid Gold Supplements From Our Team of Experts
---
---
Explore Options For Every Palette
Gut Health for Good Health
Solid Gold was founded on the belief that food can be the foundation for lifelong health through gut health. 80% of the immune system is influenced by the gut, so feeding a diet that supports good gut bacteria can have transformative effects on your pet. With 20 generations of healthy, happy fur-buddies under their belt, Solid Gold knows how to nourish your BFF inside and out.
Why Use Supplements?
Solid Gold supplements add nutrition to your pet's diet and help naturally correct imbalances that may be causing her problems. Whether it's joint issues, gut trouble, ear itching, shedding, urinary problems, or a dull coat and dry skin, Solid Gold makes specially formulated supplements that can help make it better. Pair the supplements with dry or wet food.
All Angles on Health
Pairing Solid Gold supplements with their balanced foods and tasty Bone Broths just makes sense. You can tailor your fur-baby's nutrition to her specific needs and boost her health the natural way. Every formula Solid Gold makes delivers great taste and good gut health for a winning combination!
About Solid Gold
Solid Gold's mission began in 1974, when founder Sissy McGill set out to create a nutritious natural food that would keep her dogs happy and healthy from the inside out. Her efforts launched a holistic pet food movement that continues to thrive today. Solid Gold now makes formulas to meet every cat and dog's unique needs, with a steadfast commitment to quality, nutrition, and gut health for all.
Shop Solid Gold
Compare Similar Items
| | | | | | |
| --- | --- | --- | --- | --- | --- |
| | | | | | |
| Customer Rating | | — | — | | — |
| Price | | | | | |
| Autoship | | | | | |
| Top Ingredients | Dried Seaweed Meal, Flaxseed, Dried Aspergillus Oryzae Fermentation Product... | Organic Sacha Inchi | Organic Lucuma | Ground Flaxseed, Dry Whey Protein Concentrate, Ground Beef Bone... | Organic Red Maca |
| Breed Size | Small Breeds, Medium Breeds, Large Breeds... | Small Breeds, Medium Breeds, Large Breeds... | Small Breeds, Medium Breeds, Large Breeds... | Small Breeds, Medium Breeds, Large Breeds... | Small Breeds, Medium Breeds, Large Breeds... |
| Lifestage | Adult, Puppy, Kitten, Senior | Adult | Adult | Puppy | Adult |
| Health Feature | Digestive Health, Skin & Coat Health, Immune Support | Heart Care, Brain Health, Shedding Control | Diabetic Support, Digestive Health, Heart Care | Vitamins & Minerals | Hormone Support, Hip & Joint Support |
| Food Flavor | N/A | N/A | N/A | N/A | N/A |
| Special Diet | Grain-Free, Gluten Free | N/A | N/A | N/A | N/A |
---
Questions & Answers
43 Customer Questions
---
Is this okay to give as additional to dog's food? Worried that regular food already has the same nutrients, so don't want to give five nutrients
---
Could I mix this with a probiotic?
Answer by • Mar 07, 2019
This supplement may be given in addition to probiotics.
---
Is this product good for gut health? Is this considered a Probiotic?
Answer by • May 06, 2018
This product is not a probiotic. However, it does help digestion by supplementing natural digestive enzymes plus pineapple, B vitamins, zinc, selenium, iron, and magnesium.
---
How long is this supplement good for after opening? Should it be refrigerated?
Answer by • Nov 18, 2019
This supplement is suitable for use until the expiration date, even after it has been opened. It does not need to be refrigerated. Store in a dry, room temperature area.
---
---
---
By Twincats on Jun 18, 2022
My cats don't like this
My black cat loves nori (seaweed) so I thought he'd like this. He doesn't seem to. I wish he did because it's much easier than mincing up nori sheets. I will try it again once I open a new flavor of wet food, since he didn't like that too much, either. The ginger just doesn't like anything that's good for him. That works in my favor because it keeps him out of black cat's food.
---
By Megsp22 on Apr 11, 2022
Stopped the scratching!
I was skeptical at first, that this product would work for us. I have 5 cats (a mix of indoor + outdoor life, ages 1 year - 6 years) and one little old man shitzhu doggo. Many of them are picky eaters. And this powder is green? Lol. So, I didn't think they'd eat it at all. Luckily, I received solid gold seameal as part of a free sample program in exchange for my honest opinion / and review. And I am now hooked! This will be part of my regular orders now! I mixed it in with their wet food - the cats, and the dog. They ALL ATE IT UP, like they didn't notice a bit of difference! That's super incredible here, seriously. My doggo has had a ton of issues with scratching - dry, itchy skin, his fur is getting rough and dry and thinner, and he's so itchy that he was getting red, raw places from over-scratching. :( I waited a few weeks before writing this review, to see results... and it's seriously made a world of difference for him!! He's 12 years old, but he's an *old* 12 - very blind, slightly deaf, bit of joint pain. (Will still do his best bark attack at the FedEx trucks though, even if he can't see the delivery guy anymore, lol.) The vet found nothing particularly wrong - labs normal, no ear mites/fleas, etc. So, diet was the only thing I could try. And now, 3 weeks later --- no red, raw places. No hot spots. No clumps of fur missing. No scratching all night/waking me up from the scritch scratching. :) And the cats eat it right up too. They were all pretty healthy already, but this makes me feel good that I'm taking the best care of them. As a chronic illness spoonie myself -- I am a big fan and regular user of so many of these ingredients. Digestive enzymes are life savers for me, and pineapple added is such a smart idea. The omegas and flax seed are awesome as well. So, if these are ingredients *I* look for - I'm very happy feeding them to my pets, too.
---
By Nita on May 27, 2022
Cat Was already Sick
The Product may have been good I tried it my Cat ate a Little Bit of Food with it in it Yet My Cat Passed on May 18th 2022 of Old Age an I was wanting him to get some kind of Vitamin in him Being the that he had Stopped eating Completely never got a chance to find out if it really did work.
---
By ShivonStorms on Mar 25, 2022
Delicious and nutritious
I received solid gold seameal as part of a free sample program in exchange for my honest opinion and review. This product contains ingredients such as seaweed, flaxseed, omega fatty acids, and digestive enzymes. This product claims to support skin and coat, digestive and immune health. I have two dogs both with allergies and skin and coat issues. I received a 1 lb container which comes with a scoop for easy measuring. There is a weight guide on the can and you are advised to feed twice daily by size. My dogs receive the largest amount which is 1 tsp. The powder is green and has a slight smell that I would equate to a human supplant called vital greens. The dogs really seemed to enjoy the taste . They usually pick at their dry food and when I sprinkle this on it is eaten immediately. They have been consuming it for several weeks now and the container is still quite full so it definitely lasts. I have seen a clearing in the dryness and flaking that they usually have issues with on their coats since consuming this product. I have also noticed that my female who has an issue with scrubbing her face on the carpet has nearly stopped. I do believe that the product has helped to alleviate some of their allergic symptoms. I have also noticed that they both seem to be less gassy than they normally are. The price is around $12 for this size container and I believe that it is fair. I would recommend trying this product if your pooch has any type of skin allergy or digestive issue. I will be purchasing again soon.
---
By Eileen on Apr 5, 2022
Una likes it !!!!!
I received solid gold seameal as part of a free sample program in exchange for my honest opinion / review. This product contains ingredients such as seaweed, flaxseed, omega fatty acids, and digestive enzymes. My German Shepherd, Una, who is 11 yrs old really likes the taste. I give it to her on her dry food in the morning and dry & wet in the evening. I just sprinkle 1 tsp on her food. She has no hesitation eating it at all. Solid gold claims to support skin and coat, digestive and immune health. I received a 1 lb container and it comes with a measuring scoop. There is a weight guide on the can. Una gets the largest amount and that's 1 tsp. We are half way through the container. She sheds a lot during this time of year and noticed that her fur seems softer and not as coarse. Her skin is not as dry as it usually is. I will definitely continue to use this product and I know this is helping her fur and skin.
---
By Nikkis823 on Apr 6, 2022
I tried this product for my honest opinion
I have to say, at first, I didn't know how this would work. My dog likes anything, but my cats are super picky. I have to say they didn't even notice it. My Max is a Yorkie, and he's 12 yrs old. he was getting some dandruff from the dryness of the winter, and this cleared it up and made his hair sily. My cats are Mainecoons, and their coats were more hydrated. Overall, it was a great product. I totally recommend it! Not only their coats but overall health, especially Max, was more alert and had more energy
---
By Valerie on Mar 14, 2022
Picky eater
I was so excited to try theSolid Gold SeaMeal Powder, because in December mi cat was really sick, so now I gave him food supplements to improve his health, but this cat of mine is a really picky eater, first I try gave him on his wet food and be doesn't eat it, so then I try on his dry food and work a little better, but doesn't finished his food, so now I only give him one portion in the morning and works a little bit better. I tried this for a wee, so I still don't se any improvement, but I really hope this improve my cat's health. I received this product as part of a free sample program.
---
By ReddReviews on Mar 23, 2022
So you love your dog and not feeding them this?
I received Solid Gold Supplements SeaMeal Skin & Coat, Digestive & Immune Health Powder Grain-Free Dog & Cat Supplement as part of a free sample program. I have a 4-year-old husky, and we take his skin and coat health very seriously, given it's a massive part of the beauty of a husky. We have used this consistently for over two weeks and have seen and felt a difference in his coat. He never scratched before, so I can't speak on that, but I can say that I have seen an improvement in his coat's shine. The powder is great as it's made in the USA with quality ingredients for any dog's diet. Adding this is as simple as sprinkling a little on your dog's bowl, and you are done. I highly recommend this to any dog or cat owner.
---
By scnfreeman on Mar 16, 2022
Was not sure if they would try it or not....
I received The Solid Gold Supplements SeaMeal Skin & Coat, Digestive & Immune Health Powder Grain-Free Dog & Cat Supplement for free to give my honest opinion on. To start with I did not think that my cats would go for it when I opened it up and saw it. I thought there is no way they will eat this. Well they fooled me. I sprinkled it on their food and they ate it. They seem to not have a problem with anything. I have noticed that they are not scratching as much. Their coats seem about the same so far, but I have not used it very long. I am hoping that they will look really nice and shiny soon!! I like that there is a measuring spoon included in the package.
---
By Oliez on Apr 1, 2022
Really works!
I received this product for free in exchange for my honest review. I have three dogs and all three have different issues and eating habits. My borderdoodle is almost 4 and has digestive issues - mainly because he eats things he shouldn't. Our cockapoo is over 13 and he is diabetic. Our collie mix is around 4 and has no issues. I started putting this on their food and after a few weeks, I noticed less digestive issues from my borderdoodle and all three of their coats seemed softer. I am going to continue to use it because I have been impressed with the benefits so far. They all seem to like it and eat their food like they always have. I will purchase again.
---