Starbar Trap 'N Toss Fly Trap
---
About This Item
Special attractants contains multiple feeding stimulants as well as a fly attractant to entice and trap flies, mosquitoes, gnats and more.
Insecticide-free design makes this trap safe to use around children, pets and livestock.
Break-resistant plastic is sure to endure the elements and can hold over 10,000 flies before needing to be replaced.
Easy-to-use design—just squeeze in attractant, add water and set up!
Can be hung or placed on the ground and is perfect for pond spaces or any other areas where flies congregate.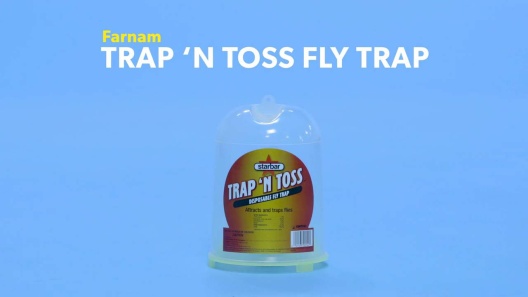 Learn More About Starbar From Our Team of Experts
---
Compare Similar Items
| | | | | | |
| --- | --- | --- | --- | --- | --- |
| | | | | | |
| Customer Rating | | | | | — |
| Price | | | | | |
| Autoship | — | — | | | — |
| Top Ingredients | Active Ingredients: Z-9 Tricosene, Putrescent Whole Egg Solids, Trimethylamine... | Active Ingredients: (Z)-9-Tricosene 1%, Indole 0.2%, Trimethylamine 0.6%.... | Water Based, Citronella Scented | Prallethrin, Permethrin, Piperonyl Butoxide... | 0.25% Permethrin |
| Health Feature | Pest Control | Pest Control | Pest Control | Itch & Redness Remedy | Pest Control |
| FarmAnimalType | — | — | — | — | Cattle, Poultry, Pig |
---
Questions & Answers
20 Customer Questions
---
Does the Trap N Toss work for Lantern FLies?
---
Will it work for cluster flies?
Answer by • Dec 19, 2017
The Fly Trap will work for cluster flies.
---
Will this trap attract mosquitoes better than a human next to the trap?
Answer by • Apr 26, 2018
This trap uses special attractants that contains multiple feeding stimulants as well as a fly attractant to entice and trap flies, mosquitoes.
---
will this attract honeybees? I have hives and don't want to attract and kill bees in this.
Answer by • Sep 04, 2018
This trap does not attract bees, however it is possible for the bees to get stuck in the trap.
---
---
163 Customer Reviews
---
Filter by reviews that mention
---
By Yvonne on Sep 9, 2022
Not for biting flies
I bought 10 of these for biting flies that are chewing our dogs' ears until they bleed around the edges. The small print on the directions, unfortunately, says, not for biting flies, and that appears to be correct. I have used Starbar traps with the same bait, but that open at the top, for these flies, with success. But these bottom opening disposable traps are catching very few flies of any kind. I've since found online that for biting flies, sticky traps are better. It sure would have saved time and money if it was made plain in the description that these Trap and Toss traps are not attractive to biting flies, which are the only flies we are concerned about. These do catch moths and an occasional wasp or hornet, and a few other kinds of flies. They've caught very little of anything though. The re-usable Starbar ones that open at the top work a lot better.
---
By Laurie on Aug 7, 2022
Leaks from bottom
I bought 2 of these and the first worked fine and started attracting flies immediately. The 2nd did not have the bottom on tight so when I turned it over to hang, the water started leaking. Of course the water smells really bad with the attractant. Just check the trap carefully to be sure the bottom is on tight.
---
By Tina on Nov 3, 2022
Did not work
It was not difficult to set up but the flies were not interested in one bit to go near it. Waste of $$
---
By Susan44 on Jul 11, 2022
Will not buy again.
I placed 4 traps within 3 to 10 feet of our stable's manure pile. Two were in the shade and 2 in the sun. All the traps were hanging approximately 2-3 ft off the ground. After 24 hrs, 3 flies were in one trap and 2 flies in another. After 6 days, each trap had about 10 dead flies inside. Our barn has 10 horses and the manure pile is 14ft x 20ft with alot of flies on it! These fly traps are useless for our barn and I will not buy again.
---
By Smerlo on Jul 12, 2022
Pet Mother
I purchased 4 of these fly traps because they claimed to be so effective and also safe to use around animals. I have a fly problem in my barn, where I am brooding some ducklings. I put one of these traps in there(hanging) 4 days ago. It caught exactly 3 flies and I had a duckling dead this morning that died of fly strike, the poor thing. So, no, I would definitely NOT recommend it because I think this product is USELESS.
---
By BWBarrett on Jun 30, 2022
Great product!!
I have 2 dogs that wander in and out during the warm months through the back door. The door opening has a magnetic netting (no screen door) and I NEVER have flies in the house. The flies love this trap and I have used these for the past 4 years. I make sure to keep them on hand since it seems like products that work, disappear from the store shelves. This product WORKS !!!!
---
By AZranchwife on May 10, 2022
Most effective fly trap I've found so far
We keep horses, donkeys, and cattle (12-14 total) in a pasture next to our house. Needless to say, flies are a problem during the warm months. I've tried many versions of fly traps and this one seems to trap the most flies. The attractant that comes with it works better than other brands or any homemade bait I've concocted. The one thing I DON'T like is that the traps are intended to be single use. That just seems so wasteful. So, when the traps get full, I flush the dead flies out with a garden hose and reuse the traps until the plastic cracks - usually after one season. (If you do this, be forewarned that rinsing is a gross job and the dead flies stink!) I refill using Starbar attractant sold separately for their reusable traps (1 packet can be split between 2 of these traps). I do wish Starbar would make a truly reusable trap that has the same efficient bell-shaped design! If you try these and aren't having much success, be sure to try moving them around (higher vs lower, sun vs shade, etc.).
---
By yukon on Sep 21, 2022
Best FLY trap EVER
BEST EVER awesome photo this is an average catch I have filled 5 others over the last year
---
By mm78 on Jun 27, 2022
Amazing!!!!
These fly traps are so great. Much better than the sticky paper that gets stuck in my hair or on chickens in the pen. You have to hang them. They won't work if you don't hang them because the hole is on the bottom.
---
By Rose on Aug 3, 2022
For use outside
The description needs to include "for use outside". This is not stated clearly until you look further into the information.
---