Must enter code FALL2022 at checkout to redeem
Frequently Bought Together
---
About This Item
Transparent adhesive training aids that can be used virtually anywhere without leaving sticky residue, easy to apply and remove
Ideal for use on screens, furniture, carpets, and any area that has become the focus of your cat's unwanted attention, discourages cats from clawing and pawing
Medical-grade adhesive strips apply directly to furnishings and are harmless to cats and furniture when used as directed
Helps control inappropriate elimination
Roll measures 32.8 ft x 2" wide, with a built-in serrated edge cutter for custom sizing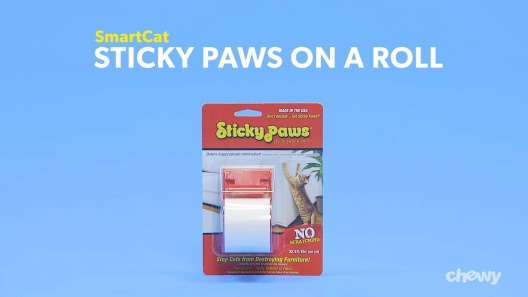 Learn More About Sticky Paws From Our Team of Experts
---
Compare Similar Items
| | | | | |
| --- | --- | --- | --- | --- |
| | | | | |
| Customer Rating | | | | |
| Price | | | | |
| Autoship | — | | | |
| Lifestage | Adult | Adult | Adult | Adult |
| Top Ingredients | — | — | Active Ingredients: Non-Pathogenic Enzyme Producing Bacteria (2%), Rosemary Oil (0.2%), Lemongrass Oil (0.2%)... | Deionized Water, Astragalus-Rosemary Herbal Blend, Paraben-Free Preservative.... |
| Health Feature | — | — | — | Itch & Redness Remedy |
---
Questions & Answers
16 Customer Questions
---
Can you use this on kitchen counters?
Answer by • Nov 10, 2017
Always test a small piece of Sticky Paws on an inconspicuous area before applying. Sticky Paws is ineffective on surfaces treated with non-stick and/or stain-repellent products, such as Scotchgard. Replace weekly.
---
My alpha male scratches our window screen to be let in. He's shredding them! Will it work on window screens?
Answer by • Mar 18, 2018
This product is intended for use on screens, furniture, carpets, and any area that has become the focus of your cat's unwanted attention, discourages cats from clawing and pawing.
---
Says not for human or animal consumption....will tape residue get on cats nail paws? Afraid thereby transfer to mouth??
Answer by • Jan 30, 2018
Though the adhesive strip should not be ingested, it's made as a training aid. Once the animal is deterred, they shouldn't scratch the area again and shouldn't have much on their paws.
---
I would like a list of all ingredients before I purchase this product. Where can I see a list?
Answer by • Jun 30, 2019
This is made of mylar, a form of polyester resin used to make heat-resistant plastic films and sheets, and techcryl. Techcryl 6164 is an acid free, water-based acrylic adhesive formulated to coat ultra smooth for optical clarity in clear film applications. Techcryl 6164 provides excellent adhesion to a variety of surfaces and can be supplied at a viscosity suitable for your coating equipment.
---
---
---
By Laura on Sep 13, 2022
Great product
I've used the strips for years and love them. They work great and keep the cats from scratching our furniture. I'm SO glad I bought the Sticky Paws on a Roll this time! Wow so much easier to use!! You can customize the size you're using and it stores much easier in the small roll instead of the larger packet of sheets.
---
By babyowl on Sep 22, 2022
This is good
Sticky paws are good and work fairly well. Our 3 cats don't care for the sticky part. It doesn't stick long, not sure why because it's pretty sticky. We do wish it was easier to work with.
---
By Bean on Jul 12, 2022
Depends on where you use it
Unfortunately this tape does not stick to the woven fabric the chairs I was trying to protect from scratching. I think if you need it for leather or vinyl or counter tops etc. it would be fine, just not for woven fabrics or anything too textured.
---
By Cathy on May 15, 2022
Sticky Paws on a Roll
I tried Sticky Paws after we bought two new reclining chairs. It sticks well and although my cats were able to pull some of it off, I guess they didn't like how it felt so the scratching on the chairs was greatky reduced. I do have to replace the tape periodically (I have a houseful of active cats) the product has worked well. As far as the reviews about the product not sticking, I will say that if you read the directions it says that it may mot stick on some surfaces and may damage others. Read the package first!
---
By Courtney on May 4, 2022
Not useful on most surfaces
I tried this product on carpet, fabric, and plastic, and it only gave somewhat okay results on the plastic. The tape is very flimsy yet doesn't cut easily, leaving me with mostly a ball of wadded up tape. If the tape was a little thicker, sturdier, and stickier, I think it would work better. This product is fine for hard surfaces but still doesn't offer much protection or discourage my cats to scratch that area as much.
---
By AjaxAshTheoGracie on May 31, 2022
it tastes good, too
*watch grasshopper. see how they put this double-sided sticky tape on furniture to discourage scratching? just grab hold & pull.* *like this? oh big cat! how did you get so wise?* *all in good time grasshopper. patience.*
---
By LoveAnimals on Mar 17, 2022
Great tape!
The tape isn't very wide but it was the perfect size for our sofa and chair where our cat was scratching. I like how it's clear so it doesn't stand out. We kept it on for about a month because we weren't sure how long it would take our cat to steer clear of the area. Initially she tried scratching the areas but as soon as she felt the tape, she stopped. She didn't like the feel of the sticky tape. She only tried scratching twice and after that, I saw her just check the area (probably to see if the tape was still there because it shines and I think she understood something was there after trying to scratch the area) and once she saw it was still there, she stopped checking the area after about a week. We took the tape off a few weeks later because we didn't want to do it too early just in case. It didn't harm our furniture in any way. This worked out awesome! The only issue is that it's super sticky so you can't even go anywhere near it otherwise the tape catches onto your clothes and then it crumples up easily and you might have to use a brand new piece. Due to the type of material of our sofa, it adhered to it pretty well. But it was finally nice when it was time to take the tape off. We would buy this again!
---
By SarahQ111 on Sep 24, 2022
Not worth the money
This tape is a no no, it doesn't stick and it looks ugly.
---
By Alli on Feb 28, 2022
Doesn't Work On All Materials
I was excited to use this after a friend recommended it to protect furniture in the home but it didn't work on all of the materials i was hoping to save. I wanted to use it on my fabric headboard, wooden railing, couch and curtains but it only stuck to the wooden railing. I'm not sure it was worth buying for my needs since it only stuck to a few things.
---
By Mrsssmiley on Feb 22, 2022
Sticky Paws Tape
I do believe this product would work for the average cat. I have 3 cats and two of them stayed away from the tape and it worked great. My problem came with the third on who is an imp, he discovered the end of the tape pulled it off the couch corner and tried eating it. I'm on to try something else. Definitely would use it just have an ornery cat.
---