Suitical Recovery Sleeve for Dogs
Frequently Bought Together
---
About This Item
Comfortable, stress-reducing alternative to the traditional cone is recommended by vets.
Covered areas are kept clean and dry, which prevents bacteria and dirt from causing an infection.
Around-the-chest closure adds some pressure to the chest, which helps to reduce stress levels.
Made from a non-toxic, breathable, 4-way stretch fabric that is machine washable for reuse.
Suitable to cover salves, protect hot spots, wounds, bandages, skin conditions and more.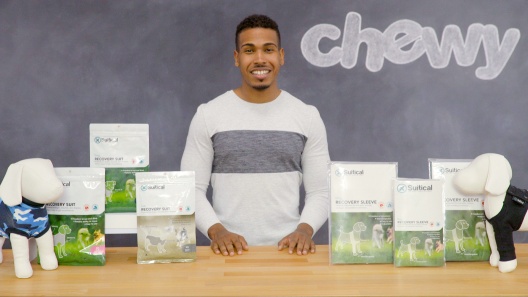 Learn More About Suitical From Our Team of Experts
---
Compare Similar Items
| | | | | | |
| --- | --- | --- | --- | --- | --- |
| | | | | | |
| Customer Rating | | | | | |
| Price | | | | | |
| Breed Size | Extra Small & Toy Breeds, Small Breeds | Large Breeds, Medium Breeds | Extra Small & Toy Breeds, Small Breeds | Extra Small & Toy Breeds, Small Breeds | N/A |
| Health Feature | First Aid, Itch & Redness Remedy, Recovery | First Aid, Itch & Redness Remedy, Recovery | N/A | Recovery, Calming, Itch & Redness Remedy, First Aid | N/A |
| Material | Cotton, Natural Fabric | Cotton, Natural Fabric | N/A | N/A | Cotton, Natural Fabric |
| Lifestage | Adult | Adult | Adult | Adult | Adult |
| Pattern | N/A | N/A | N/A | N/A | N/A |
---
Questions & Answers
28 Customer Questions
---
Will this work for a pressure sore on elbow, is it padded?
Answer by • Jul 19, 2017
This sleeve is not padded. It is made from a non-toxic, breathable, 4-way stretch fabric that is machine washable for reuse.
---
Should you or could you use ointment, gause and wrap bandage , over a sore, underneath the leg sleeve first? I'm desperate, I have tried everything out there, to prevent my dog's obsessive licking her sores on front lower leg.
Answer by • Apr 28, 2020
This is suitable to cover salves, protect hot spots, wounds, bandages, skin conditions and more.
---
My dog's chest circumference is 29 - 31 inches which would indicate she would need the large size. however, the leg length for the large size is 13.8 inches and this is too long for my dog. her leg length seems to be closer to 10 inches. can the leg length be modified (cut)? Please advise.
Answer by • Feb 20, 2018
It is not recommended to cut the sleeve because it may fray. The sleeve may be folded or scrunched if needed.
---
Will this sleeve work for a rear leg as well?
Answer by • Mar 19, 2021
The recovery sleeve is designed for the front legs and not for the hind legs.
---
---
---
By OCMD on Jun 4, 2022
Great product and service!
This order was made, processed and shipped all on the same day. I received it the very next day — free shipping! I have the canine Houdini of removing hotspot coverings — this is the first dog I've ever had who just won't leave her hotspot covered. She has managed to get out of every bit of pet wrap as well as every bandage, medi boot, sock and any other creation I've come up with. The hotspot has progressively gotten worse, and I felt that I would have no option but to make her wear a cone for what would now be an extended period of time. As a last ditch effort, I tried this. I should have just bought this from the beginning. It's well made and seems comfortable for her to wear. So far, she hasn't found a way out. I'm hoping this will finally be the answer!
---
By IGMom on Jun 23, 2022
Awesome delivery time!
Our Italian Greyhound was bitten by a rattlesnake and after all of the trauma, wearing the cone was about the final straw. When I found this, I couldn't believe it but wanted it yesterday! Chewy did almost that, having it to me in 1 day! It's been a Godsend to Tess as she is recovering from the necrosis the venom caused. Thanks Chewy for your awesome customer service! And the product is great too! Soft and comfy, yet protective!
---
By John on Jun 2, 2022
Nice....if it actually worked
I bought this because our Golden Retriever has a lick granuloma on his lower left leg that he just won't leave alone. The blow up donut pillows don't work for something that accessible, and we really hate have to use a large "Cone of Shame." This recovery sleeve seemed like a good option as it is billed as being extremely tough. Wrong. It took him less than 24 hours to tear big holes in the sleeve rendering it useless. Back to the Cone we have had to go but now we are out $40 on a device that is useless.
---
By Curt on May 19, 2022
The best idea
Work perfectly on a physco Aussie. Licked her leg so raw the vet was getting nervous. Chewed ever item we put on, taped on and wrapped. This has went on for months. Put this on and 2 weeks later it is looking fantastic. Hasn't even chewed at it or licked the cloth. Fits perfectly. Adjustable and built to last.
---
By juls424 on Mar 25, 2022
Saved from the cone of shame!
This product is perfect! My pup has a lick granuloma on his shin and couldn't leave it alone. Doomed to 14 days in a cone to treat it and let it heal. Thought we were all going to go insane dealing with an anxious dog in a cone. I tried making a legging for him but it wouldn't stay on well and he kept chewing it off. Ordered this and he hasn't even tried to mess with it. It's been 2 days and he hasn't chewed it and seems very comfortable. Finally relaxed and the granuloma is healing nicely! I had to order a L because he is a bit overweight but doesn't have long legs, so I just rolled up the hem and it stays put. It's not tight on the bottom so I was worried he would be able to pull it up enough to get to his shin but it's snug enough he hasn't tried. Such a relief! Highly recommend it, totally worth the $
---
By Unhappy on Jun 16, 2022
Ripped item after 11 days of use
Buy something else. Thin strap rips on opposite side of the leg covering. It should not just last 11 days! Waste of money. Wish it would have worked to cover the wound.
---
By crusty on Apr 29, 2022
works for cats too
Well made. Material could be heavier, because of all the licking and chewing. I asked two questions and neither were answered. Took a chance that it would work for my cat and it does, although I'll have to add a bit of material to lengthen the sleeve. Why the description doesn't say "works for either arm" is a mystery. Bottom line "IT WORKS".
---
By Mila on May 18, 2022
Bigger than the size says
I have an 80 lb boxer with a 36 in chest..according to the chart, she is definitely an xl...however, it's WAY too big!! We have it on the LAST SNAP...still too big. We love the idea of not using the "cone of shame", I just wish the fit was more accurate.
---
By Dougal on Apr 17, 2022
Best thing ever
Dougal the Dogo had a fast growing wart excised from his front lower leg, and of course wouldn't leave it alone. He has a cone, but our stairs are narrow and he is getting older so he got scared to come up the stairs with the cone. This leg sleeve was perfect, it kept him from chewing or licking, left him able to negotiate stairs and sleep more comfortably. 10/10 - would recommend
---
By Scott on Apr 3, 2022
Flexible, Breathable, Comfortable, NOT DURABLE
Bought this for our dog who has been slowing licking a hole in his leg. Really nice design stretchy and comfortable. Lasted 2.5 days before he chewed right through it. Even tried to repair it, but he just made a new hole above the repair to where he can stick his tongue through the top of the sleeve and lick. If this was made of a more denim material, it may be more durable. Going toward last resort of a cone now....
---