Suitical Recovery Suit for Dogs
---
About This Item
Comfortable, stress-reducing alternative to the traditional cone is recommended by vets.
Snug fit with rear fastening prevents the pet from wiggling out; can be pulled back for potty breaks.
Covered areas are kept clean and dry, which prevents bacteria and dirt from causing an infection.
Made from a non-toxic, breathable, 4-way stretch fabric that is machine washable for reuse.
Allows air to circulate around the wound for healing, with built-in pockets for gauze pads.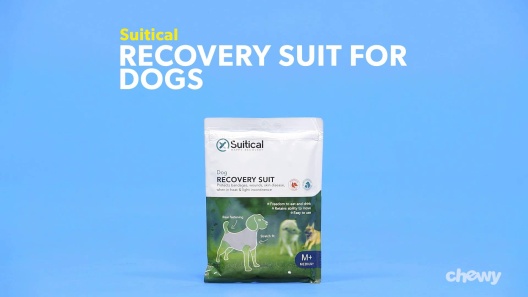 Learn More About Suitical From Our Team of Experts
---
Compare Similar Items
| | | | | | |
| --- | --- | --- | --- | --- | --- |
| | | | | | |
| Customer Rating | | | | | |
| Price | | | | | |
| Breed Size | Medium Breeds | Medium Breeds, Small Breeds | Extra Small & Toy Breeds, Small Breeds | N/A | Extra Small & Toy Breeds, Small Breeds |
| Health Feature | First Aid, Itch & Redness Remedy, Recovery | First Aid, Itch & Redness Remedy, Recovery | N/A | Recovery | Recovery, Calming, Itch & Redness Remedy, First Aid |
| Material | Cotton, Natural Fabric | Cotton, Natural Fabric | N/A | Polyester, Synthetic Fabric | N/A |
| Lifestage | Adult | Adult | Adult | Adult | Adult |
| Closure Type | N/A | — | — | — | — |
| Potty Feature | N/A | — | — | — | — |
| Top Ingredients | N/A | — | — | — | — |
---
Questions & Answers
65 Customer Questions
---
Would this suit work for a male recovering from neutering?
Answer by • Jan 20, 2020
This suit is suitable for male dogs that have been neutered.
---
What is the piece of fabric with a snap on the inside of the garment?
Answer by • Jun 11, 2022
The interior of the Recovery Suit is partially light blue so fluid loss can be checked by the veterinarian or owner. In the event of fluid loss, a sanitary towel can be applied on the inside of the suit or between the double layer. If necessary, an ice pack can also be inserted between the double layer.
---
My pup has a 6" x 1-1/2 w rectangular scalp that removed all hair and skin to the facial along ribcage on upper side. We've been using pads and jacket but she is still pulling out staples after ripping stitches out. Is there a video showing how to use?
Answer by • Feb 16, 2020
Please see attached video at the 2:06 timestamp is a demonstration of how to put on the suit.
---
How breathable is this suit? I want this for my dog, but when we are not home he stays outside for most of the day.
Answer by • Jun 12, 2018
This suit is made from a non-toxic, breathable, 4-way stretch fabric to allow maximum comfort.
---
---
---
By Ccbg on Jun 25, 2022
Great for my corgi
This worked for my Pembroke Welsh corgi after being spayed. She is a lowrider and wanted something to help protect her incision from getting dirty & keep her from biting at it during the day (at night she wore the crown of shame). Fit great, size small worked for our corgi. Only complaint was I never did figure out how to hook it up to go out, so ended up wrapping a clean cotton T-shirt and pinning it when going out. I watched the video but it did not show how to do that and I read the instructions stating to hook it to the blue snap on the underneath side when going out but didn't work for us. Not sure how one snap would hold up 2 straps.
---
By RoseysMom on Jun 24, 2022
Butt Saver
Our older dog kept her hind quarters chewed up when we weren't watching. It was often done when we left her alone for short periods. It had been a continuous battle using ointments, antibiotics, and diet changes. And though she is on both pain and antihistamine meds we aren't sure if she is itching, in pain or just anxious while we're gone. I bought the Suitical as a last ditch effort to try and stop the chewing cycle. It worked! Her skin is intact for the first time in over a year. I put it on her whenever we need to leave her alone. The description of the item says it may also work as an anti-anxiety garment and for her I think that is true. I did make one adaption by cutting back the turtleneck to a shorter neckline. It is easier to get on her and looks less restrictive.
---
By MacFadden on Jun 17, 2022
Comfortable alternative to a cone
My dog had a cyst removed from the base of his neck, and this suit has been very helpful in protecting the incision site. Because of the location, a cone wouldn't have helped, and this is certainly more comfortable. He doesn't mind wearing it, and it's pretty easy to get off and on. It fully covers his neck up to the ears. He could scratch through it if he tried, though, so he still needs to be supervised. The care tag says it can't go in the dryer, but can be ironed (ha!). It would be nice if it could go in the dryer so it could be ready to use again more quickly, but on a sunny day it doesn't take too long to dry outside. It has held up well after two washes. My dog is a 55 lb golden doodle and the large fits him well. The only hole in back is for the tail, so on walks you have to take it off or unsnap the back and roll it up.
---
By MinnesotaSwissies on Jun 5, 2022
100% recommend and we have a big stubborn dog!
We have a 120 pound, very sassy and stubborn Greater Swiss Mountain Dog who was scheduled for her spay this past week. When her uncle (of similar size and temperament) got neutered a few years ago, he destroyed our house with his gigantic cone. Thus, we were looking for another option this time around. We had seen the Suitical recovery suit on some dogs on Instagram so we found it on Chewy and spent about 15 minutes reading reviews. We decided it might be a challenge getting it on/off of her, but that it seemed like a good option to try. IT IS NOT A GOOD OPTION, IT IS A GREAT OPTION!!!!! She has been wearing the pink camouflage suit for four days now and DOES NOT CARE SHE HAS IT ON! Based on reviews we had read, we ordered two (thank goodness because we forgot to open the flaps for one outdoor trip--oops!). We brought it to the vet when we dropped her off and they put it on her when she was still groggy. We were nervous about whether we could get it changed (she is really a sassy warrior princess) but it was so easy--over the head, gently get front legs through and voila! She has not tried to scratch or lick her incision at all. We looked at the incision this morning and it is dry and healing (the suit allows it to breathe). We would strongly recommend this recovery suit!
---
By ErinMA on Jun 7, 2022
Great alternative to an e-collar!
Our chihuahua is a very nervous girl and the e-cone would have freaked her out. So after her spay surgery we opted for the Suitical Recovery Suit instead. It worked out well - she was able to move freely and see around her, but not get at her incision while it healed. It was inconvenient having to unbutton the suit so she could potty, but we ended up snapping the buttons in a way that left her bottom free. Highly recommend this suit as an alternative to the e-collar!
---
By Teresa on Jun 13, 2022
Alternative to the Cone of Shame
This is a great alternative to having to use a cone! It is easy to put on and is comfortable. Males need to have it pulled back to urinate but females can urinate without it being pulled back as long as it fits correctly. If it's a little big, you'll have to pull it back which is easy enough. You'll want to buy two so you can trade them out when they get dirty.
---
By Bobbie on Jun 24, 2022
Quality suit
Outstanding suit design. Suit is easy to get on and off. Dog was very comfortable and relaxed in suit after surgery. Fabric and construction excellent. I added a leg sleeve from a long sleeve tee shirt then used tee shirt body to tied around the dogs torso to protect the stitches on leg.
---
By BottomlessBackpacks on May 28, 2022
Amazing solution
This product is incredible. We got it to cover a mystery growth on our dog's underbelly (he would not stop licking it) until we could get him into the vet to have it removed. It is easy to roll up and secure for potty breaks, and did a fantastic job of covering/protecting the area. Plus, our dog seemed to enjoy wearing it. I liked it so much, I've ordered a second so we can swap them out to wash. MUCH easier than dealing with a cone!
---
By DaneMom on May 6, 2022
Great Buy! so much better than a cone.
The xxl fit my Great Dane well. She actually didn't mind wearing it after her spay. It's easy to get ona and off. You just unsap the back like a baby onesie. We learned to tie the 2 flaps in a knot on her back vs using the snap that came with it when she went to use the bathroom because it kept her stitches covered. The little snap you're supposed to use didn't keep her stitches covered and they got dirty once. Danes need a huge cone after their surgery and that makes it hard for everyone, this is a great option. Make sure to buy 2 so if one soils the other is available right away since you can't dry in the dryer. Definitely 2 paws up from our family.
---
By AnnaB on Jun 23, 2022
Exceeded expectations
Chewy continues to be a 'star' in our eyes. We ordered this suit for our female whippet who had surgery last Tuesday, and it arrived quickly, was well constructed and just absolutely perfect for her to wear during her recovery.
---