SureFlap Microchip Small Dog & Cat Door
By SureFlap
---
About This Item
Flap door knows your pets' unique microchip or collar tag id and only opens for them; sized for small dogs and large cats.
Flap stays locked for any other animal, keeping unwanted animals safely and securely out of your home.
Easy to program with just one button and can remember up to 32 different pets; compatible with all microchips or RFID collar tags.
Lets you control your pets' comings and goings, with different modes including curfew mode which locks and unlocks automatically at a set time.
Easy to install on any door, window, or wall and includes a RFID collar tag for a pet that's not microchipped; batteries not included.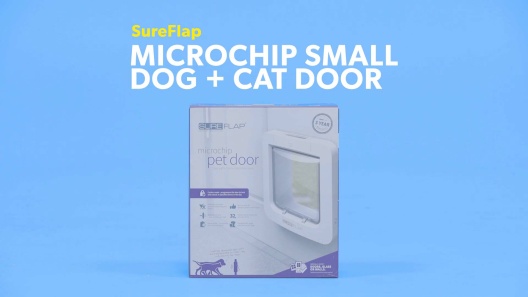 Learn More About SureFlap From Our Team of Experts
---
Compare Similar Items
| | | | | | |
| --- | --- | --- | --- | --- | --- |
| | | | | | |
| Customer Rating | | | | | |
| Price | | | | | |
| Breed Size | Extra Small & Toy Breeds, Small Breeds | Medium Breeds, Large Breeds | Medium Breeds | Small Breeds | Large Breeds, Giant Breeds |
| Material | Plastic | Plastic | Aluminum, Glass | Aluminum | Plastic, Vinyl |
| Features | Locking | Locking | N/A | N/A | Insulated, Locking |
| Door Type | Electronic | Electronic | Electronic | Electronic | Standard |
| Assembly Required | Yes | Yes | Yes | Yes | Yes |
| Compatibility | Battery Powered | Battery Powered | N/A | N/A | N/A |
| Technology Feature | Microchip / RFID | Microchip / RFID, Programmable | N/A | N/A | N/A |
---
Questions & Answers
43 Customer Questions
---
Can this door be programmed to let one cat out but keep the others in?
Answer by • Aug 28, 2018
Program your cat's microchip at the touch of a button. You cat's microchip is then permanently stored in memory. The cat flap remains locked for cats that are not programmed in the system and wildlife.
---
If I set it to curfew mode, but my cat is still outside after curfew, can it come back in? Or does curfew mode completely lock the door, both in and out?
Answer by • Nov 06, 2017
At the selected lock time the pet door will be set to "in only", meaning the cat is still able to enter the house after the lock time but can't leave again.
---
Does this come in extra large?
Answer by • Jul 05, 2018
This door is only available in one size at this time.
---
I just want to make sure that I understand this right. The actual flap opens automatically and creates a hole until the programmed pet goes thru and then comes back down automatically?
Answer by • Aug 25, 2017
To enter the house, the pet puts its head in the tunnel to push the flap open. A sensor detects the pet's presence and quickly reads the microchip or collar tag, opening the locks if required. Note that the SureFlap Microchip Pet Door does not activate if your pet is just wandering in front of the flap, inside or outside the house.
---
---
---
By LauraD on Mar 29, 2022
Do not install with their screws!
The screws started stripping out upon installation. Save yourself a lot of trouble and go to the hardware store and buy replacements. Also, we have two small dogs that we wanted to give outdoor privileges to but a cat that is not allowed out. Purposely installed it backwards. Now only animals with the RFID chip can exit and any animal that can squeeze through the door can enter. Works in our situation because the dogs are terrors (Terriers). So no critters from outside our household even go in the yard much less try the door.
---
By Sadyana on Mar 24, 2022
Exactly what we needed.
We bought this Small Dog/Large Cat Microchip Pet Door to let our cats in and keep other animals out. Neighbor cats, feral cats, and a possum have all visited our pet food bowls. This door was easy to install. My husband cut out a shape and drilled some holes. He used his 'sawzall'. It was also easy to set up. Push a button for learning mode, it reads the microchip close to it, registers it, then switches automatically to locked mode. The locking sound was surprisingly loud, but we all got used to it quickly. In fact, our boy cat has better manners now because he has to wait for it to unlock instead of hitting the door full speed. The girls were skittish about the noise at first, but only for a couple of days. The chip reader requires the animal be very close to it, and sometimes we hear the latch open and close a few times before a cat comes in or goes out. That's just because they like to look through the door and be coy and all cat-like about it. We considered the battery issue and were worried the cats might get locked out if the door suddenly lost power, so decided it was worth it to change the batteries on a schedule to avoid the worry. The door is working perfectly, and one by one, the regular space invaders learned they could no longer come in. The house feels better too, safer somehow. 10/10 (This was originally formatted with line breaks, but the website takes them out. )
---
By buyer on Mar 16, 2022
love the idea, but would not recommend
I purchased two of these pet doors for two small dogs (following the instructions to measure them to make sure they would accommodate both dogs, and they do - a six-pounder and a ten-pounder) and programmed them with both chip numbers prior to installation as per the instructions ... but it turns out that ordinary pet doors would have been better for me, especially for the price. So, a few things to consider before you buy: My pets enter/exit feet-first, batting at the door and then coming through. So when the door is set to read microchips - which is its whole purpose - it won't open. Also, some kind of obvious visual cue to let them know when a door is closed/locked would be better: they just bat at locked doors, with incomprehension and increasing frustration/panic, and then we have to review/retrain for them to trust the door/s again. Lastly, for nearly $300 each (because for any install other than into a door, you'll need at least two "tunnel extenders," if not more, at $20 each), they should just look better and be more durable. It's like no one really thought-through the tunnel extenders or the exterior trim - they are very cheap-looking and overly-dependent on caulking; like they were all afterthoughts. So, I drilled and chiseled holes into my house to install these fancy pet doors that will forever require batteries in order for me to leave them open all the time, like any good basic/ordinary pet door! In hindsight, the more ordinary, tried-and-true, mechanical pet doors would have been better for me and my current pets, and a better value. I do have high hopes for the idea here though: when I had cats, I had other unwanted cats (and one feral cat) follow my cats into my home. Chaos trying to help the unwanted animals find an EXIT. I've also had raccoons enter my home through pet doors. ("Chaos" is a total understatement when there are raccoons trapped in your cupboards.) I think the idea behind these doors is good and would help solve those kinds of issues.
---
By Etoby on Feb 17, 2022
Great do, but read the description
My cat had a door to "her room" that has her food, box, etc. A new, smaller dog joined the household and loved going thru the cat door. Cat was not amused. I searched around and found this door. It reads the microchip and selectively allows passage. I thought it was selective in both directions, but learned that it allows all to pass thru going out, and screens for reentry. Because it was not an outside door, I was able to remove and reverse the door direction to keep the dog out and allow cat passage. It's working great. My cat took a bit to get used to the tunnel entry, but she's mastered that. Other reviewers stated issues with the timer but I am not using that feature so can't address that. Overall, the household is very pleased.
---
By Sureflap on Jan 6, 2022
Butter bean loves his new safe place!
We had a cat dropped on our farm in bad shape. He had surgery and has been nursed to health and is a big healthy boy now. But the chickens, the dogs and kittens next door were eating his food. The kittens kept taking his heated box and he's too sweet to take over. We didn't want to have another indoor cat for personal reasons. We read a lot of reviews of Sureflap and others. I went with this one because of the size of the RFID (magnet on his collar). I did put a cheap collar on him for a week before ordering to ensure he would tolerate it. He did. And you can replace them if needed or microchip them if needed with this. *make sure you get the correct microchipping, they only work with certain types* The RFID is about the size of a nickle, but maybe lighter and thinner. Plastic so no jingling to get him caught by predators. And it's of course a break away collar. He is very food motivated and so it was super easy to train him especially since the door is clear. And not cloudy at all. The only concern we had initially was he wanted to push it open with his paw and they need to get their head, or tag closer, in there to trigger it. But it was only a matter of 2-3 days that he figured that out and lost the timidness. He also has an extra long tail so he would come through then linger and not let the flap shut and the locks would activate. The flap isn't heavy enough it seems to go over the locks. But there are 2 custom settings to delay the locks to 5 or 10 seconds. I was thinking of this but we just moved his food bowl further away from it. Like I said, he's very food motivated. He beats us in the garage now when it's time to eat. Our garage is corrugated metal sided. No insulation or dry wall, just metal. No installation problems. My husband did put a little bit of a frame with spare 2x4's around it for hold security since it's just the metal. We did not need an extender in our case. Now he has a full 3 car garage, out of the weather, his bed, blankie and Christmas mouse by Dad's work bench, his food and water safe from other animals and his heated box all to him self. This was a great choice and investment. We were able to get it in brown as well to match our future paint plan. Everything counts!
---
By JCRT on Dec 29, 2021
Awesome cat door
I already have one of these. It has lasted several years with no problems and is still working. I just need another one. The microchip part works perfect. You can program any in/out situation easily. With some treats, it took my cat 30 minutes to figure out how to use it.
---
By JennFromTenn on Nov 20, 2021
The BEST smart door for small pets!
I have 3 small dogs and a cat who were used to a regular PetSafe flap pet door, but I recently added a kitten to the family and wanted a way to allow the others to continue to have the freedom of the pet door while also keeping the kitten inside. I wanted to keep using our storm door with the pet door opening, so I was limited by the size of the opening. I first tried the CatMate Elite, but the door opening was too small for my dogs to use it comfortably, and the tunnel was longer and must have been a little intimidating because one of my dogs refused to try it. This SureFlap door is the perfect size and functions exactly like what I needed when installed backwards. With the controls mounted on the exterior, it allows all our pets to come inside anytime, but it only allows them to go outside if they are programmed to the door. Our older cat and one dog have microchips, so I bought RFID tags for the other 2 dogs (the tags for the CatMate door worked so I didn't have to return them), and all the dogs and older cat go in/out whenever they want. The new kitten isn't programmed to the door, so she can't get outside. I used a small piece of plywood to frame the opening of the pet storm door and used small metal brackets to hold the wood into the groove where the old PetSafe plastic cover went. I added a little weatherstripping and covered the outside controls with tape as a precaution to keep any rain from damaging the controls, and it has worked wonderfully for 3+ months on the original set of batteries. Programming each chip/tag is as simple as pushing a button. The *only* issue I have is due to the placement of the microchip in one of my dogs, sometimes the door doesn't click right away to unlock and allow him to go outside, so I'm going to order him an RFID tag to address this. I have a wood door that I keep closed anytime I don't want the pets to be able to go outside, so I have not used the curfew/time features and cannot vouch for those functions. I'm very pleased with this pet door and highly recommend it for controlling which pets enter or exit (depending on which side of the door the controls are on).
---
By Safekitty on Nov 22, 2021
Microchip pet door
The door works well. One of my cats learned to get through quickly but the other who pushed the old cat door with his paw was spooked by the sound and took two days to figure it out. Both are using it without a problem now.
---
By TexasLady on Jul 20, 2021
Great Cat Door
We bought this door for our cats for the outside building where they eat and sleep. We have had problems with stray cats and raccoons getting in and eating their food. I think this will resolve that problem although it has not been tested with raccoons yet. It took several weeks to get our cats trained, but now they us it with no problem. First we taped the door open and got them used to going through it. Then we put in a bar to prop it open a little to get them used to pushing a little to go through. Then we finally let it close without locking and they finally learned to push to go through. We would call them from inside when we fed them to encourage them to go through. After several weeks of using it when it was not locked, we finally used the learn mode to read the chips and they were able to figure out right away how to get through by putting their heads in and then pushing once the lock released. I think this door is going to work perfectly for us as long as it can stand up to raccoons when they appear again.
---
By Bruiser on Jun 30, 2021
It keeps raccoons out!
Our former stray, who now is a "mostly inside" kitty, still insists on going out. We are still helping him understand the concept that he has to push the door with his head. We're hopeful. He has no choice, other than to stay inside, as there are many raccoons around here. We feed a two feral cats (their feeder is far from the doors of our house) and no food stays out overnight. But, between the lingering scent of this, and our pond, raccoons are regulars.
---