Tetra Pond De-Icer, 300-watt
Frequently Bought Together
---
About This Item
Heats up to melt a pocket of ice around it up to - 20°F in outdoor ponds and tanks.
Makes an opening in the ice to allow trapped toxic gases to escape safely and keep your fish healthy.
Thermostatically controlled winter survival solution shuts off after melting the ice.
Comes with a natural stone finish so it looks great in any naturalistic pond environment.
Works on an energy efficient 300 watts and is UL listed for safety; includes 15 foot power cord.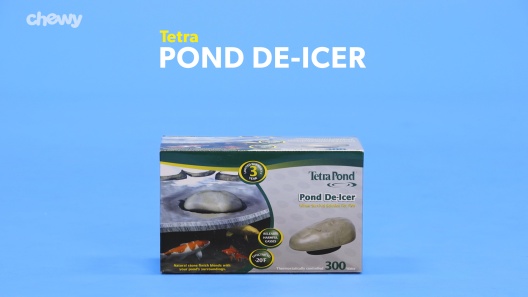 Learn More About Tetra From Our Team of Experts
---
Compare Similar Items
| | | | | | |
| --- | --- | --- | --- | --- | --- |
| | | | | | |
| Customer Rating | | | | | |
| Price | | | | | |
| Fish Type | Koi & Pond Fish | Koi & Pond Fish | Koi & Pond Fish | Tropical Freshwater, Betta, Cichlid, Goldfish, Marine Fish | Tropical Freshwater, Marine Fish |
| Aquarium Type | Pond | Pond | Pond | Freshwater, Saltwater | Freshwater |
| Material | Plastic | Plastic | Plastic | Plastic | Polypropylene, Plastic |
---
Questions & Answers
11 Customer Questions
---
I have a 2000 gallon koi pond pond. I understand that I can purchase more de-icers, but will one do the trick?
Answer by • Oct 27, 2018
The surface area of your pond will determine the amount of de-icers you may need. It's recommended to use 1 de-icer per every 150 square feet of surface area.
---
Can this be used in a baby pool? Is it safe to sit against the plastic? Looking to buy this for my ducks for the winter so they can still access the pool if wanting to
Answer by • Sep 22, 2018
It's not recommended to use this de-icer in a baby pool because it needs to be grounded. Grounding is the act of connecting a conductor, or exposed conductive parts of an installation, to the earth.
---
Will this keep my fish warm?
Answer by • Aug 24, 2019
This de-icer is not meant to keep your fish warm and are not pond heaters. There is no need to raise the water temperature of the pond during the winter. It is only important to keep a small area of the surface ice-free.
---
I bought this for a small 150 gallon yard pond . It seems to be warming up the pond not just de icing . I thought it was supposed to have a thermostat to turn off before it made the water warm. Could it be that it's too large for the size of our pond?
Answer by • Jan 12, 2021
The manufacturer recommends this de-icer for a pond measuring a minimum of 150 square feet of surface area. The internal thermostat will turn on when the internal temperature of the unit drops to a certain temperature, and then turn off when it reaches the max internal temperature of 89.6. It does not read the water temperature, and so it may operate even during warm times. It is best to only plug it in when the temps are going to be freezing or colder. It should not be plugged in unless the air temperatures will be below 32 degrees.
---
---
---
By Denise on Mar 4, 2022
Looks good
Works well. Looks good and fish seem to like it. Very simple to use and the cord is a nice length that worked well with my pond setup.
---
By Ginny on Jan 22, 2022
Pond De-Icer
The Tetra Pond De-Icer is exactly what I needed to keep the water open for the koi and gold fish . . . even in minus 20 degrees!!
---
By Trace on Feb 8, 2022
My order came quickly.
This product works great for my pond size. It keeps a large area melted.
---
By Pondgal on Dec 10, 2021
holiday warmth
Just used, and in time for snow and freeze fish were moving well, and appetite up
---
By PamH on Feb 21, 2021
This saved our Koi this winter!
For most of the winter we used a high output pump to keep our water from freezing, but we got a forecast for below 0 and didn't want to risk it. We ordered this, got it in before the big freeze came that was predicted. Works as it says!
---
By KThorn on Mar 27, 2021
Great de-icer
These work great have been using them for years in several of my ponds plus they have a 3 year warranty.
---
By WaterLickers on Oct 15, 2020
Dead in the water
The deicer from Terrapins did well for two winters but did not make to its third year warranty. My electrician installed 2 twenty amp circuits for the pond and he said the heater was tripping the circuit. He demonstrated by plugging the deicer into the new outlet and it tripped. Then he plugged in his corded electric drill and it did not trip. He said the heater or its cord had a short. When I pulled it out of the pond I shook the head and it had water inside. How do I collect on the warranty?
---
By Timothy on Oct 27, 2020
Bad thermostat
So I put this in my small pond about 24 hours ago. The temperature outside is still in the mid 30s at night... And mid-40s and 50s during the day..so obviously, I put it in the pond a little prematurely, it however, raised the temperature of my 60 gallon water garden upwards of 85° F in 24 hours or less. Did not realize this until after dark tonight. I'm hoping that my fish are still alive after being exposed to such a huge temperature increase in such a short amount of time. I unplugged it and ran cold water from my hose to decrease the temperature down to about 70°. I will check on my fish in the morning during the daylight. I really hope they are alive. Given the reviews I keep reading tonight about this contraption, I'm wondering if it has a bad or highly inaccurate thermostat. Even the people that are ranting and raving about it for being a great product are uploading pictures of their ponds with 4ft or 5ft diameter holes of unfrozen water.... Product is only supposed to create 2-in diameter hole around itself... Meaning given the fact that this product is only about 6 in long and 4 or 5 in wide, people should not have anything bigger than a 10 inch diameter hole where ice does not form. I'm glad that chewy.com is sending me a new one without actually making me send back this one as I'm still probably going to use it in the same 60 gallon pond (that is only 2.5ft deep deep) and put it on a timer on the nights that it gets really cold and have it only turn on every 3 hours... for durations of 30 minutes to 1 hour along with the new one that hopefully works as it is supposed to.... As I was worried that I would need a submersible heater along with the replacement floating heater to keep the pond from freezing at the bottom. Just like I prematurely put this de-icer into the pond I prematurely gave this product three stars not knowing if the new one is going to have problems too. If I can change my review after the new product comes I will
---
By BTim on Dec 29, 2020
Happy fish
My fish are so happy to not be frozen in. It is a very nice compact heater that does an amazing job.
---
By dogMom on Mar 23, 2020
Worked great for me
I waited until spring to write a review. I bought in the fall & had running all winter long. This worked great for me. Live in zone 6, and never had a spec of ice form across the entire 5 foot pond. On warmer days I unplugged otherwise the temp would climb above 50F. My pond is 5Lx5Wx3D (feet). My goldfish and myself pleased with the purchase.
---