Tetra Whisper Aquarium Power Filter, 5-10 gal
Frequently Bought Together
---
About This Item
Provides quiet, convenient, reliable filtration designed with simplicity and convenience in mind
This intuitive, filtration system is simple to set up—ready to go right out of the box with no priming required
Provides three-stage filtration, including mechanical, chemical and biological
The scientifically engineered water flow provides continuous flushing action to prevent debris buildup
Provides optimum outflow maximizes water agitation and oxygenation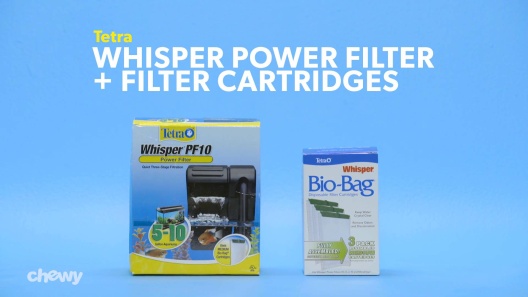 Learn More About Tetra From Our Team of Experts
---
Compare Similar Items
| | | | | | |
| --- | --- | --- | --- | --- | --- |
| | | | | | |
| Customer Rating | | | | | |
| Price | | | | | |
| Fish Type | Tropical Freshwater, Betta, Cichlid, Goldfish, Marine Fish | Tropical Freshwater, Marine Fish | Tropical Freshwater, Marine Fish | Tropical Freshwater, Marine Fish, Cichlid, Goldfish | Tropical Freshwater |
| Aquarium Type | Freshwater, Saltwater | Freshwater, Saltwater | Freshwater, Saltwater | Freshwater, Saltwater | Freshwater, Saltwater |
| Material | Plastic | Mesh, Synthetic Fabric | Plastic | Plastic | Plastic |
---
Questions & Answers
20 Customer Questions
---
Is this a gentle water flow? I want to use it for a betta tank, but I know they don't like hard flowing water.
Answer by • Nov 23, 2019
This filter would be suitable for a betta in a 10-15 gallon tank, however, pet parents of betta fish that have used this tank in smaller gallon set-ups have reported too much movement in the water. Tetra recommends that fish parents with smaller betta set-ups opt for the Tetra Whisper 2 -10 Gallon Depth Power Filter instead.
---
Anyone else have a problem with it backing up? After a few days, the water ends up overflowing and going back out the way it is sucked up-leaving it unfiltered.
Answer by • Mar 28, 2018
There are a few ways to troubleshoot your filter. Unplug your Tetra Whisper filter from the outlet and carefully pull it free of the aquarium. Examine the intake strainer and make sure it is not broken or damaged. Carefully remove the intake strainer from the intake tube. Check the tube for debris and clear anything you find. Pour the water out of the back of the filter. Pull out the old filter and replace it with a fresh new one, then carefully place the filter back on your aquarium. Fill the back of the filter up with water that is roughly the same temperature as the water in the tank. After the back reservoir is filled to the top, plug the filter in and listen for the motor. After a couple seconds the motor should come on and you should see water begin to flow. If water is not flowing the motor may be damaged.
---
how often should you replace filter media ?
Answer by • May 22, 2019
When water flows excessively from the Wonder Tube Chamber into the aquarium, it is time to change the Bio-Bag. The Bio-Bag should be changed once per month to prevent backflow and avoid filtration problems resulting from a clogged Bio-Bag.
---
About how loud is this filter when in the tank?
Answer by • Aug 06, 2019
The Tetra Whisper Power Filter is made with silence in mind. Pet parents have reported this filter to be as quiet as a running ceiling fan.
---
---
---
By dementeddarling on Apr 23, 2022
Whisper???
I got this for my 10 gal aquarium, and it's possibly the worst filter I've ever used. I had previously purchased a smaller Tetra Whisper for my 5 gal aquarium, and it lived up to the name. This one has NO flow control, and the "whisper" is more like a freight train in my living room. I do not recommend.
---
By Vero on Feb 26, 2022
The loudest thing ever
I purchased this for my 10 gallon tank. I have a smaller tank with a hang on the back filter and I thought it will be very similar, but boy I was so wrong! I tried uninstalling and putting back together several times and there is no way I can have the noise all day. I did not spent a lot of money but I will replace this for anything else. It sounds like an airplane is in the room. Will not recommend this filter.
---
By Rawwrr on Feb 27, 2022
Guppy Whirlpool
Well it was working great until it spun my fish into a mini current and sent them flying against the front of the tank. A little too powerful for a 2.5 tank. I can't tell if the fish liked it or if they were mad because they kept going back into the whirlpool. I can't use it for this small tank but I can definitely see this working well for a 5 gallon or 10 gallon.
---
By LARS on Dec 29, 2021
Aquarium filtering systems
Just got this in October 2021 for my small 10 gallon, 2 fish aquarium. It quit already. Does anyone make a DEPENDABLE system? No matter what brand I get, it doesn't last longer than a year. The water is clear and I test it so it can't have to work that hard. What's the deal-at $20 bucks a pop, if I didn't love fish it definitely wouldn't be worth it!!
---
By sjms on Dec 24, 2021
best filter
Economical both the filter and refills, Works better than other hob filters I've used,and I've used it all. Issues that are on the reviews can be easily remedied. Thanks chewy for making it more economical for me and the fishes (money saved goes to their treats),and crystal clear water.
---
By REDDOG on Jan 13, 2022
GREAT FILTER
FOR THE PRICE YOU REALLY CANT BEAT THIS HOB. CARTRIDGES ARE REALLY CHEAP. IF INSTALLED PROPERLY IT IS QUIET AND IT WORKS WELL. 45 YEARS IN FISH KEEPING AND I LIKE IT.
---
By Filter on Feb 6, 2022
Lasted 5 months
Seemed great at first, but after only 5 months of use, the pump has died. No sounds whatsoever from it. Waste of money.
---
By Autumn on Dec 20, 2021
Could be better
I was not having any problems with it for a couple of days, but then it starts making noise. The noise comes and goes and is annoying when it's going, so I will be looking for a different brand soon.
---
By Jackie on Dec 10, 2021
Terrible did not work at all
I got it followed directions assembling the pieces i turned it on and it made noise but nothing would happen i tried to pull it out but it didnt work
---
By Huffnpuff on Dec 27, 2021
Works great
Works great, clears the tank right up and replacement filters are cheap. Not really no biological but works good.
---