ThunderEase Calming Collar for Dogs
Frequently Bought Together
---
About This Item
Drug-Free formula eases your pet's stress without unwanted side-effects such as sedation.
Durable and long-lasting design continuously releases calming pheromones for up to 30 days.
Helps soothe travel anxiety experienced during airline travel, car rides and moving.
Relaxes pets during stressful environments and events such as visiting the vet, anxiety while boarding or kenneling and remodeling.
Eases symptoms of stress and anxiety such as problem barking, destructive behavior, inappropriate chewing and peeing.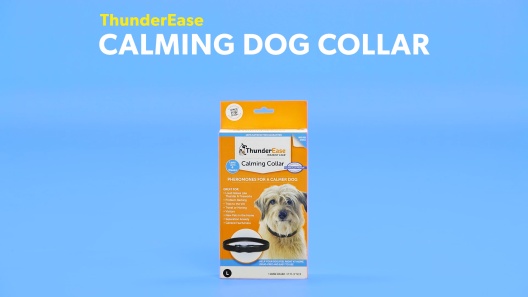 Learn More About ThunderEase From Our Team of Experts
---
Compare Similar Items
| | | | | | |
| --- | --- | --- | --- | --- | --- |
| | | | | | |
| Customer Rating | | | | | |
| Price | | | | | |
| Autoship | — | | | | — |
| Top Ingredients | Analogues of Dog Pheromone 5%, Inert ingredients 95%. | Pheromone | Canine appeasing pheromone analog 5%. | — | Analogue of Dog Pheromone (2%), Isoparaffinic Hydrocarbon (100g). |
| Breed Size | Extra Small Breeds, Giant Breeds, Small Breeds... | Small Breeds, Medium Breeds, Large Breeds, All Breeds | Medium Breeds, Large Breeds | Small Breeds, Medium Breeds, Large Breeds, All Breeds | Small Breeds, Medium Breeds, Large Breeds, All Breeds |
| Closure Type | Buckle, Slip On | Buckle, Slip On | Buckle, Slip On | Slip On, Buckle | — |
| Lifestage | Adult | Adult | Adult, Senior, Puppy | Adult | Adult |
| Health Feature | Calming | Calming | Calming | Calming | Calming |
---
Questions & Answers
18 Customer Questions
---
My dog only gets anxious when in a car. She doesn't need it all of the time, but once you put it on you have to leave it on? It won't last any longer if you take it off? It only lasts up to 4 weeks, so it gets pretty expensive!
Answer by • Sep 07, 2018
The calming collar is required to stay on for the full 4 week period. If removed consistently, the effect would wear-off.
---
What is this made out of? I have two large chewers and they tend to chew plastic on each other's collars.
Answer by • Dec 07, 2018
This collar is made out of silicone.
---
Is this a one-time use product or is it refillable?
Answer by • Nov 01, 2018
Each collar can be used up to 4 weeks.
---
Is the collar able to be removed and then worn again later in the day?
Answer by • Jun 09, 2022
For best results, it is recommended to use this collar continuously during the 30 day period.
---
---
89 Customer Reviews
---
Filter by reviews that mention
---
By Anna on Sep 29, 2022
Not for a husky rescue
I used the collar on my 7 y/o female husky with bad separation anxiety and just anxiety in general. So far I haven't noticed a difference. She's been wearing it for 2 weeks, and had it off for a few hours when getting groomed and when she had a dental cleaning done. Otherwise it's been on nonstop. She's still very reactive to other dogs during walks and at the dog park, I was hoping this would help at least a little with that. She's gotten better with other dogs over the years but she's still very mouthy and anxious around them. I wouldn't recommend for a typical dramatic, sassy husky. I would also argue it doesn't help with the separation anxiety, but this might be something that can't be fixed since she's a rescue. I plan to leave it on her for another week or so, and if I still don't see any changes I'll try the diffuser and update this review as necessary.
---
By Cris on Oct 29, 2022
Excellent results
Worked for my two huskies! Helps one with daily separation anxiety, I saw an increase in independence and less whining. The other we use on occasion to help sleep more easily through storms and fireworks. Works!
---
By Patricia on Oct 2, 2022
Worked for our dogm.became rathere aggrheressi
After we adopted a new puppy, our older dog became rather aggressive to the two other dogs. We didn't want punish her so we tried the Thunderease collar. It has helped her settle down beautifully and life is better for us all!
---
By nanryk on Nov 4, 2022
Did not work at all
Bought this collar and the diffuser and did not notice a lick of difference. Even gave it a couple weeks to work and nothing.
---
By FlurrysDad on Jun 28, 2022
Another very good "weapon" for fighting thunder/fireworks fear
Just like the ThunderCoat/ThunderShirt...the ThunderEase Calming Collar can't do it all by itself...it's designed to be used as an integral part of your dog's "coping strategy" for "scary things"; but it is not a substitute for human involvement and interaction and therapeutic assistance. We use both the ThunderCoat/ThunderShirt and the ThunderEase Calming Collar with our two girls...an 11-1/2 year old Border Collie and a 9 year old Dachshund-Chow Chow-Nova Scotia Duck Tolling Retriever...and they have REALLY HELPED during severe thunderstorms, fireworks in the area...even with the noises associated with having our home remodeled. We also use other aromatherapies and CBD oil as adjunct therapies...and we will...and have...used prescription medications when needed. Using products such as this to help "take the edge off" is invaluable when compared to having to resort to prescription medications as the "first line of defense", rather than the last.
---
By Tina on Jun 20, 2022
Great for My Dog
I have a dog that has severe thunderstorm & rain anxiety. Yes even rain. Along with his Thundershirt and medication, he still needed a little something extra. A friend recommended the ThunderEase collar. I ordered it and am happy I did! It was the little extra he needs to be as calm as he's ever going to get, which is between 75-85% improvement depending on the severity of the thunderstorms. Because he wears it all the time he doesn't immediately get stressed at the first slight rumbles of thunder! This collar will be a part of my monthly auto ship! I highly recommend!!!
---
By EileenP on Jul 4, 2022
Does not work for fireworks
I purchased one locally and Maggie started wearing it June 17. Last night the fireworks sounded like a war zone and she was so scared that we couldn't get her out in 13.5 hours. We left town this morning and are staying in a hotel. She is happy we left town and went out to dinner tonight. Product does not work for fireworks
---
By Uhhleeseeuh on Oct 27, 2022
Did not work
My dog is high anxiety and unfortunately I did not notice a difference with this collar on.
---
By Satisfied on Nov 7, 2022
Doesn't work
Maybe this product works on some dogs but not mine. Had to throw it away.
---
By Binsk on May 12, 2022
Disappointed
This collar did zero for my dog who has separation anxiety. It said it takes about a week for it to work. It's been about 3 weeks and it has not helped to calm him nor stop him from barking. The other thing I disliked about this product is that it cannot get wet! If it gets wet it is no good anymore. I had to take it off of him if it's raining, etc. It should have been made like a flea collar, i.e., doesn't matter if it gets wet or not. Disappointed and felt it was a waste of my money.
---