Tidy Cats Breeze Cat Litter Box System
---
About This Item
This all-in-one Breeze cat litter system is easy to maintain for your feline friends.
Breeze litter pads help prevent ammonia odor for 7 days for one cat, helping you keep your home smelling nice and fresh.
Absorb. Toss. Replace. These super-absorbent cat litter box pads deliver mess-free cleanup to make more time you can spend with your cat.
Breeze low-tracking cat litter pellets repel and wick away moisture to help keep the litter box dry and separate solid waste for easy removal.
Comes with everything you need to get your paw-tner started on this easy-to-use system.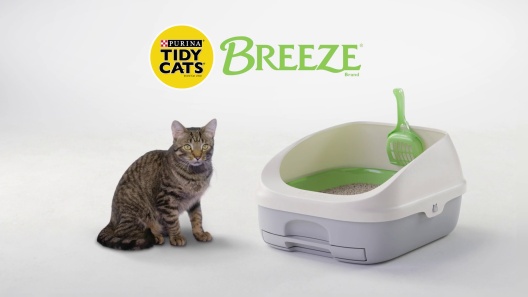 Learn More About Tidy Cats From Our Team of Experts
Related Items
Click here for refill pads.
Click here for refill litter pellets.
Shop Prescription Medications from Chewy Pharmacy
---
---
About Tidy Cats Breeze Litter System
Litter Made Easy
The Breeze Litter System provides simple, fast odor control you can rely on. Its anti-tracking pellets repel urine to keep the box dry, isolating solids on top for easy scooping. Urine passes through the grated tray and into the super absorbent pad, while the removable drawer allows for no-touch pad changes. Simply replace the ammonia-locking pads weekly and the mess-minimizing pellets monthly!
A Revolutionary New Litter System
Blocks Ammonia Odors
Each pad stops ammonia odor for 7 days, keeping unpleasant odors at bay so you can maintain a clean, fresh-smelling home.
Neat Neet. Neet Floors.
Anti-tracking pellets repel and wick moisture, keeping solids on top for fast scooping. Just replace the pellets once a month!
Highly Absorbent Pads
Each pad lasts up to one week and is super easy to replace—just use the removable drawer to toss it without touching.
Switching is a Breeze
Each Breeze system comes with easy, expert transitioning tips to help you and your cat make the switch smoothly.
About Tidy Cats
Tidy Cats knows it's their job to follow every road that leads to freshness. That's why they never stop searching for a better litter box experience. For over 50 years, they've fought odor, cut down on dust and helped simplify litter box maintenance. They always have a clever solution that's right for you and the other noses in your home.
Shop Tidy Cats
---
Questions & Answers
64 Customer Questions
---
how can I put my, coupon in
---
I have 3 cats. Will one box be enough and would it still last the whole month?
Answer by • Jul 23, 2017
While 3 cats can use this litter box, the disposable pads will not last 1 month and animal behaviorists recommend multiple cat households have multiple litter boxes.
---
My cat current uses regular kitty litter. Would I need to transition him over to using pellets before purchasing this? Or do most cats not mind the change?
Answer by • Dec 23, 2020
Most cats need time to adjust to the change in their litter. For a complete list of transitioning instructions, click the "Instructions" tab, next to the "Description" tab, just under the product photos.
---
When you buy the box, is it a starter kit, or do you have to buy pads and litter to start?
Answer by • Aug 02, 2017
Tidy Cats Breeze Cat Litter Box System comes complete with the Breeze litter box, a litter scoop, 3.5-lb bag of Breeze litter pellets, and 4 Breeze pads, which is about a 1 month supply for a single cat.
---
---
---
By Artsey on May 5, 2022
Mischa says...
As supervisor of the waste collection boxes in my house, I approve of this litter system. While the new girl [little sister Mina] still feels the need to put her scent in big sister's bedding (eyeroll) she does use these boxes for... ahem... the other purpose, if I may be discreet. Mostly, Papa is pleased as maintenance manager, calling it easier to use and clean than any other. And Mama does not mention smells any more. Except when referring to Mina's indiscretions, but I'm keeping an eye on that girl and trying to teach her the ways of our home. She's so cute that nobody can stay mad at her anyway! And for such a tiny waif, she can tackle like a linebacker! All in all, we give the Breeze 2 thumbs & 3 paws up!
---
By JMack on May 12, 2022
Product works as advertised (mostly)
I recently replaced my two litter boxes with this system. It took about a week to transition the cats over completely. The cats still kick the pellets out (almost feels like a small Lego when you step on them) You need more than one 3.5 lb bag of pellets if you want your cats to be able to cover their poo. It smells if the cat can't cover their poo. You have to scoop the poo out daily. I would rate it a 3.5, but that's not an option.
---
By allisxnb26 on Apr 19, 2022
Great But Flawed
I was extremely skeptical to try this. My cat is very picky with litter and his pee and poos are absolutely awful so I was only trusting of one brand of litter and that brand only. He also has kidney disease so I wasn't sure that the pee pad would stand against the fact that he pees very frequently. In addition, he's a big boy. That's where my first complaint is: it's too small for him and he accidentally pees over the edge. Secondly, the pad does work better than I expected. However, I have to change it more frequently than it's claimed to last. (The month's supply lasted me 2.5-3 weeks. Not bad, but still). I have to say I am extremely pleased with the litter itself! And I can't believe that there's no smell since, as mentioned, some pretty foul stuff leaves him lol. Honestly I think the pros do outweigh the cons but I am looking to switch to the "XL" version in hopes that better accommodates my cat.
---
By Quilter on May 20, 2022
Love/Hate Relationship
Received my third Tidy Cats litter box Saturday. I have 3 cats, so one box for each cat. The girls have accepted it very well; my boy hates it. In fact, he's found a corner where he can go. So, I'm going back to the other litter box for him, and extra work for me. I had this experience with him one other time. I guess he's really serious.
---
By Luna on Apr 11, 2022
Great Litter Box
We have to place the litter box right in my office so I wanted a litter box that wouldn't smell at all. Traditional cat litter just didn't do it even with scooping every day. My cat took to this litter box almost immediately and there is no smell anymore. She also digs in her litter and likes to push it out on to the ground, but with this litter box she does not do that anymore. The pee pad in the bottom is awesome too, no more scooping wet clumps. Highly recommend!
---
By Milo on Apr 9, 2022
Much cleaner
So far have followed the guidelines about switching over. We have the new system beside his old kitty litter. He will pee in the new but still poops In the old one. We have even followed the guidance about not cleaning the old one and so far it's not working. As far as the box and it's system, love it! It's so much cleaner. No kitty litter spread all over the ground, and looks so much better. We are going to keep working on our cat, in hopes he will start using it completely.
---
By Litter on Mar 18, 2022
So happy we switched!
We are so unbelievably happy we tried this one out! We've tried pretty litter and Skoon and nothing kept the smell and tracking as low as this litter system. The urine pad makes the changing and cleaning process so easy. Our cat took to it right away and loved digging in the pellets. It doesn't track at all!!! I have only found 2 pellets outside of the box in the whole month we tried it. You do need to scoop out the poop daily to every other day, but we were already used to that with pretty litter and Skoon. We are incredibly happy with the switch and would highly recommend it to anyone who asks.
---
By Joey on Apr 3, 2022
Best thing I ever bought
I can't believe I spent all those years scooping clay litter then I tried pretty litter but the tracking was a mess then I tried skoon it was good but they can't keep up with their deliveries I was at my end of rope then I saw this product and figured one more time it is FANTASTIC no tracking and easy to use my cat has kidney disease and uses the box a lot
---
By amandapanda on Mar 27, 2022
I doctored the box
This is a great invention with flaws. I bought a regular, large size "so Phresh" brand litter box and placed the breeze grate and frame in/on that because the reservoir pan is too shallow and the drawer leaks. I use pine pellets and regular pee pads. It's been a great system for 3 years… until my new cat grew into a huge cat and the front of the box is too low. She accidentally pees outside of the front of the breeze pan. So now looking for cheap knock off with a deeper pan.
---
By Ginny on Apr 3, 2022
Using as a second litter box
My 19 yo cat started making a huge mess with her clay litter. I added this system right next to her old litter box and she's been using it interchangeably. The pellets occasionally get stuck in her pads but the whole thing is easier to clean by far & doesn't smell at all. I'm going to keep using both litter boxes.
---