Tidy Cats Breeze Cat Litter Box System
---
---
Try This Similar Item By Chewy
---
Frequently Bought Together
---
About This Item
This all-in-one Breeze cat litter system is easy to maintain for your feline friends.
Breeze litter pads help prevent ammonia odor for 7 days for one cat, helping you keep your home smelling nice and fresh.
Absorb. Toss. Replace. These super-absorbent cat litter box pads deliver mess-free cleanup to make more time you can spend with your cat.
Breeze low-tracking cat litter pellets repel and wick away moisture to help keep the litter box dry and separate solid waste for easy removal.
Comes with everything you need to get your paw-tner started on this easy-to-use system.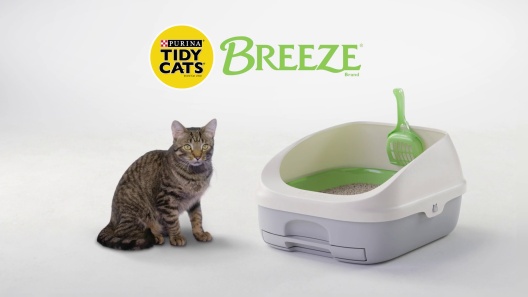 Learn More About Tidy Cats From Our Team of Experts
---
Compare Similar Items
| | | | | | |
| --- | --- | --- | --- | --- | --- |
| | | | | | |
| Customer Rating | | | | | |
| Price Per Unit | | | | | |
| Price | | | | | |
| Litter Box Type | Pan | Pan | Pan | Pan, Corner | Pan |
| Material | Plastic | Plastic | Plastic | Plastic | Plastic |
| Lifestage | Adult | Adult | Adult | Adult | Senior |
---
Questions & Answers
52 Customer Questions
---
how can I put my, coupon in
---
When you buy the box, is it a starter kit, or do you have to buy pads and litter to start?
Answer by • Aug 02, 2017
Tidy Cats Breeze Cat Litter Box System comes complete with the Breeze litter box, a litter scoop, 3.5-lb bag of Breeze litter pellets, and 4 Breeze pads, which is about a 1 month supply for a single cat.
---
How do you train a cat
Answer by • Dec 21, 2019
Empty and clean the OLD box(es) with a mild soap and start with fresh litter. Keep the Breeze Litter Box System next to the OLD box. Combine the existing litter in the OLD box with 2 cups of Breeze pellets. Each day, maintain the OLD box and add ¼ cup of Breeze litter pellets until the OLD box contains 70% Breeze litter pellets and 30% old litter. If cat continues to use the OLD box with this 70/30 mixture, slowly start reducing the amount of litter in the OLD box by ½ cup per day until there is hardly any litter left in the OLD box. Once your cat is consistently using the Breeze Litter Box System to urinate and defecate, remove the OLD box.
---
How deep is the litter in the box with a 3.5 bag in it? Can two bags be used at once?
Answer by • Aug 03, 2018
The system is at capacity with just one 3.5-lb bag of litter pellets. This will last up to a month. When purchasing the 7-lb bag, the instructions are to use half of the bag and then change the litter as needed using the other half of the bag. This should last you around 2 months.
---
---
---
By GMATJEMS on Nov 18, 2022
Amazing Litter Box System!!!
We recently switched to this litter box system with pellets instead of our old standby of non-clumping Fresh Step litter. We love this! It's AMAZING! The pellets stay where they're supposed to -- in the box -- instead of getting tracked on the floor and the rug. There is NO DUST (yay!) and no odor. And the pellets are so easy to sift through to pick up solids but let the liquid go right through to the liner. We are thrilled with our purchase and only wish we had made the transition sooner!!!
---
By sp00ky on Nov 1, 2022
transition is worth it
I experienced a breeze box while staying at a friend's house and I knew it was the best option for my own cat (at least in my budget). It does minimize the odor better than any box system I've used. The pellets are supposed to last a month, but I find that between pellets getting flicked out and small amounts of solid waste sticking to them, it's more like three weeks. I deep clean the box then and I do a solid clean on the tray when I swap the pad every week. smudge was resistant to the transition, but there were no accidents or anything. Follow the directions and be patient. He still really wants to bury so there's a fair amount of kicking pellets around, especially after a poo, but so far it's not a problem.
---
By Litterbox1 on Nov 18, 2022
Good so far!
I really like this litterbox so far. I was using pellets previously so I just dumped those into there so my kitten can get used to it. She used it right away. I looks nice and the pad soaked up the pee and doesnt have a smell.
---
By Jojo on Nov 18, 2022
AMAZING product!
I was skeptical if my cats would eat the pellets or not since I read some reviews that mentioned it. This was my best purchase for them recently. There is no odor, no tracking other than a few pellets. It makes life so easy, especially if you work or have lot of responsibilities.
---
By Ella on Oct 19, 2022
worked for us
Hello everyone . This system worked for us and and I like it more than the regular cat litter one. Sure… you'll have some pellets on the ground but I'll take that over the dusty cat litter . Now for some this may not be the case but it saved us a ton of money . We have two cats and ( shame on me ) one litter box. It can starts smelling if you don't clean alllll the poop and change out the pellets. I myself change them out monthly . The pads weekly. If it is a regular pad and not a Multicat pad then it's after 4 days it so. Again for us personally it saved us money and it is a lot cleaner.
---
By Korn on Nov 7, 2022
Glad I switch from regular litter.
When you have more than one cat it works best to change the pad daily. It cost a little more than litter but I think its worth it. I was so tired of litter getting in the bed and being all over the floor. This is way cleaner. I think for the cats as well. worth it. 10/10
---
By CPWriter on Sep 14, 2022
Mixed experience
The instructions were very clear, and I think the box would be very effective for a younger, smaller cat who wasn't long accustomed to a different kind of litter. The description says "large" but the box was quite small for my sister's medium-sized cat. Also, the cat didn't like the litter pellets at all (it's used to clay). The instructions tell you how to transition your cat, and I did try that, but the effort was hampered by the fact that the package included only one bag of litter. The instructions say to mix some of the pellets in with their existing litter, gradually adding more pellets, until they can transition over. But I didn't have the extra pellets on hand to mix AND to keep the new box full, and would have had to order more right away. I'm going to have to donate it.
---
By Deidre on Nov 13, 2022
Highly recommend
I switched to this system for my cat after having issues with odor control with traditional litter. This system solved the issue and my cat loves it. I would recommend more than one if you have multiple cats
---
By lokismom307 on Sep 13, 2022
Perfect Solution for Traveling Kitty
My cat Loki and I travel full-time in an RV and I was exhausted from constantly sweeping litter. He has controlled diabetes, but still urinates A LOT and frequently uses the box. This solution is perfect! I do have to change the pee pad once a day (rotating the tray helps), but it's still SO much better than scooping clumps. Only negative: I would recommend using the box on a tray or mat because occasionally, because of it's small footprint, Loki will pee outside the box when sitting in it.
---
By cooperdooperdoo on Sep 10, 2022
Great solution for cat with perineal urethrostomy
Our male cat needed 'yesterdays news' dustless, non-clumping litter due to his (very expensive & life saving) perineal urethrostomy surgery. He is very susceptible to UTIs and other infections. Purina discontinued yesterday's news so we needed an alternative. This is PERFECT. I read the reviews and was worried he would reject it, but I put his old litter in a box right beside this one and he used this one immediately. We don't find that the pads last a full week (even with turning it around), but otherwise the system seems to work as marketed. The pellets are a little difficult to maneuver on the shovel (when you're cleaning up poo...) but you get the hang of it. Note that the box itself is a little larger (longer & taller) than a standard box (so we had to remove the door to the little structure that kitty's litter box sits in, but that's not a big deal)). It's a great clean alternative in general - but a life saver for a cat with the medical concerns ours has. Highly recommend (assuming your cat takes to it...).
---