Tidy Cats Free & Clean Non-Clumping Unscented Cat Litter
---
---
Try This Similar Item By Chewy
---
Frequently Bought Together
---
About This Item
Offers 10-day odor control when used as directed to help you maintain a fresh-smelling home.
Low-tracking and 99.9% dust-free litter helps keep the litter box area tidy, while providing a clean pour every time.
The ease of non-clumping litter meets the power of activated charcoal, which actively absorbs and locks away litter box odors.
Unscented cat litter formula made without fragrances or dyes.
Highly absorbent to keep your cat companion's litter box dry after use.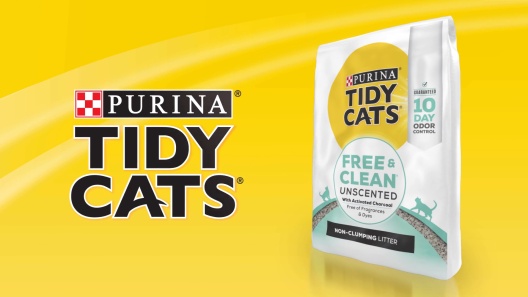 Learn More About Tidy Cats From Our Team of Experts
---
Compare Similar Items
| | | | | | |
| --- | --- | --- | --- | --- | --- |
| | | | | | |
| Customer Rating | | | | | |
| Price Per Unit | | | | | |
| Price | | | | | |
| Autoship | — | | | | — |
| Top Ingredients | Mordenite Zeolite, A Natural Mineral And Fragrance. | — | — | — | — |
| Litter Feature | Multi-Cat | Clumping, Multi-Cat, Unscented, Odor Control, Dust Free, Low Tracking | Clumping, Unscented, Odor Control, Multi-Cat, Dust Free, Low Tracking | Unscented, Odor Control, Clumping, Low Tracking | Non-Clumping, Odor Control, Unscented, Dust Free, Low Tracking |
| Packaging Type | Bag | Bag | Bag | Bag | Bag |
| Lifestage | — | Adult | Adult | Adult | Adult |
---
Questions & Answers
2 Customer Questions
---
Why does the bag say this is free of fragrances but fragrance is listed in the ingredients?
Answer by • Oct 26, 2022
The ingredients are natural clay product plus activated charcoal.
---
How does one dispose of this litter?
Answer by • Sep 01, 2022
Scoop up your litter into a bag and toss it into your garbage. Please do not flush cat litter in toilets or dispose of it outdoors in gutters or storm drains.
---
50 Customer Reviews
---
Filter by reviews that mention
---
By David on Nov 24, 2022
Oh I don't know
My experience with Tidy Cats NON CLUMPING litter is..well...not a fan. It may be ok if you have just one cat but for multiple cats, this just doesn't do the trick. It doesn't last for 10 days, even when using 3 litter boxes for 3 cats. It does it's job for 3-4 days. I was expecting the large bag to last at least 3 weeks. It only lasted a week and a half. To put into perspective, I've had the same luck with the store brand $3 litter as I have with Tidy Cats non clumping. Chewy is a wonderful company and this review doesn't pertain to their awesome service...just the this specific Tidy Cats product.
---
By Sam3 on Nov 16, 2022
Be aware of ordering more than you intended.
This is pictured and priced as a single bag (which is all I wanted for a first-time trial). The scented Tidy Cat is shown as a "2-pk." But not this one. We see only the big $8+change price. So I'm somewhat annoyed to receive an invoice saying I'll receive 2 bags of this product at twice the price I thought I was paying.
---
By Karmc on Nov 21, 2022
Heavy, dirty, tracks terribly…..
Decent on odor but that's about the only good point. It's very heavy (lifting is near impossible), very dirty (turns everything black….cats, floors, everything), and tracks everywhere. I've purchased it twice, to give it a good try, but won't purchase it again.
---
By HK89 on Nov 30, 2022
No odor control
Worst litter I have ever tried. Claims to have up to ten days of ordor control but the scent of cat urine was overwhelming by day 3. No other litter has forced me to do a full litterbox clean every 3 days. Never purchasing again
---
By Missblair0220 on Sep 3, 2022
Impressive
I was gifted this Tidy Cats Free & Clean Non-Clumping Unscented Cat Litter in exchange for my honest review. This was the first time using an UNSCENTED non clumping cat litter and so far both my cat and myself are impressed. In the past, I wouldn't imagine myself using an unscented litter as I always appreciate a good fragrance coming from the litterbox but this one did a shockingly good job at absorbing, locking in, and eliminating odors. I did add some scent crystals a few days in, simply by preference, but honestly they weren't needed at all. Odor, dust, and tracking was not a problem at all. Absorbency was phenomenal. Urine didn't cause the litter to get muddy and stick to my cat's paws whatsoever. It was very impressive and changed my negative attitude toward non-clumping cat litter all together.
---
By Jennifer62978 on Sep 14, 2022
Nice alternative to clumping litter
This was the first time using a non clumping cat litter. I always use unscented because I clean the litter box every day anyway. This litter did a good job at controlling odor, about the same as my clumping litter. Odor, dust, and tracking was not a problem with this litter at all. I was hesitant to try no clumping but this seemed to absorb really well and not get stuck to my cats paws. I was impressed and changed my attitude toward non-clumping cat litter and would consider it in the future due to this full size sample I was provided.
---
By AbigailSara on Sep 13, 2022
Best litter I've tried!
I recieved the Tiday Cats Free & Clean Non- Clumping Unscented Cat Litter for Free in exchange for my honest opinion. I've tried so many brands and styles of cat litter but no matter what they claim, they are dusty, or they don't control odor, but this cat litter was so different. It didn't kick up dust when poured, it controlled odor wonderfully and it was long lasting and easy to clean. My cat Rosie can be picky about new litter but she had no problems with this one. I think it would be great for a home with multiple cats or a single cat. I highly recommend it.
---
By tree91 on Sep 14, 2022
Helps with odor
This unscented cat litter does a good job of eliminating odor without just masking it. The litter is non-clumping and pretty basic, but it works well even in a household with 3 cats. i typically buy the Special kitty brand because it's inexpensive and works well enough, but i definitely noticed a difference with this cat litter. i would consider it to be one of the better cat litters on the market for this price point.
---
By Julia on Sep 1, 2022
Amazing litter
Honestly I was very hesitant to try this cat litter because I previously purchased their crystal litter and it was a dusty smelly nightmare. However, this litter is awesome! I've been having some troubles finding a good non-clumping litter because clumping litter sucks, and this one is amazing. There's almost zero dust and it absorbs pee quickly so there's no messes. Odor control could be better. I haven't noticed any major tracking other than the usual. Overall this is a great non clumping litter option, and I'm definitely gonna be switching to this. I received this product for free for the purpose of my review. All opinions are my own.
---
By Amber on Sep 11, 2022
Best Non-Clumping Clay Cat Litter on the Market
I've tried almost every non-clumping cat litter on the market, many of them are horribly scented or very dusty. This is the best one I have been able to find that is not outrageously expensive. I find that I get about a week's worth of odor control, which is fine because I usually change it out completely after a week anyway. During that time, you can't even tell that we have a litter box in the house! #ChewyTeamRated
---