Tidy Cats Instant Action Unscented Non-Clumping Clay Cat Litter
---
About This Item
Virtually maintenance-free for up to a week.
Designed to be low-tracking.
Non-clumping for easy litter box maintenance.
Formulated for multiple-cat households.
Moisture-activated odor-control system.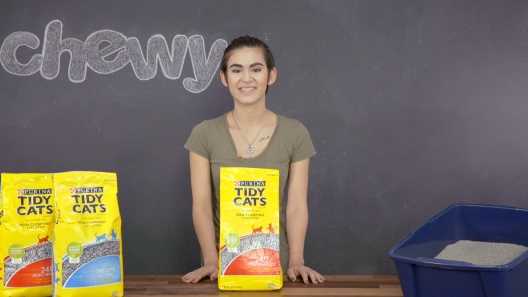 Learn More About Tidy Cats From Our Team of Experts
---
Compare Similar Items
| | | | | | |
| --- | --- | --- | --- | --- | --- |
| | | | | | |
| Customer Rating | | | | | |
| Price | | | | | |
| Autoship | — | — | | | |
| Top Ingredients | N/A | N/A | N/A | clay | N/A |
| Litter Feature | Non-Clumping, Odor Control, Unscented, Dust Free, Low Tracking | Non-Clumping, Scented, Odor Control, Dust Free | Clumping, Unscented, Multi-Cat, Odor Control, Low Tracking | Clumping, Scented, Multi-Cat, Odor Control, Dust Free, Low Tracking | Clumping, Scented, Multi-Cat, Odor Control, Dust Free, Low Tracking |
| Packaging Type | Bag | Bag | Bag | Bag | Bag |
| Lifestage | Adult | Adult | Adult | Adult | Adult |
---
Questions & Answers
10 Customer Questions
---
Is it flushable?
Answer by • Jan 09, 2018
This litter is not flushable. Please do not flush cat litter in toilets or dispose of it outdoors in gutter or storm drains.
---
I have one male cat, that pees a lot. Clumping litter sticks to his paws.....will this be a better option?
Answer by • Jul 05, 2018
This litter is designed to be low-tracking and should work better for your cat's paws.
---
is this unscented?
Answer by • Nov 22, 2018
This litter is unscented.
---
What is the difference between Purina non-clumping performance and Purina non-clumping instant action? Also, is the consistency (size of annuals) the same?
Answer by • Jan 02, 2020
Both Tidy Cats formulas have deodorizing systems meant to leave your cats litter smelling fresh and clean, and have similar consistencies. The Tidy Cats Non-Clumping Instant Action Immediate Odor Control Cat Litter is designed to trap odors quickly, whereas the Tidy Cats Non-Clumping 24/7 Performance Long Lasting Odor Control Cat Litter is designed to feature an extended release deodorizing system.
---
---
---
By Suzie on May 7, 2022
Very disappointed, but my own fault
Not sure why I thought this would work for my guy who pees a lot. Can't clean the box without emptying everything and he requires a very large step in box. My error. The clay smell is very high when wet.....and I got two bags since price was so good. I'll keep second bag for other purposes. Buying clumping now.
---
By Wndrwmn on May 20, 2022
NOT UNSCENTED
Very disappointed—this product is described as unscented but is quite definitely scented. I was trying to find something non-clumping and unscented for my aging girl who has developed allergies. This isn't it and I'm stuck with 12 bags of it.
---
By MinnieMom on May 1, 2022
This is NOT unscented!
As someone with terrible fragrance sensitivities, I had hoped this was, as advertised, unscented but is is not. That "Odor Control System" is, in fact, fragrance. I can't rate its performance as I had to get it out of the house as quickly as possible after opening it.
---
By dmsf on Apr 5, 2022
A must have
Have to provide sufficient kicking materials for kitty. Always want to remain sure that all's going well with Em. As I keep her litter box in order, I'm monitoring that everything proceeds nice and regular. Tidy Cat is our old standby, and Chewy 40 lb. price can't be beat.
---
By Catmom2 on Feb 14, 2022
Mistake purchase
I thought that I was purchasing my regular TidyCats cat litter that actually clumps… the packaging looks the same… I did not read everything to the T… sooooo, I got this and actually opened it and poured some of this heavy bag into the litter box. The cats actually hesitated to use it like it was foreign, which it was kinda because it is not their typical clumping litter but I guess if you gotta go you gotta go. The issue is this stuff does not clump so there is no easy way for me to scoop pee. Also…. It does not mask odor at all. Not even the slightest bit. I will never ever buy this again. Huge mistake and waste of money. I ended up throwing away the entire litter from the box and bought a container of my regular tidy cats from the store that actually clumps and masks the odor. Lesson learned.
---
By DeeDee on Feb 25, 2022
Disappointed
This litter sucks. It's a heavy powder consistency that DOES in fact clump when peed on. Have to scrape the bottom of the pan & stir it around to get it to unclump, it feels like mud. Does nothing for the urine smell either. Kitty doesn't seem to appreciate it either, cleaning up two urine spots outside of box now. Quite annoyed & disappointed. Needed a cheaper litter because of how often I change the boxes, will not reorder this though. I'd rather pay alittle more for the crystal litter than clean up urine from the carpet at this point.
---
By RosiesMomma on Feb 23, 2022
Litter Additives
We were going to try this litter after my mom's cat began throwing up (the vet suspects a stomach ulcer) and we were told to get unscented litter. However, the company told her the blue pellets in this brand are also an additive, not just the plain clay, non-clumping litter that used to be available from many cat litter manufacturers. Still searching for a non-scented, non-clumping, coarse litter that won't aggravate her upset stomach when she cleans her paws and won't stick to her fur when she uses her litter box.
---
By BreL on Mar 19, 2022
Not unscented
I'm not sure what Chewy thinks unscented means, but this 100% has a smell to it. I have it for my rabbit's litter box inside his cage, which is why I wanted unscented. Now he is stuck in his cage with that hopefully nonharmful smell until I get new litter. What a waste.
---
By Caturday on Mar 31, 2022
NOT THE SAME AS IT WAS
I've been buying this litter from Chewy for over a year with no complaints - most recent bag was different - lighter in color, has an odor and is VERY DUSTY. My cat is leaving paw prints on everything. This is terribly annoying.
---
By Moomoo on Jan 30, 2022
Easy & Less Expensive
I live in a small apartment, so I dump and wipe down my cat's litter box every 2 to 3 days to avoid a build up of smell. The non-clumping cat litter is so much easier to slide out of the litter box and doesn't chunk on the bottom like the clumping litter. This litter is also really cheap compared to other brands which I appreciate because I go through so much quickly. My only complaint would be the bag design. I'm on the petite side and it's really hard for me to lift this bag of litter when filling the box (I mean I'm sure it would be for most people, too) without spilling it. Maybe a handle, or smaller packaging would help.
---