TRIXIE Wooden Cat Home & Litter Box Cover
By Trixie
Compare Similar Items
| | | | | | |
| --- | --- | --- | --- | --- | --- |
| | | | | | |
| Customer Rating | | | | | |
| Price | | | | | |
| Furniture Features | Modern | N/A | Modern | Modern | Modern |
| Furniture Covering Material | N/A | N/A | N/A | N/A | N/A |
| Height Range | N/A | 30 inches & under | N/A | N/A | N/A |
| Tools Included | Yes | No | Yes | Yes | Yes |
| Furniture Frame Material | Engineered Wood | Engineered Wood | Engineered Wood | Engineered Wood | Engineered Wood |
| Number Of Condos | N/A | N/A | N/A | N/A | N/A |
| Furniture Mount Type | Free Standing | Free Standing | Free Standing | Free Standing | Free Standing |
---
About This Item
Doubles as an indoor pet house or cat litter box cover with easy-to-open door for quick and easy cleanup.
Made of solid wood with a smooth Veneer finish so it's durable and stylish, and fits in with your home décor.
Great for bathrooms or bedrooms, with smooth top that doubles as shelve space for art, home décor piece or kitty accessories.
Easy-access window lets your kitty go in and out as he pleases to give him the privacy he needs.
All hardware needed for assembly are included, and comes in white or brown finished wood.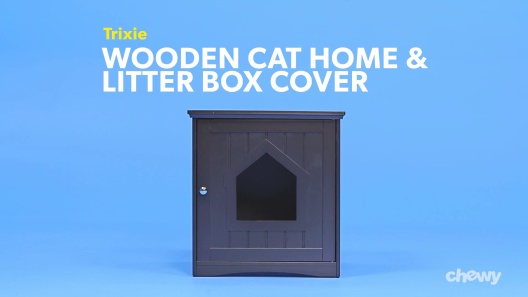 Learn More About Trixie From Our Team of Experts
---
---
Questions & Answers
22 Customer Questions
---
Does this have washable interior or removable bottom? Does litter stay in box good?
Answer by • May 18, 2018
This litter box cover doesn't have a removable bottom. Messes can be easily wiped from the bottom. The wood will not soak up any liquids. When assembled, this unit's sides and door are fully enclosed so no litter escapes out.
---
I have 3 cats so I scoop the litter at least twice a day. How do you scoop the litter. Does the top come off for easy access. I can't see going through the opening for kitty
Answer by • Jun 11, 2018
The front door opens completely so you can change the litter. See picture.
---
What are the measurements of the opening on the front door? I would like to use this as an outdoor feral cat shelter & would like to install a pet flap over the opening.
Answer by • Dec 31, 2017
The door opening is 9 x 11 inches.
---
How high is the step up into the box?
Answer by • Jan 28, 2019
The bottom of the kitty door is approximately 7 inches from the floor.
---
---
---
By Nice on May 15, 2022
Better than building one myself
I bought two of these, after pricing what it would cost to build something myself. These were extremely easy to put together, it took me about 45 minutes to do both. They definitely serve the purpose of hiding our 2 litter boxes very well. Our cats do not mind them. They actually used them immediately after assembling and putting the litter boxes in. I put a small cat mat on top, and the cats use it for a sleeping area too. They are not very thick wood, but they are still solid and sturdy enough for what I need. I would recommend them to anyone looking for a way to hide their boxes.
---
By MKerr on Apr 4, 2022
Only had for four months
This was a great price for a great product except...I've only had it for 4 months and because a covered cat box doesn't fit inside so my cats pee over the tray sometimes. It started destroying the box because it's not sealed anywhere. I started putting potty pass down which helps a little. The longevity of this item is disappointing, I'm looking at buying a different one already.
---
By Byte on Mar 4, 2022
Cute litterbox cover that is perfect for small spaces!
I really love this thing! It blends in my living room and is functional as a side table. Litter boxes aren't one size fits all so double check the dimensions as you may need a new box that fits. I used a corner litter box as while it doesn't fill the full enclosure it has a taller back meaning nothing sprays onto the litter box cover. I would use contact paper on the inside of the box if you're afraid of over spray!
---
By Drumrgym on Apr 2, 2022
Nice product. Looks great!
Very nice product. Assembled easy. Looks great! Be careful when you assemble it. There is a short dowel for the front piece! I made the mistake of not realizing this and I poked the long one through the laminate. :(
---
By Megan on Jan 29, 2022
Litter box enclosure
I wanted to love this. It had a lot of good reviews and it looked nicer than having a litter box out in the open. However, it's more of a pain in the rear end than just having a covered box. I had to replace the box I had because it was too large to fit inside which is fine. Make sure you measure your box or buy one that will fit inside. The litter also gets everywhere inside around the actual litter box, which is still fine. The biggest complaint I have is the door WILL NOT STAY SHUT! I am constantly closing the door on this thing. Every time my cat uses the box and jumps out, he opens the door with him. My cat is 6 pounds, so he's not big. The "latch" or magnet piece that is supposed to keep the door closed is awful. I wouldn't buy this again and would recommend getting a better quality enclosure.
---
By Jessie on Mar 22, 2022
Perfect for my picky cats!
My cats don't like to go in most covered litter boxes but for whatever reason they're cool with this wooden surrounding to their normal litter pan! It looks so much nicer than the open pan, and is easy to build. Seems fairly sturdy as well!
---
By Lindsey on Apr 4, 2022
Exactly what I was hoping for!
This is exactly what I was hoping it would be! It was super easy to assemble too. Definitely keep in mind that you will need a tray that is no longer than 19inches.
---
By NinaF on Jan 2, 2022
Best thing for my cat
This "Cat house" has been a positive for my cat and me. It's important to buy a 19" long litter tray - anything longer won't fit. NOTE: bought my litter tray here as well. It took 4 days from leaving the door open to slowly closing the door. He's 13lbs and fits just fine. The rear has vent holes and there is little odor.
---
By alexandra on Dec 14, 2021
absolutely perfect
This litter box cover is everything I have been looking for! It's a perfect fit for my NYC apartment, and it fits my average-size kitty litter box like it was made for it. Contrary to many of the reviews I had read, assembly is quite simple and took me all of 30 minutes to put together - with visual instructions they were so seamless to navigate. The trickiest part was figuring out the how to attach the hinges since the instructions are images. Overall I would absolutely recommend this piece if you're looking for something small and affordable!
---
By Good on Dec 31, 2021
Good but leaves mess
So overall I like this litter box cover. It looks great, not like your ordinary ugly litter box. I ordered the recommended litter pan for inside that fits great. Buttt the positioning of the whole for the cat to go in seems too low because my cats kicks the litter right out and it creates a mess. I wish the whole was positioned up higher to keep the mess inside when they kick.
---